Fall has officially begun, and we've rounded up a few of the most photo-worthy locations across our beautiful region this season. Grab your camera and venture out to any of these RVA hotspots to snap a stunning photo worth sharing!
1. Lewis Ginter Botanical Garden 

As one of the top gardens in the nation, Lewis Ginter Botanical Garden serves up gorgeous views throughout their 82-acre garden property, particularly in early fall. With 15 unique, themed gardens to explore, and over 5,000 types of plants, this attraction offers endless backdrops for an Insta-worthy fall photo. Stop by and see for yourself why this site was voted one of the 8 most Instagram-worthy gardens in the U.S.
[Photo Credit: @LewisGinter on Instagram]
2. Maymont 

Stroll through the charming, historic Maymont property and find the perfect fall backdrop for your next photo-op. This 100-acre site includes rolling hills for picnicking, a nature center, a Victorian mansion and s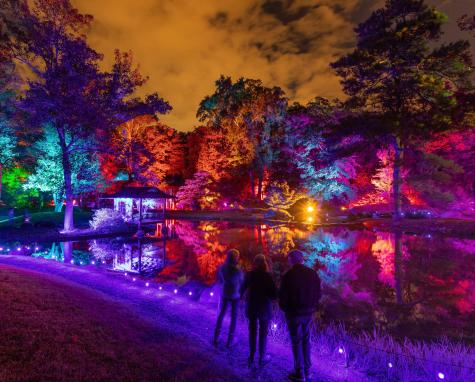 everal themed gardens with gorgeous landscapes. Be sure to snap a photo in the scenic Japanese Garden with the vibrant fall leaves reflecting in the koi pond.
Plus, mark your calendars for their annual Garden Glow event taking place Oct. 15th through Nov. 7th. Experience Maymont in a different light and stroll through the dramatically illuminated gardens and paths after dark. Check their website for ticket information and additional event details.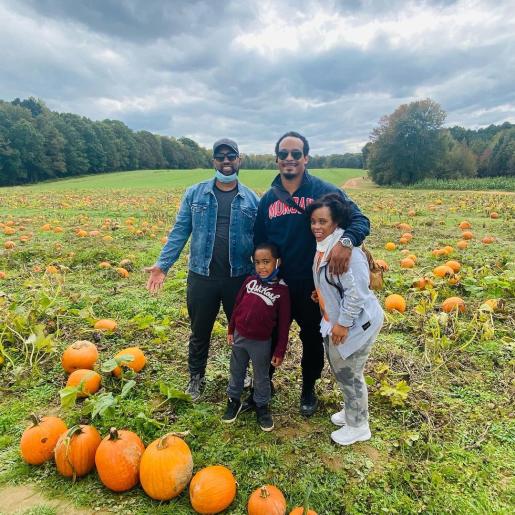 3. Ashland Berry Farm
What's fall without a camera roll full of photos at the pumpkin patch? Ashland Berry Farm is now open for their pumpkin picking season and is one of RVA's most popular fall photo spots. Grab the family and capture candid smiles while enjoying snacks and browsing local goods from the farm.
[Photo Credit: @troylefty88 on Instagram]
4. Wineries in New Kent County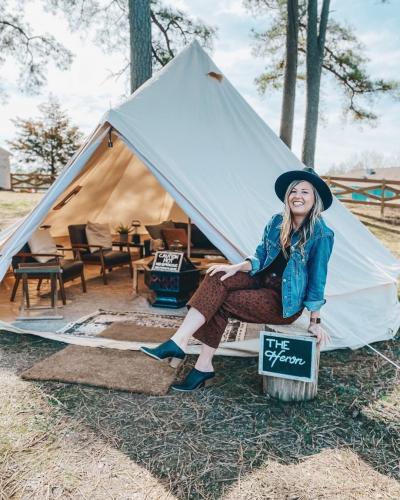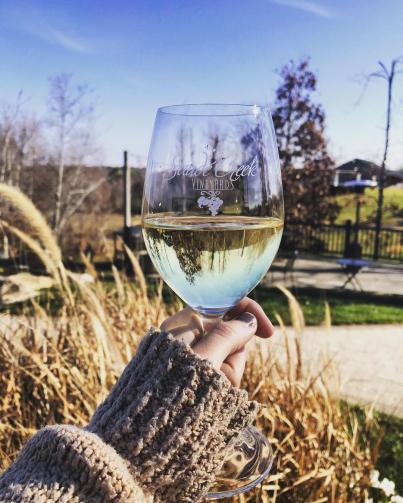 If you're ready to up your Instagram game, look no further than the gorgeous winery properties located throughout New Kent County. Each property offers a unique charm, but all offer stunning views in the fall. Put on your favorite fall outfit and snap a pic with the rolling vineyards at Saudé Creek as your backdrop. Or grab a group of friends and rent out one of the cozy tents at Jolene Family Winery. With beautiful fall weather and breathtaking landscapes, these vineyards make for the perfect, photo-worthy moment. You can explore more wineries in New Kent County and across the Richmond region here.
[Photo Credit: @sipsandtripswithpaige (left) & @saudecreekvineyards (right) on Instagram]
5. Hollywood Cemetery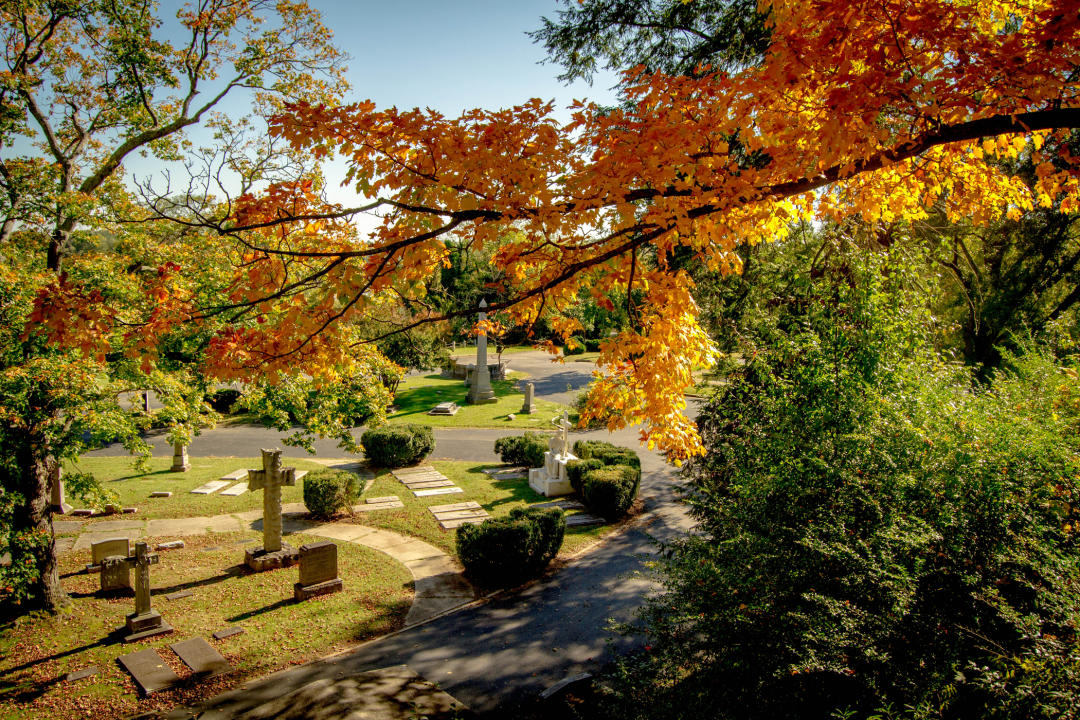 This unconventional photo location is one of RVA's most historic attractions and is esteemed as a national treasure. The public garden cemetery spans nearly 135 acres of hills, trees and architectural beauty which creates a stunning scene every fall season. The cemetery encourages professional and amateur photographers alike to snap photos and even hosts an annual fall photo contest on Instagram. Be sure to check out their three overlooks on the property offering incredible views of the James River and downtown skyline.
6. Institute For Contemporary Art at VCU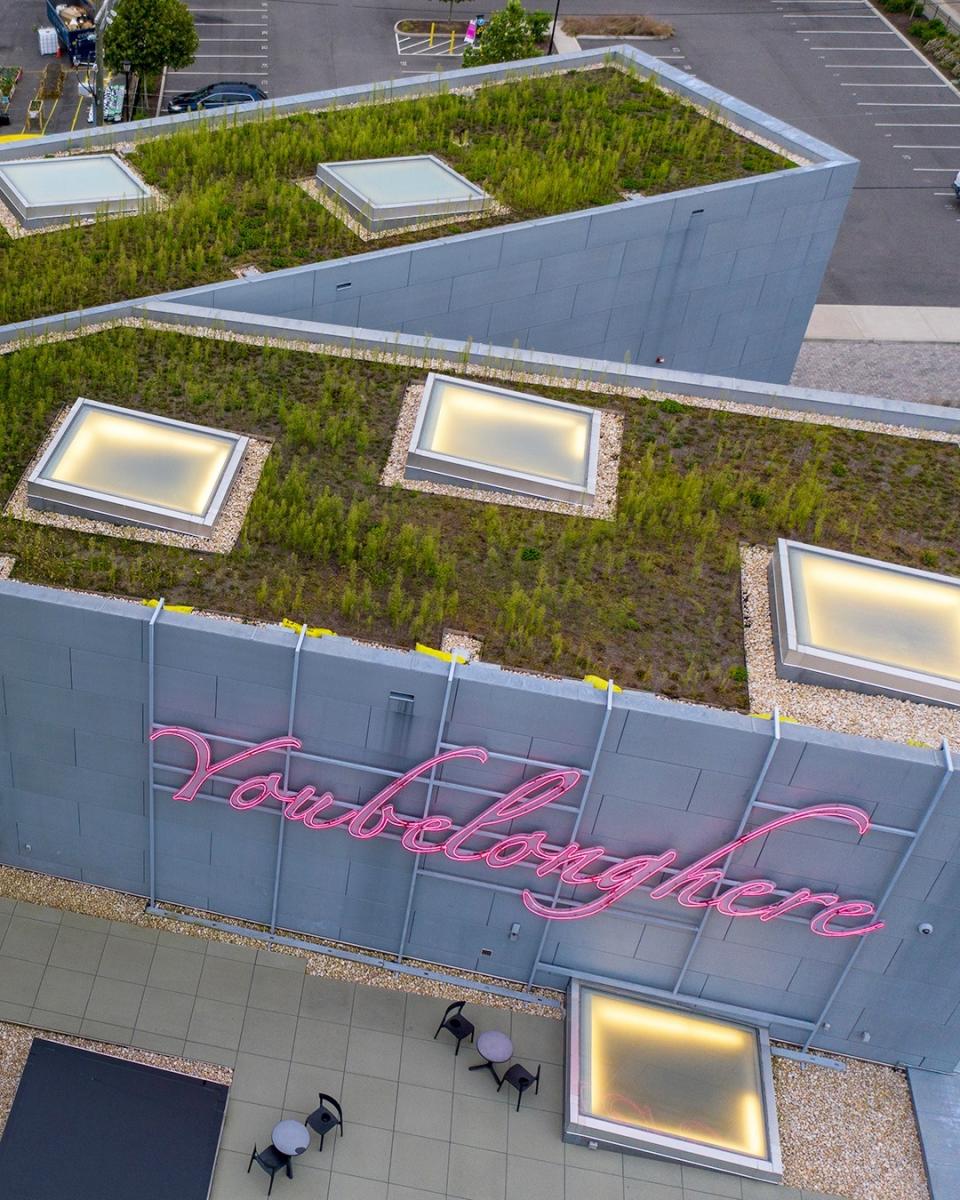 Not only in the fall, but year-round, the Institute for Contemporary Art at VCU offers a photo-worthy moment at every turn. This includes a giant, pink neon sign that belongs on every Instagram feed. This highly-visible sign by Tavares Strachan is more than a photo-op and serves as a conversation piece about being seen, welcomed and represented in shifting environments. Inside, you can explore the various galleries of contemporary art with many unique backdrops fitting for a modern Instagram aesthetic. Museum admission is free and open to the public.
[Photo Credit: @icavcu on Instagram]
7. The A-Line Bridge, James River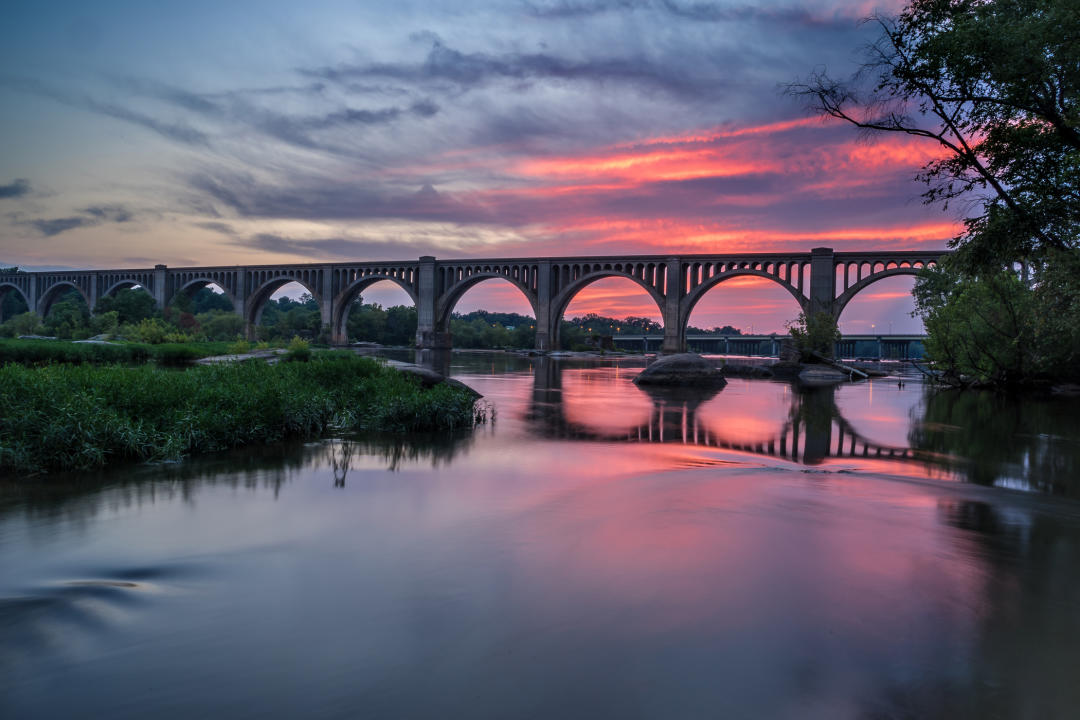 We can't forget the beautiful views captured time and time again throughout RVA's James River Park System. The A-Line Bridge is a popular landmark that often finds its way into iconic James River photos. Also known as the James River Railway Bridge, this historic bridge sits west of downtown between the Powhite Parkway Bridge and the Boulevard Toll Bridge. Find a spot along the nearby banks at Pump House Park and capture an early fall sunset with the arches reflecting in the water. Or, get an even better view while rafting down the river. Whether you're looking for an action shot on the rapids, or a serene skyline photo, the fall foliage behind the A-Line Bridge creates a breathtaking view this time of year. 
8. Pocahontas State Park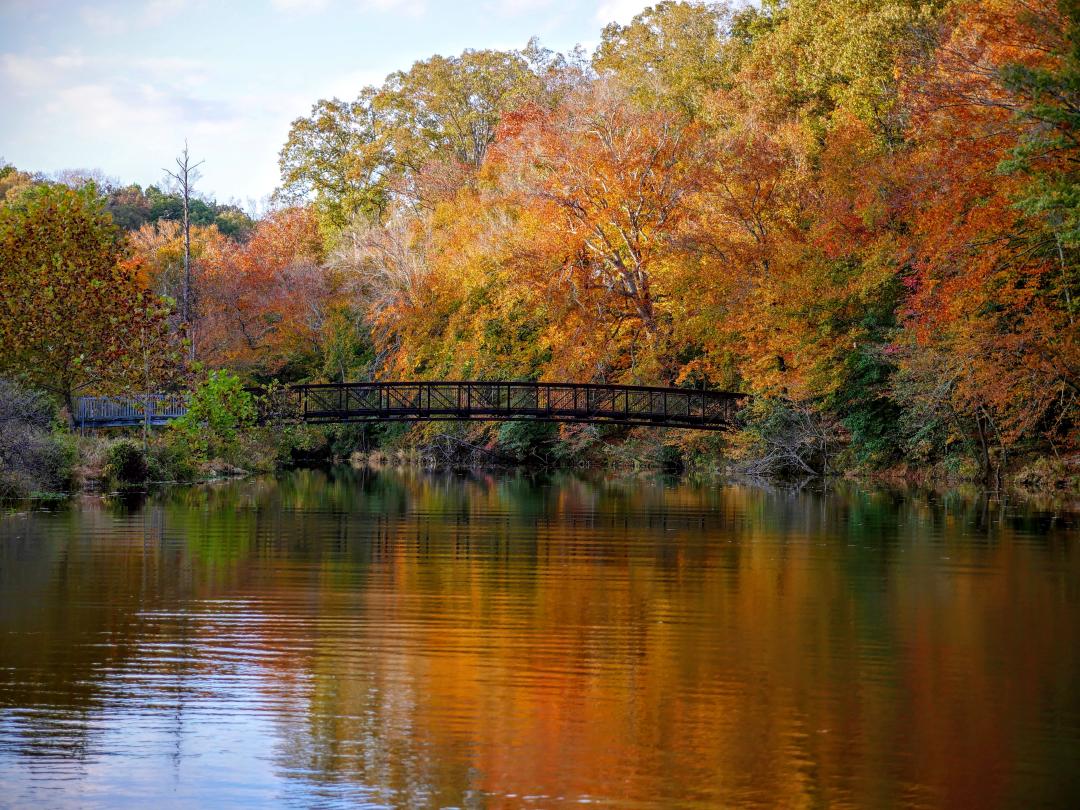 Unplug and take in the scenes at Pocahontas State Park, (but snap a few Insta-worthy photos before you go). Just south of Richmond in Chesterfield County, explore the beautiful, wooded trails and lakes throughout Virginia's largest state park. This site is the perfect photo location for nature enthusiasts and offers unmatched views of the vibrant fall leaves.

9. Lakeview Park, Colonial Heights 
Gorgeous views and world-class sunsets are waiting to be captured at Lakeview Park this fall. This property is a hidden gem location for pictures when the trees lining the lake reach peak fall color. Explore the grounds and take in the scenes of nature or capture a memorable moment at their fishing pier, playground and pavilions.
[Photo Credit: @_russ.c.bates on Instagram]
10. Historic Pole Green Church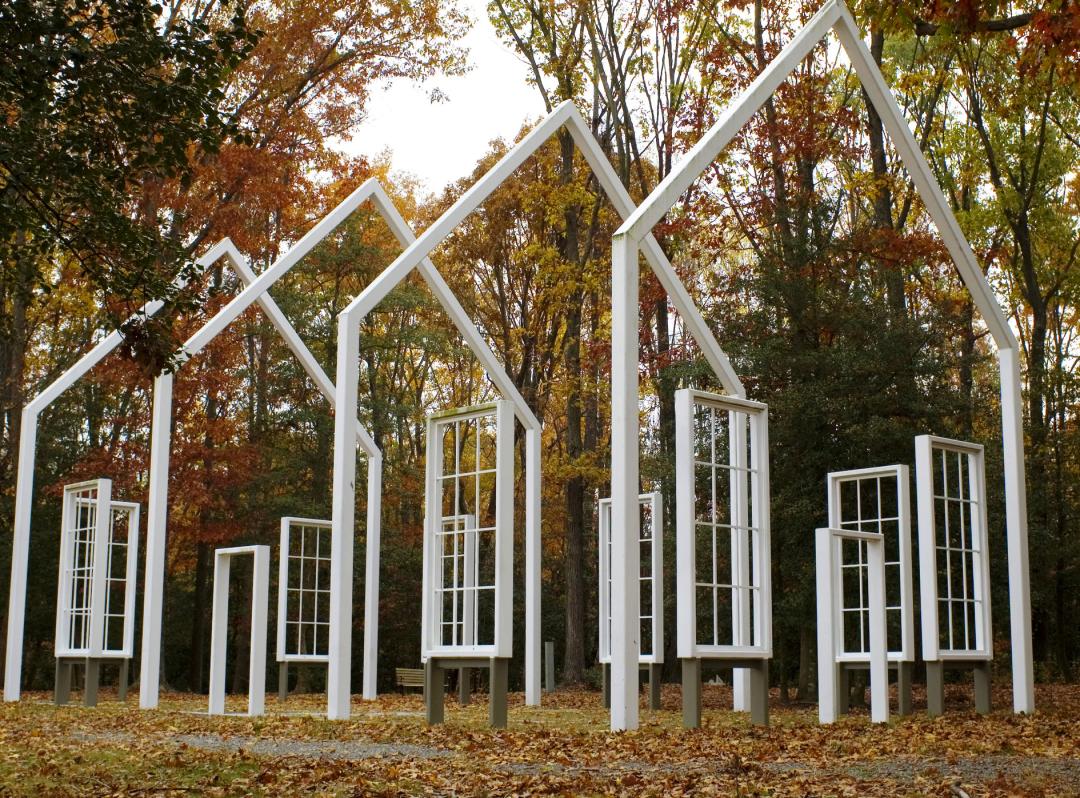 This unique, open-air church is tucked away in Hanover County just 15 minutes outside of the city of Richmond. This historic site is home to one of America's first non-Anglican churches and is an RVA hotspot for fall weddings. The surrounding woods add pops of fall color, creating a spectacular and whimsical backdrop for wedding and engagement photos. (Check out their Instagram for some fall wedding inspiration.) Plan a visit to this serene photoshoot location and see why this site is a Hanover County hidden gem.
Share your favorite moments with us as you explore the Richmond Region!
Tag us in your Instagram-worthy photos using #MyRVAMoment!