Work holiday parties. Christmas "spirits". New Years Eve. Tis the season for boozing; and when there's beer, wine, and liquor involved, the chance of a hangover is not far behind. Check out these five great places to eat or drink to cure the hangover blues this holiday season!
Everybody's doing it! Juicing is all the craze, and this new juice bar and bistro at the top of The Fan near VCU and Altria Theater is a perfect pit stop for parties looking to replenish nutrients with fresh fruits and vegetables in liquid form after a night of no-so-healthy decisions. With juices like the Just Beet It (apple, beet, carrot, ginger) and the Perfectly Pure (pineapple, celery, grapefruit, ginger) The Pit and Peel can silence those loud noises.
A popular New Zealand inspired gastropub and burger joint, with locations in Carytown and Short Pump, offers grass fed beef, lamb, chicken, and veggie burgers; but, let's be real: we are all here for one thing: The Hangover Cure. Yes, that's the actual name of the burger - a concoction adorned with green chile sauce, bacon, hot sauce, american cheese, caramelized onions, and a fried egg. No false advertising here: indulge and repair!
This interstellar Carytown staple has what we all want when dealing with a hangover: grease. With menu items like Trailer Park Pancakes, and the Callahan Breakfast Platter, a heaping portion of hashbrowns, toast, country fried steak, eggs over easy, and a river of gravy, Galaxy Diner drowns out the beer taste with salt and butter and joy.
Bellytimber Tavern
Hip, happening brunch for those of us looking for a bite to eat at 11:00 am Sunday morning and trying to solve that hangover with a little hair of the dog. Bellytimber overs a make-your-own Bloody Mary bar with a multitude of choices of hot sauces, bloody mixes, and veggie accents like pickles, celery and olives, and yes, you can add as much or as little as you want!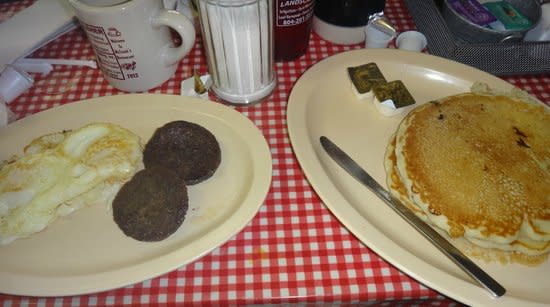 Bacon, eggs, coffee, repeat. This classic Richmond restaurant on West Broad Street just west of the Boulevard delivers friendly service, fast breakfast, and a big a la carte breakfast menu for the indecisive diners who's headache makes the decision process a big foggy.
Michael J. Hippchen is a freelance writer based out of Richmond, VA.  Michael has a passion for good bourbon, a firm cigar, live music, and copious amounts of black coffee.