Create some RVA joy this holiday season! We're doing our part by working with our friends at Create Digital to #CreateJoyRVA. The VisitRichmond Santa ran around the Richmond Region the other day paying forward at coffee shops, the VMFA, Pasture and Perly's. You can get in on the act by doing something nice for someone and encouraging them to #CreateJoyRVA too! Head to www.createjoyrva.com for all the details and watch that space to see a video of the VisitRichmond Santa's adventures soon!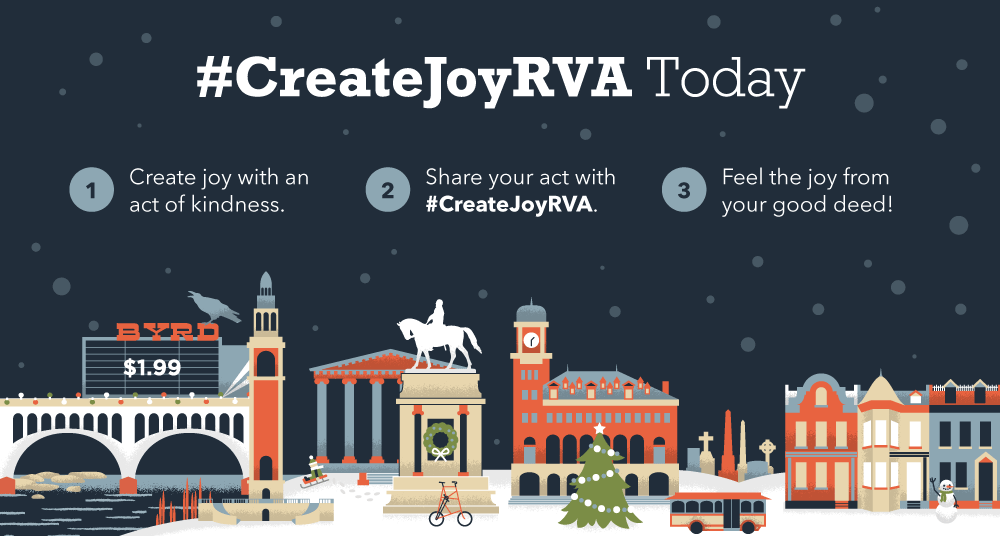 Here are some exciting holiday events coming up to create a little joy in your own life!
Dec. 11 - 23
Stoner Winslett's The Nutcracker, heralded as "perfect" by The New York Times, returns to the Carpenter Theatre to celebrate the holiday season!
From the opening notes of Tchaikovsky's famous overture, audiences are whisked into the warm, candlelit drawing room of the Silberhaus family, buzzing with celebrations of Christmas. To the delight of the family's young daughter, Clara, Dr. Drosselmeyer, the mysterious toymaker, and his handsome nephew arrive with a special gift – a wooden nutcracker doll – that captures the girl's imagination. As darkness falls, Dr. Drosselmeyer's magic begins to work, setting in motion fantastical events that will fill Clara's dreams: a battle beneath the branches of an enchanted Christmas tree, the transformation of the nutcracker doll into the young Nutcracker Prince, and a journey from a snow-covered forest to the far-off Kingdom of Sweets.
Church Hill Candlelight Walk and Caroling
Dec. 11, 7 p.m.
The candlelight stroll down our historic streets will be hosted by CHA on Friday evening. At 7 pm, Vespers begin at St. John's Church at 2401 East Broad Street (all are welcome). Simultaneously the candlelight walk begins at Jefferson Park (Union Hill) at 7:15 pm with bagpipes and drummers leading the way. It proceeds to St. John's Church where, following Vespers, the congregation joins in the walk at approximately 7:35 pm. As the crowd grows continuing down our streets lit by gaslights, neighborhood parties empty out into the streets and the crowd continues to swell. We gather on historic Libby Hill with the 180 degree View overlooking the James River and our city gloriously lit up for the holidays as the backdrop. The crowd then joins for holiday caroling and a visit from Santa. All are welcome to become part of a living fairy tale scene that will be long remembered.
Dec. 11, 7:30 p.m.
What's Christmas without Judy Garland? Banish the Bah-Humbug and get yourself into the holiday spirit with an evening of holiday cheer the Garland way with Connie Champagne! Champagne is an award-winning actress whose performances as Judy Garland have wowed audiences from coast-to-coast.
Dec. 12
Hardywood Christmas Morning lends a cheerfully heightened decadence to our Gingerbread Stout through deep conditioning on locally roasted Brazilian and Sumatran coffee beans from Black Hand Coffee Company. Hints of sweet honey and oven baked gingerbread greet the comforting nuances of freshly brewed morning coffee in this imperial milk stout. Skip the leftover cookies and milk and awaken your senses with this delightful holiday tradition. 9.2% abv
Dec. 10 a.m. - 5 p.m.
This event will feature first-person character interpretation of the etiquette, norms, customs, and laws regarding Christmas in Elizabethan-Jacobean English households in the early 17th-century. Experience holiday traditions of different socio-economic homes and enjoy period dance and song in the hospital.
[jetpack_subscription_form]