Come quench your thirst in RVA, which is quickly becoming one of the hottest craft beer regions in the country! In honor of Virginia Craft Beer Month, we put together this nifty guide to help you plan your Richmond Beer Trail adventure. With twenty-three breweries (and counting!), the #RVABeerTrail will help you navigate the region's vast craft beer offerings. Plus, you get a prize when you earn five stamps on your way to craft beer happiness! Whether you're a trendy hophead or occasional drinker, there is something for everyone in the RVA brewery scene. Check it out!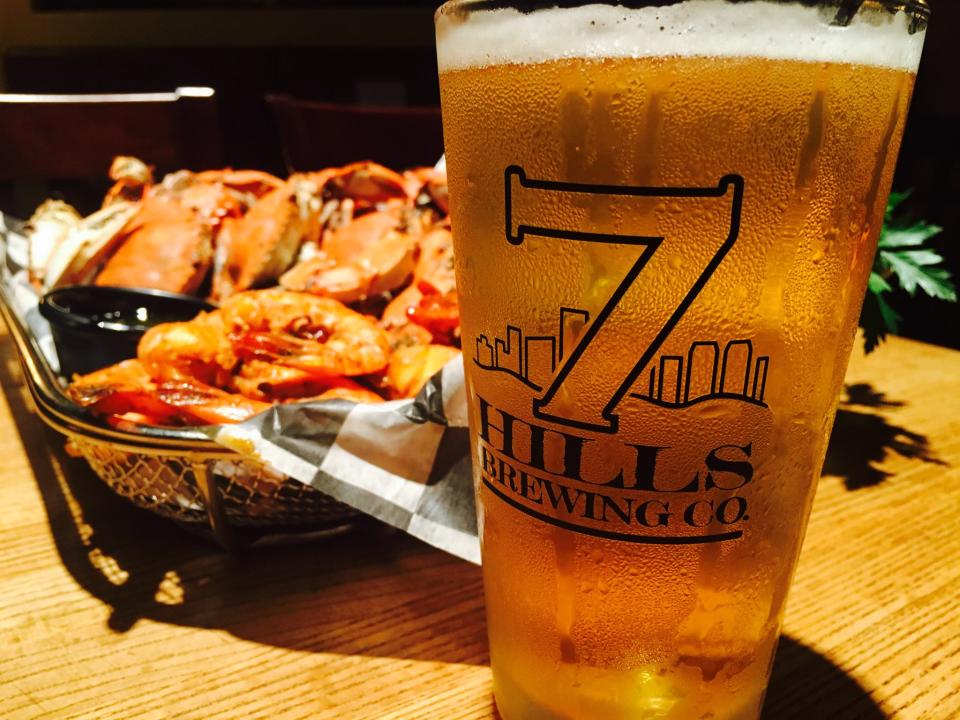 7 Hills Seafood & Brewing Co.
115 S 15th Street, Richmond, VA 23219
Named for the seven original hills upon which Richmond was built, this Shockoe Bottom brew pub serves up a full menu of delicious new American style food, seafood (obviously!), cocktails, and tasty brews. 7 Hills also boasts an impressive night scene on the weekends with live DJs and drink specials. Be sure to check out their sought-after brunch specials every Sunday!
Bottom Line: Full menu, Trendy atmosphere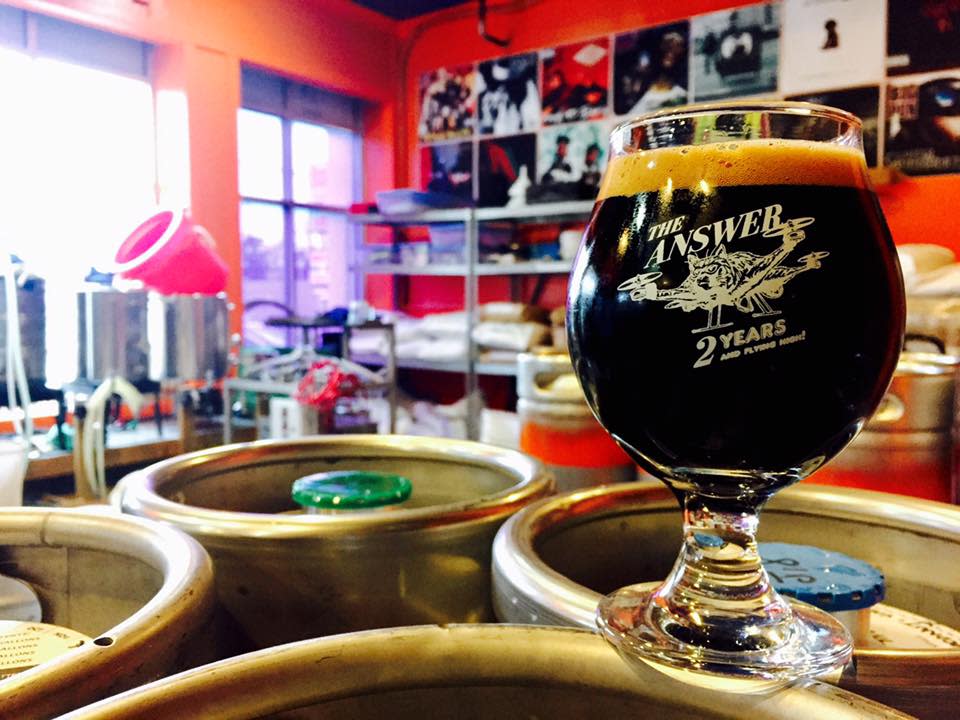 The Answer Brewpub
6008 W Broad Street, Richmond, VA 23230
The Answer Brewpub's founder and Chief Beer Officer, An Bui has gained international recognition in his years spent working at his family-owned restaurant, Mekong, a Vietnamese eatery in Richmond's West End with an accolade-winning craft beer selection & expansive food menu. Mekong has become a favorite spot for beer enthusiasts because of its wide variety of rare and international beers, and it earned first place in Craftbeer.com's "Great American Beer Bar" contest for two-years in a row. After years of spreading his passion for craft beer to the local community and throughout, Bui opened The Answer Brewpub in September 2014. Featuring 56 taps, 2 bars, and an exceptional stage area for live music, The Answer has become another means of Bui's continuous vision to expand the Richmond beer community.
Bottom Line: Full menu, Live music, Off-street parking
 
Ardent Craft Ales
3200 W Leigh Street, Richmond, VA 23230
Started as a co-op in a Richmond garage, Ardent's founders sought to create innovative beers and introduce others to historic brewing methods and beer styles. In July 2013, the generosity of friends old and new allowed Ardent Craft Ales to sign a lease and begin renovating a 1940s warehouse in the Scott's Addition neighborhood. As a production brewery, their mission remains the same: to produce and celebrate exceptional and ambitious beers with the ever-growing craft beer community. Looking for something tasty to nosh on while drinking Ardent's excellent beers? The brewery offers small plates and snacks, and hosts a rotating lineup of food trucks. Guests are also welcome to bring in or order food from local eateries.
Bottom Line: Large outdoor area, Trendy, Off-street parking, Frequently rotating tap list, Frequently hosts food trucks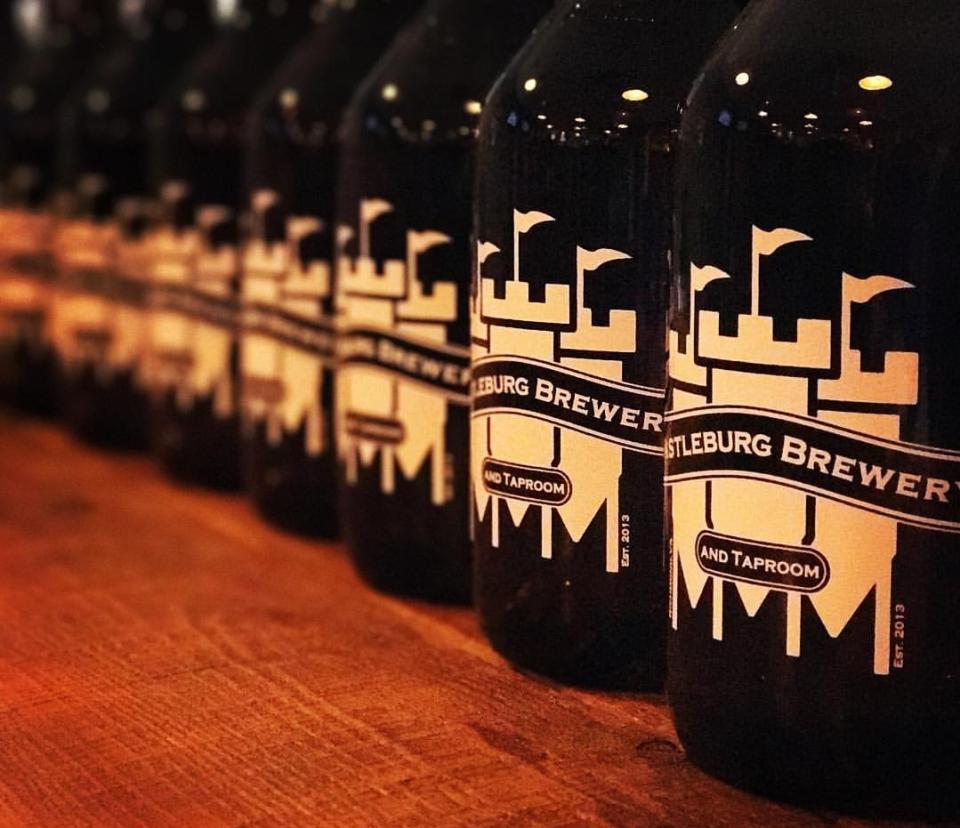 This brewery is yet another gem in Scott's Addition, but separates itself by boasting a quiet and comfortable atmosphere for patrons to simply enjoy great beer and great company. Castleburg strives to create honest beer using only wholesome ingredients. Don't let their down home and friendly atmosphere fool you - they definitely know how to have fun, too! The brewery hosts regular live music acts, trivia nights, and even has drag diva bingo! Hit them up for a brew or two to see what they're all about!
Bottom Line: Friendly atmosphere, Off-street parking, Live music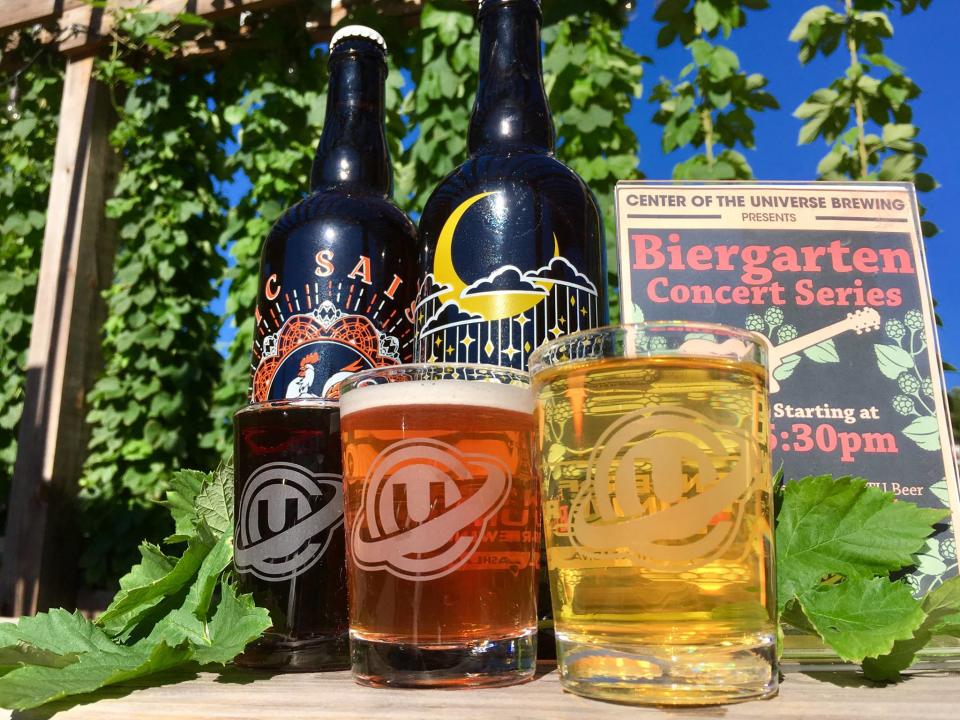 Named after its location in Ashland, Virginia, where locals truly know their town to be at the center of the universe, COTU is another brewery that makes you feel right at home as soon as you walk in the door. The laid back atmosphere and regular community events can melt the hearts of even the pickiest of palates, and did we mention their deliciously diverse rotating tap list and huge biergarten? Music lovers will enjoy the weekly Biergarten Concert Series every Wednesday at 5:30 p.m., and you don't want to miss Beer, Bingo, & Bloodies on Sunday afternoons. At Center of the Universe Brewing Company, it all revolves around the beer and the people who enjoy it.
Bottom Line: Large outdoor space, Friendly atmosphere, Off-street parking, Live music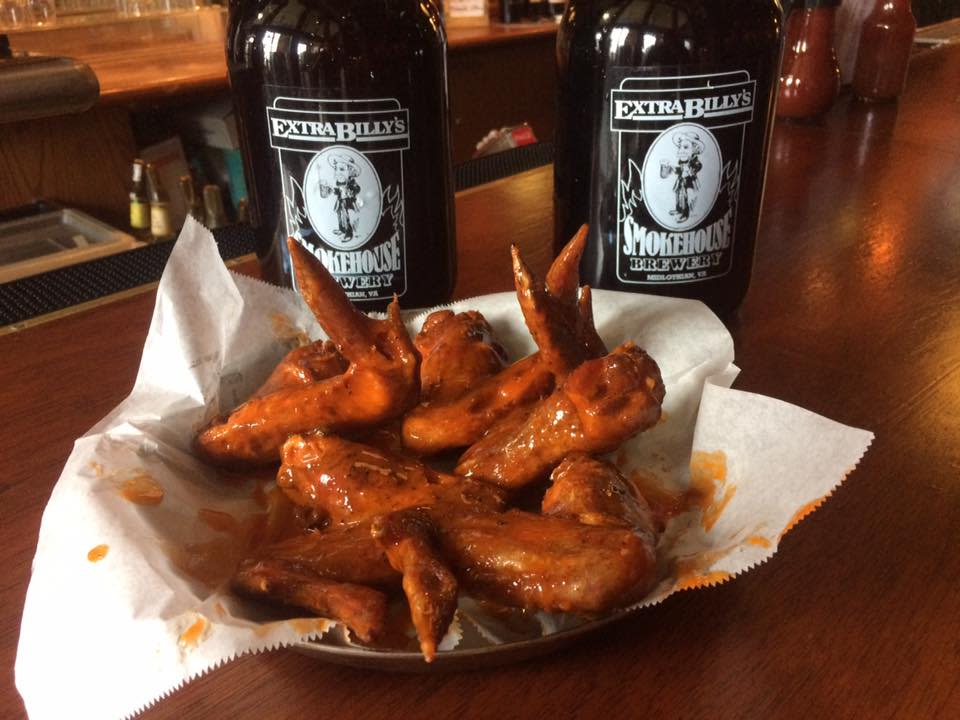 If your mouth waters at the thought of delicious barbecue paired with savory brews, then you need to head to Extra Billy's in Midlothian. This smokehouse and brewery offers a variety of beers and smoky southern-style barbecue that is sure to satisfy even the biggest of appetites. The menu is a meat lover's dream, filled with BBQ, brisket, ribs, wings, and plenty of other meaty options, plus a great assortment of sides. Extra Billy's is also the second oldest operating brewery in the Richmond area!
Bottom Line: Full menu, Off-street parking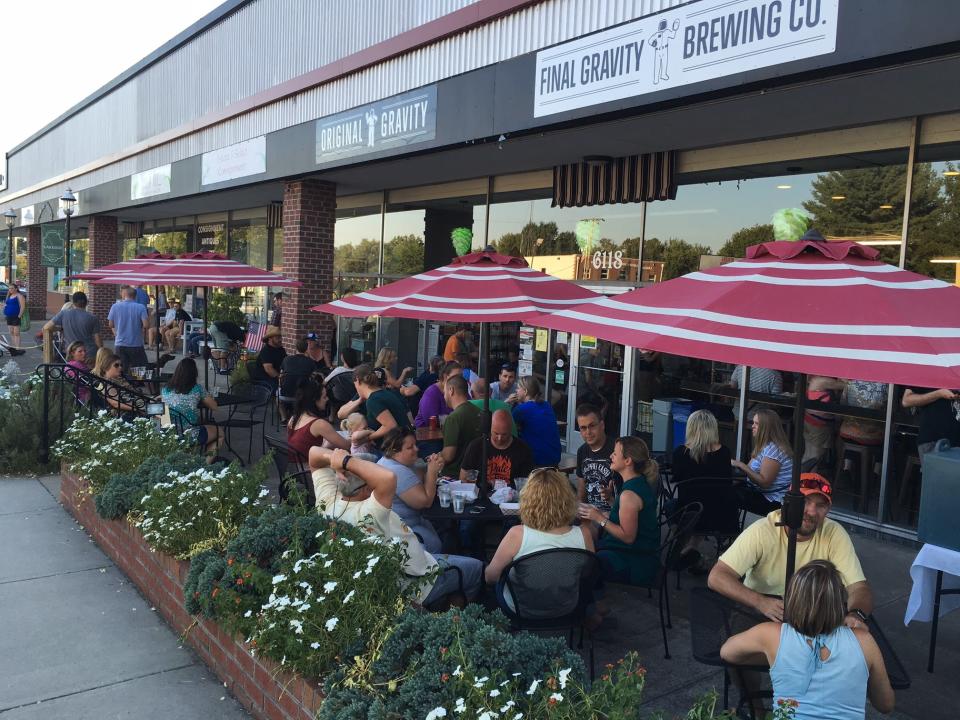 This neighborhood brewery in the Lakeside neighborhood truly embodies everything that the craft beer scene is about. Aside from their award-winning beers and friendly, knowledgeable staff who are dedicated to the art of brewing, Final Gravity offers an on-site home brewing shop where anyone can access the tools and ingredients needed to get into the craft.  There is no doubt that the folks here love what they do, and love sharing it with you. Final Gravity is also conveniently located just down the street from Lewis Ginter Botanical Garden, so it's an especially great spot to cool down and relax with a cold one after an afternoon of exploring the Garden.
Bottom Line: Friendly atmosphere, Diverse tap list, Off-street parking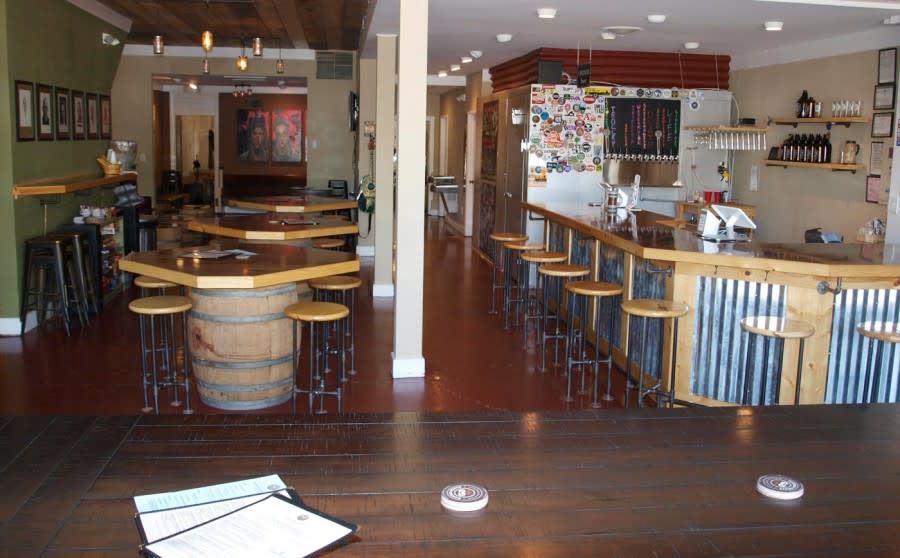 If you're looking for a truly distinct Richmond experience, look no further than Garden Grove Brewing Company. Located in the heart of the vibrant Carytown neighborhood amid fantastic restaurants and boutique shops, this nano-brewery offers a relaxed and rustic atmosphere in a renovated row house. Garden Grove frequently hosts live music and special events alongside a diverse draft list of sustainably-crafted artisan brews. Come out for Game Night on Mondays, Blue Grass Jam on Tuesdays, Trivia Night on Wednesdays, and live bands or comedy shows on Thursdays. Whatever day or night you choose to visit, you'll find great flavors, great company, and an all-around great brewery experience!
Bottom Line: Unique location, Live music, Friendly atmosphere, Trivia night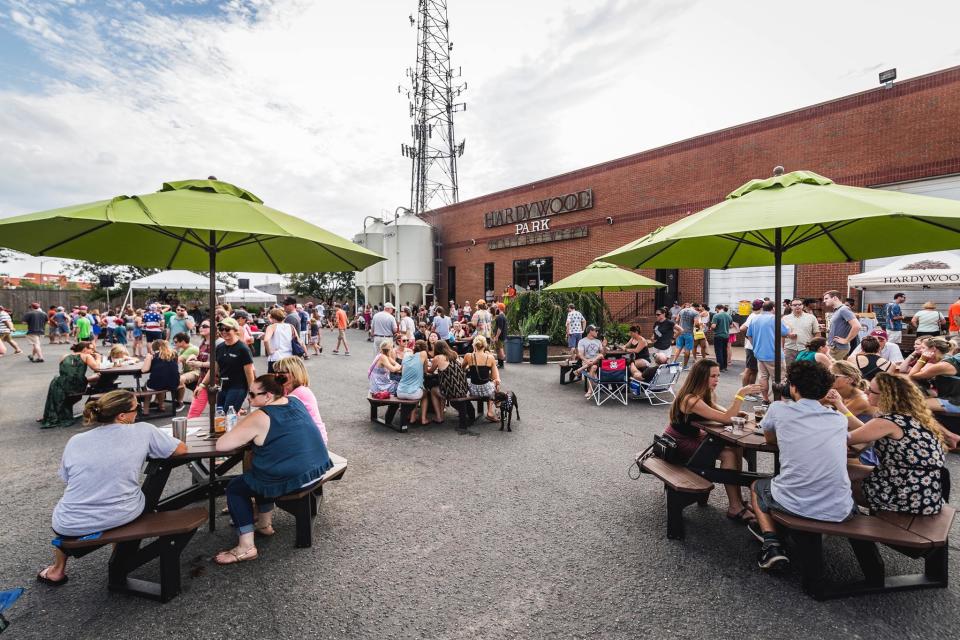 Founded by two lifelong friends, Hardywood has been passionately brewing innovative and soulful beers in Richmond's Historic German Brewing District since 2011. The brewery consists of two adjacent buildings, which boast multiple taprooms, an exterior garage bar, and a large outdoor beer garden with corn hole and bocce ball available. Street foodies will love the seasonal Hardywood Food Truck Court, which runs from 5:30-9 p.m. every Thursday through the season and is a family friendly environment. You will also find an eclectic mix of live music and community events that are free to the public and open to all ages. Hardywood beers have earned international acclaim with medals at the World Beer Cup and Great American Beer Festival, as well as a rare 100 rating by BeerAdvocate Magazine.
Bottom Line: Diverse tap list, Large outdoor area, Off-street parking, Food trucks, Live music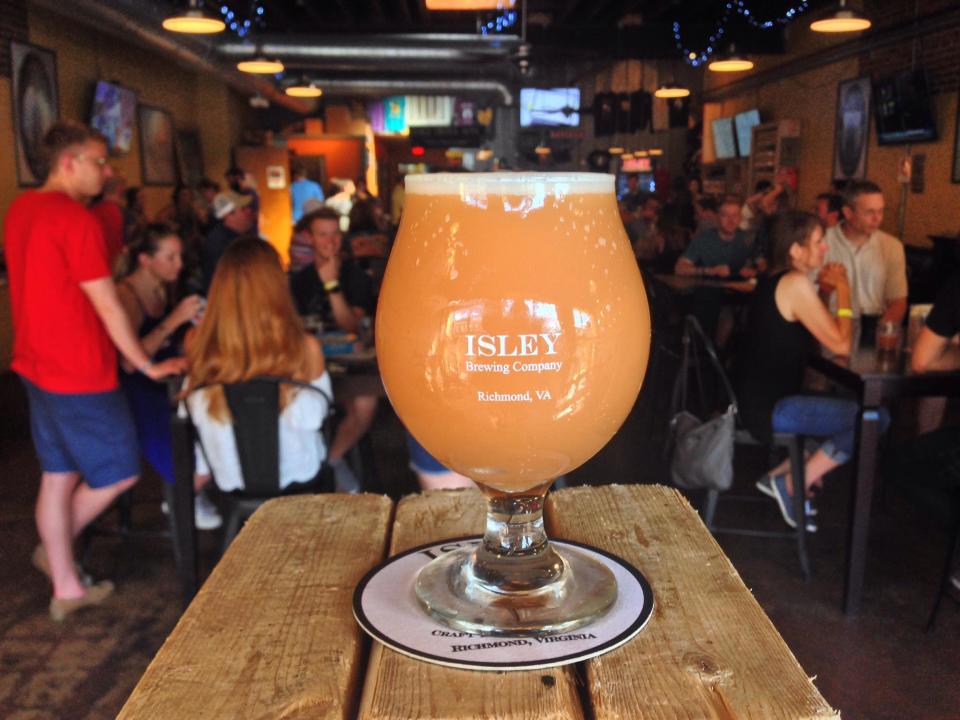 Located in the bustling beer metropolis of Scott's Addition, Isley Brewing Co. opened its doors on October 26, 2013. The very first beer brewed at Isley was The Bribe, a delicious oatmeal porter, which is still their one and only "flagship" beer. The folks at Isley aim to create true, crafted beers with the passion commonly found in home brewing, by thinking outside the box every time and pushing limits while not following the path that others tend to follow. At Isley, you will find a relaxed atmosphere with board games, TVs, etc. in the tasting room, plus an urban patio where you can play some cornhole or just enjoy the fresh air. There's always something fun going on, from Trivia Tuesdays to karaoke night on Thursdays, plus food trucks, live music, and happy hour every Tuesday-Friday from 4-6pm! 
Bottom Line: Large outdoor area, Live music, Off-street parking, Trivia, Karaoke, Food trucks, Happy hour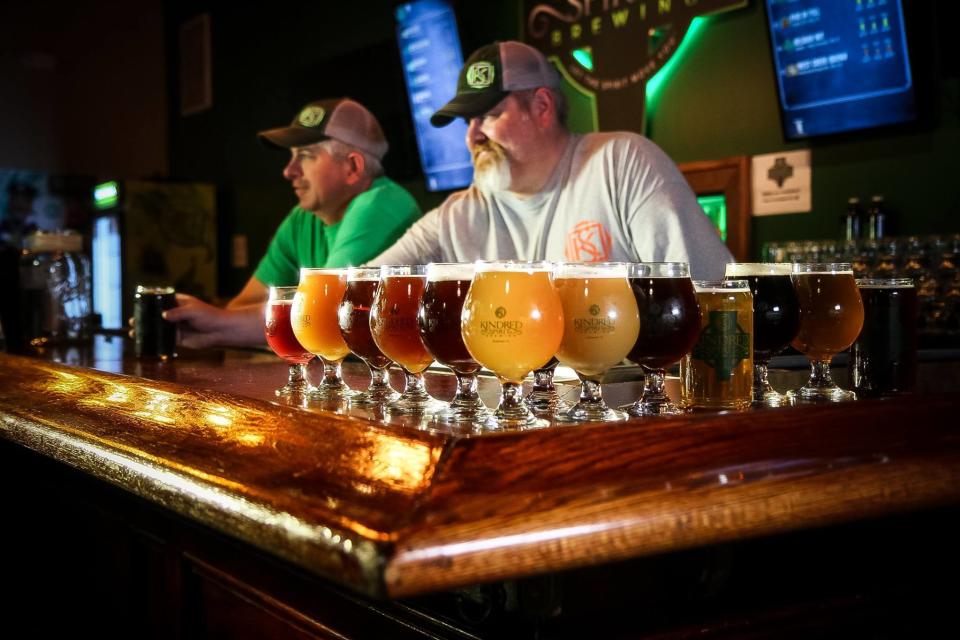 Nestled in Goochland County right off 288, this friendly craft brewery truly welcomes all kindred spirits. Creating new takes on classic styles while treating customers to a warm and relaxed atmosphere is what these guys are all about, and enjoying a brew (or two) here is sure to bring the Irish spirit out in anyone who enters the doors. On any given day, you can expect to find food trucks, live music, trivia, or other activities happening here. Kindred is celebrating their one-year anniversary this August, so make sure to come out on August 26th for some special releases, food, and live music!
Bottom Line: Friendly atmosphere, Live music, Off-street parking, Food trucks, Trivia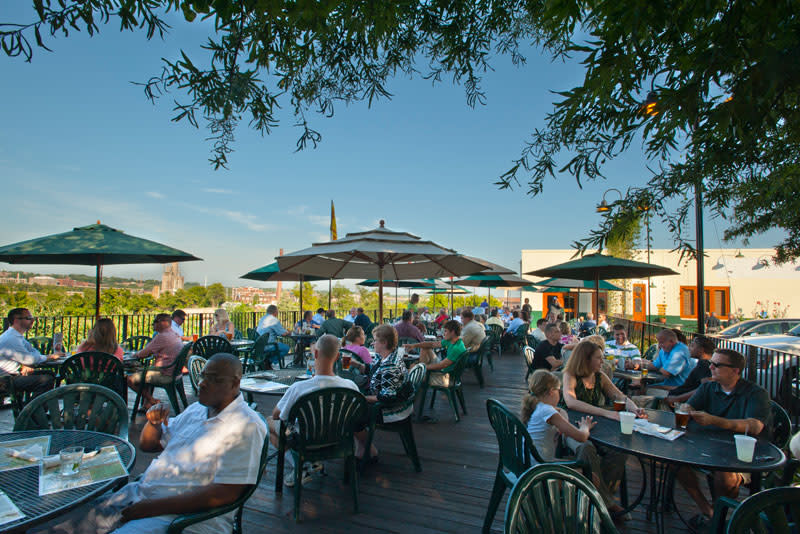 Established in 1994, Legend Brewing Co. is Richmond's oldest microbrewery, the pioneer of craft beer in RVA, if you will. The brewery offers a full-service restaurant, beer garden and a large, 200-seat deck. Overlooking the James River, Legend's deck provides an incredible view of Richmond's downtown skyline that you can enjoy while sipping their fine brews and sharing a great meal with friends. Legend is one of the few craft breweries in the region producing both lagers and ales, which require different yeasts and maturation conditions. All Legend beers are unpasteurized and made from only two-row and specialty barley malt, hops, water and yeast. If a Richmond craft beer trip is on your agenda, Legend definitely needs to be on your list!
Bottom Line: Full menu, Great view, Off-street parking, Large outdoor deck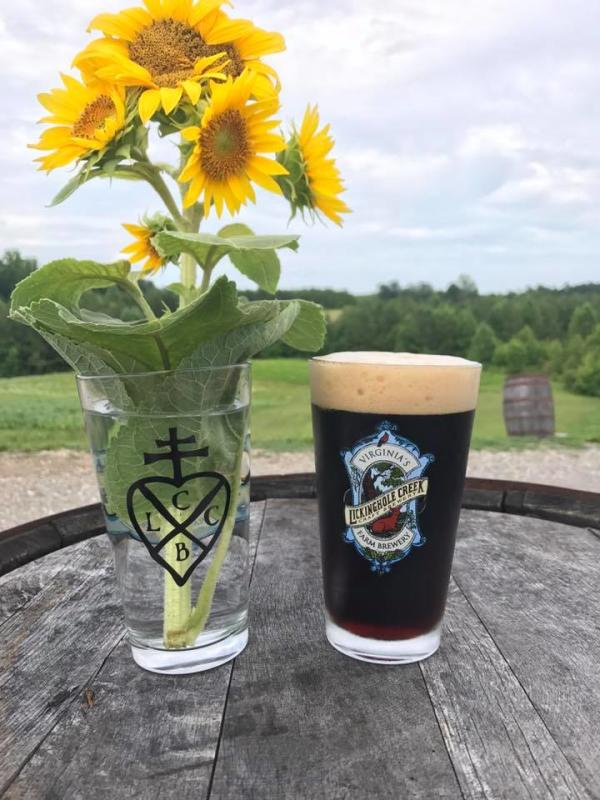 If you're looking for high quality brews with scenic views, head out to Lickinghole Creek Craft Brewery in Goochland. Set on a 290-acre farm in the heart of Virginia, Lickinghole grows hops, barley, herbs and spices for use in their Estate Series of beers. The name pays homage to Little Lickinghole Creek, which runs through the farm's rolling hills. This water-conscious, biologically friendly farm brewery brings exciting flavors to its brews and also boasts an awesome outdoor and kid-friendly area. Be sure to check out their All-You-Can-Pick sunflowers when they are in bloom during the summertime!
Bottom Line: Large outdoor area, Live music, Great view, Off-street parking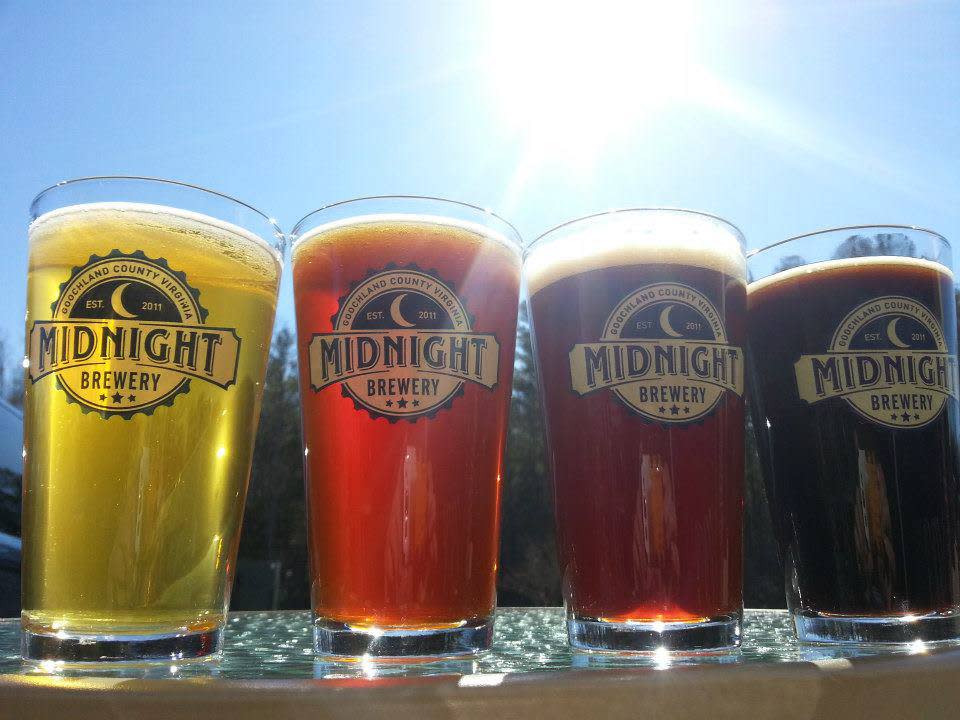 Midnight Brewery
2410-B Granite Ridge Road, Rockville, VA 23146
If you're looking for a classic taproom with a down-home feeling, look no further than Midnight Brewery. Located in Rockville (just minutes from Short Pump), this family-owned and operated brewery focuses on providing local beer enthusiasts with high quality beers that are approachable enough for the novice craft beer drinker, and complex enough to satisfy more advanced palates. Beyond the solid year-round brews, Midnight offers multiple seasonal beers and one-offs to round out the taps. Midnight also hosts live music and food trucks on a regular basis.
Bottom Line: Off-street parking, Large outdoor area, Friendly atmosphere, Live music, Food trucks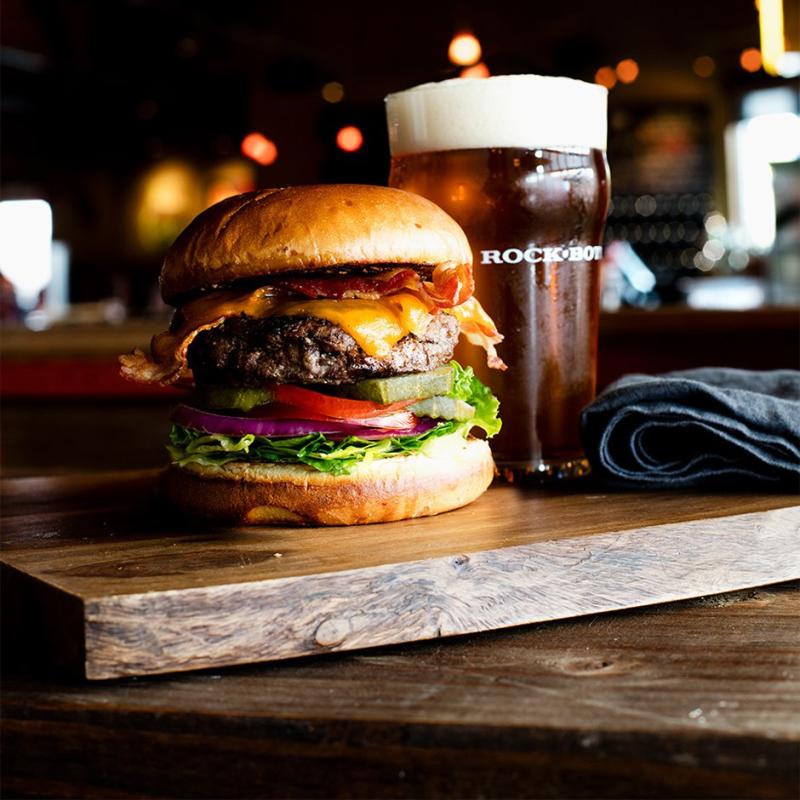 For delicious beers made on-site and a huge, diverse menu of mouth-watering food, head to Rock Bottom, located in Short Pump Town Center. Although Rock Bottom is a chain with locations across the country, there is only one in the state of Virginia, and what better place to put it than beer-loving Richmond? If you find yourself in the Short Pump area and you're looking to grab a bite and a pint, Rock Bottom is a solid choice.
Bottom Line: Full menu, Diverse tap list, Off-street parking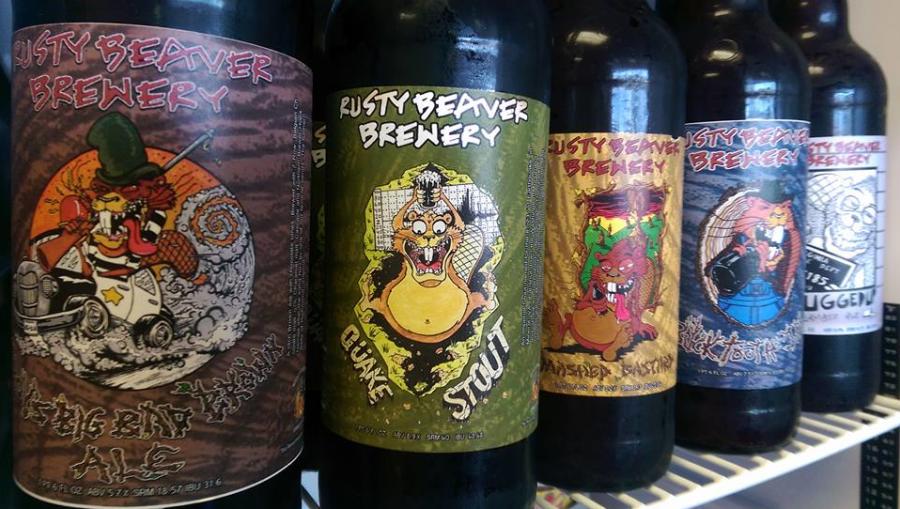 Rusty Beaver Brewery
18043 Jefferson Davis Hwy, Ruther Glen, VA 22546
If you're looking for something more down-home and traditional, head up I-95 to Ladysmith, Virginia to check out Rusty Beaver Brewery. This farm brewery opened in June 2013 and is passionate about brewing ales using traditional malts and distinct American hops in the old world brewing style. Brewers here produce only unfiltered and unpasteurized ales. This old world style ensures their need and passion to stay local and keep their brews fresh. Walk their trails, smell the hops, taste some craft ales, enjoy the sounds of nature and local music, feel their country spirit and leave with a relaxed calm that brings you back for more.
Bottom Line: Friendly atmosphere, Off-street parking, Specializes in dark ales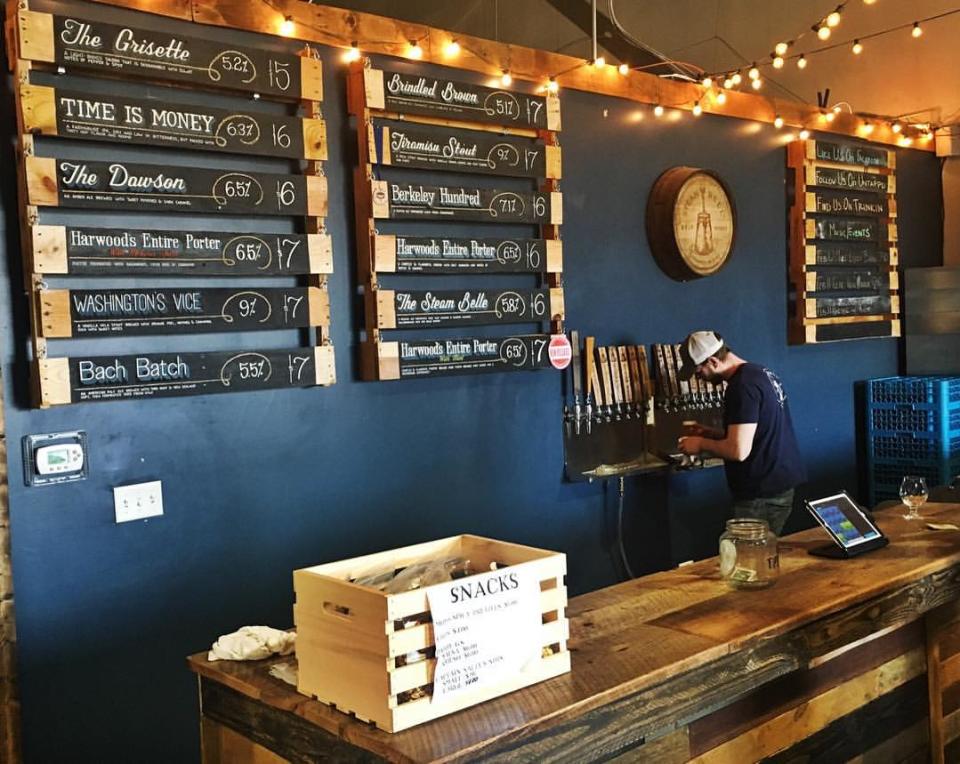 Steam Bell Beer Works
1717 Oak Lake Blvd East, Midlothian, VA 23112
This is another one of our friendly, laid-back breweries that'll make you feel at home no matter how far away you came from. Steam Bell was founded on a passion for community, and the owners consider everyone who walks through the doors to be family. Steam Bell uses the highest quality ingredients to brew an exceptional selection of beers that honor tradition, history and innovation, and will satisfy any palate. This brewery is here for the locals and out-of-towners, the working people and the party people, the brewers and the consumers. Come be part of the family at Steam Bell Beer Works!
Bottom Line: Friendly atmosphere, Diverse tap list, Off-street parking, Live music, Food trucks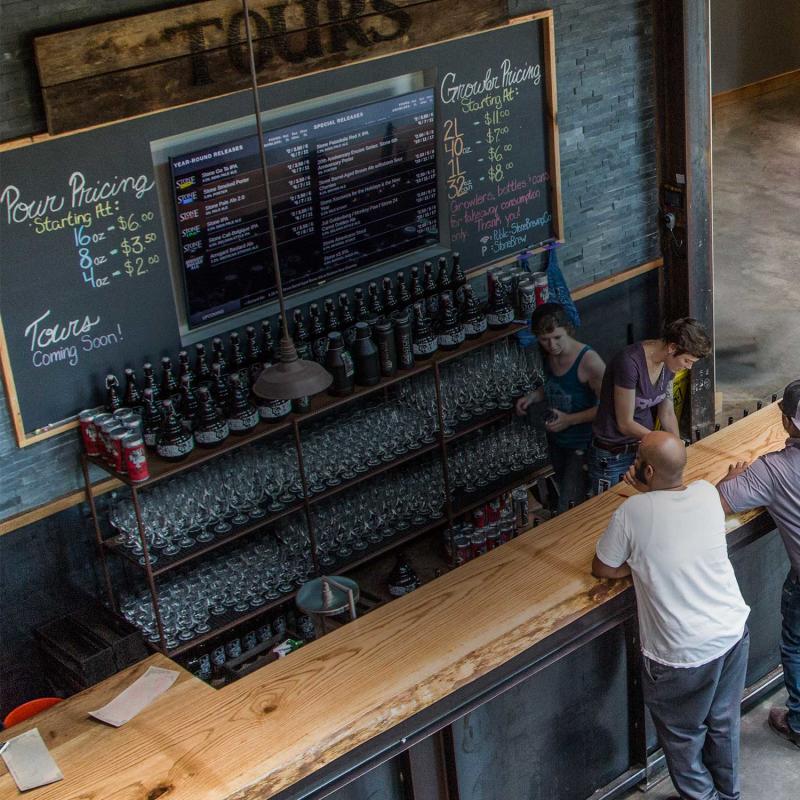 When the largest brewery in Southern California looked to expand to the East Coast, it was a no-brainer to choose Richmond as their new home! Known for producing bold, big character craft beers, Stone Brewing's RVA location boasts a 200,000 square-foot facility and an impressive outdoor area where you can unwind with friends over stellar brews. Head to this incredible venue in the Fulton area and see why Stone feels right at home in the Richmond community. And get excited for late 2018, when Stone Brewing World Bistro & Gardens – Richmond is expected to open!
Bottom Line: Large outdoor area, Off-street parking, Trendy atmosphere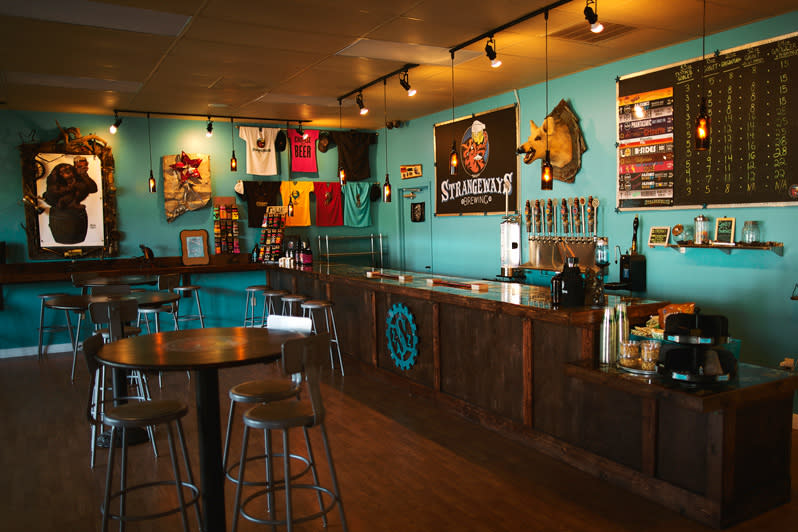 When it comes to the out of the ordinary, Strangeways Brewing covers all the bases. This brewery prides itself on its one-of-a-kind, "exquisitely peculiar" concoctions to satisfy the most curious of cravings, persnickety of palates and inquisitive of individuals. Here you will find multiple, eclectic tasting rooms and always 36+ unique beers on tap, including sours and wilds. There's also an outdoor Biergarten where you can enjoy the weather, grab a bite to eat from the ever-rotating food trucks on site, relax with the pooches, or play some cornhole. With the self-proclaimed motto of "Think Strange. Drink Strange" and title as RateBeer's "Best Brewery Taproom in Virginia" for 3 years running, Strangeways' bold personality is definitely a hit.
Bottom Line: Trendy, Off-street parking, Frequently rotating tap list, Food trucks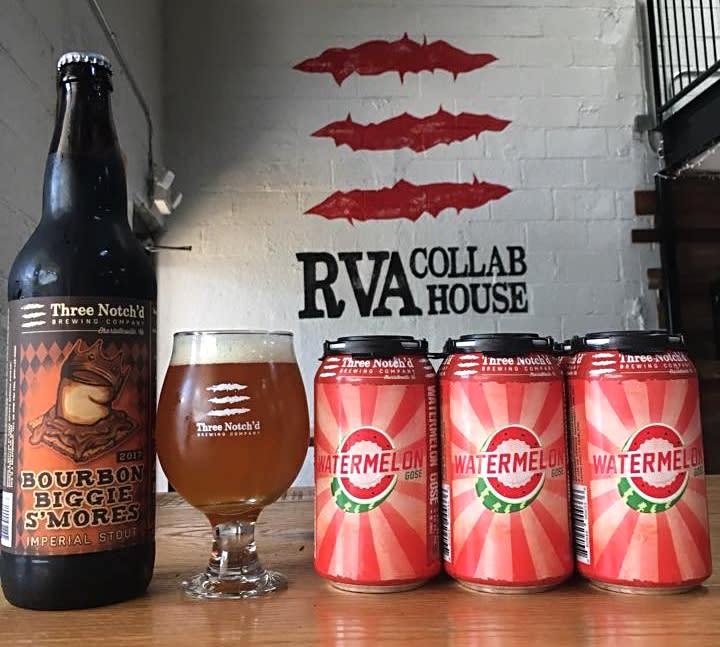 Three Notch'd is a Charlottesville-based brewery with two other locations in the state, Richmond being a very unique one. As its name implies, the RVA Collab House in Scott's Addition aims to leave its mark by sharing the stories of groups and individuals in the Richmond community through the art of craft beer. The taproom features 12 taps that include Three Notch'd Brewing's award-winning flagships, as well as locally crafted collaborations. You never know just what your taste buds will be getting into when you walk into Three Notch'd, so be sure to come thirsty and experience the RVA community's love of beer.
Bottom Line: Trendy atmosphere, Diverse tap list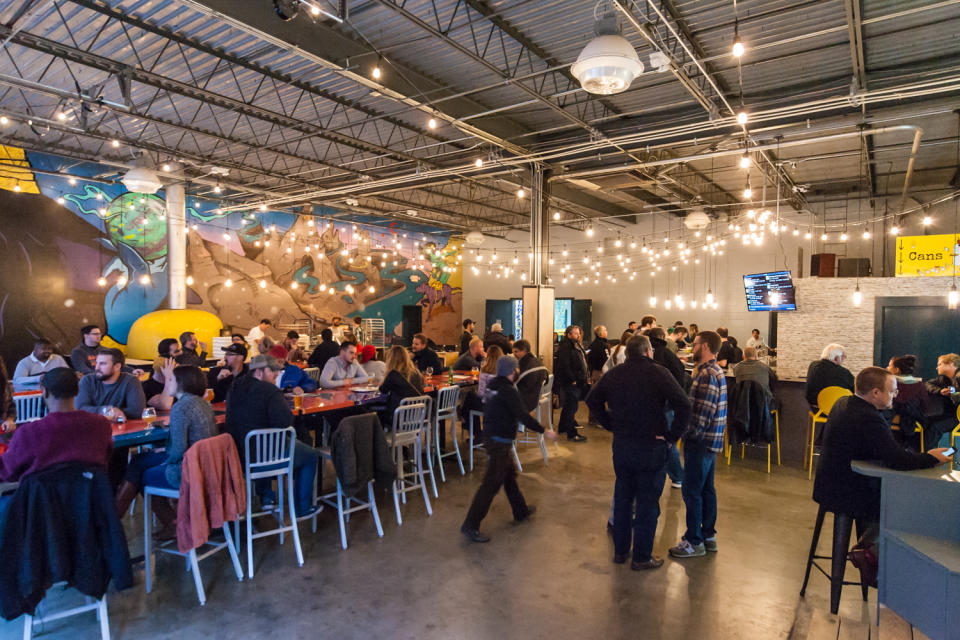 Triple Crossing Brewing
Downtown Location: 113 South Foushee Street, Richmond, VA 23220
Fulton Location: 5203 Hatcher Street, Richmond, VA 23231
Triple Crossing opened its original tasting room in the heart of Downtown in April 2014, then expanded to its newest location in the up-and-coming Fulton neighborhood last spring. The popular brewery keeps things interesting with a rotating draft list featuring everything from hop-forward IPAs and DIPAs to traditional English ales and stouts, as well as a newly formed mixed culture fermentation project. On the food side, the Downtown location features a taco bar and the spacious Fulton location has a brick-oven pizza kitchen on-site, so you've got tasty food options to pair with the fantastic beers! Both locations offer great outdoor spaces, and the Fulton brewery boasts two amazing murals by popular local artist Mickael Broth. Both spots are open daily so you can enjoy their brews any day of the week!
Bottom Line for Downtown: Trendy, Friendly atmosphere, Deck, Food on-site
Bottom Line for Fulton: Trendy, Friendly atmosphere, Large patio, Off-street parking, Food on-site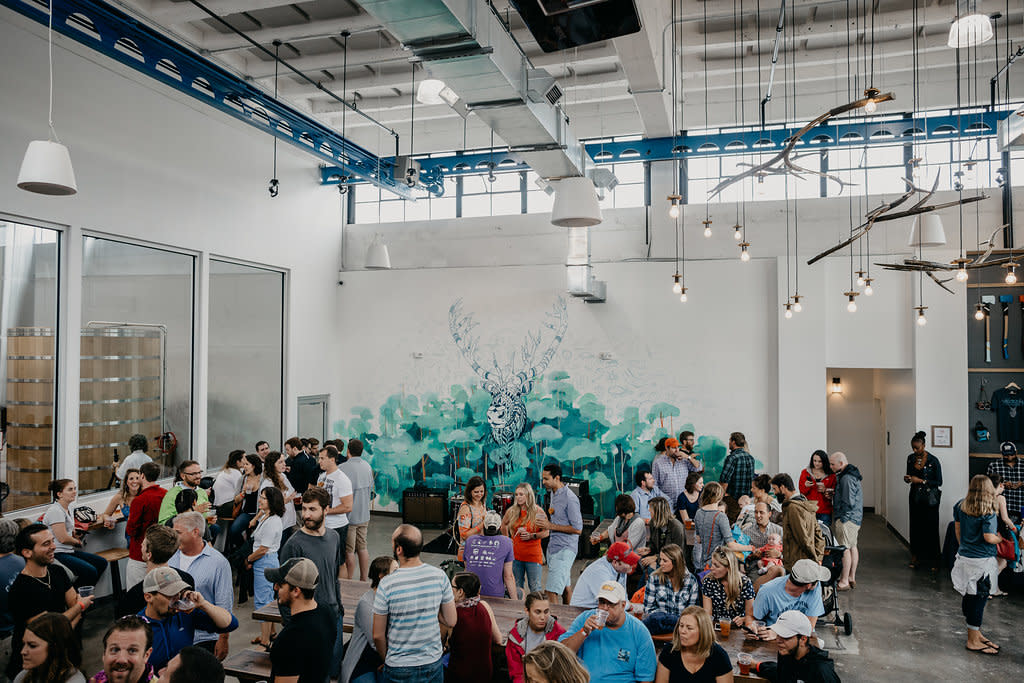 The newest brewery on the RVA craft beer scene, Väsen Brewing just celebrated its grand opening last month. Hyperborea was a place beyond the north winds in Greek mythology where the sun was always shining and outdoor activities could be enjoyed every hour of the day. While Väsen's Hyperborium taproom is not open quite as long, the feeling of the outdoors surrounds the space. A 20-tap draft system flows with sessionable beers and sours, featuring a few surprise beers each week.
Bottom Line: Off-street parking, Trendy, Specializes in session beers, Live music, Food trucks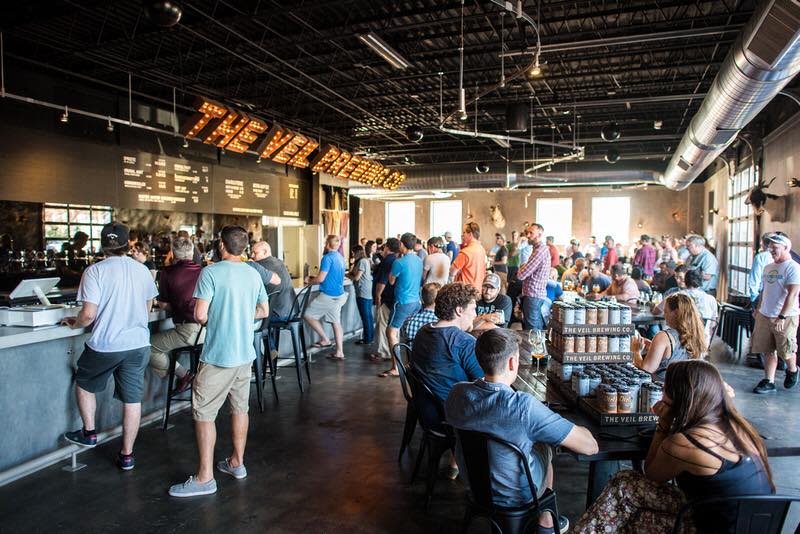 If you're a craft beer fan, chances are you've probably heard of The Veil. This unique, hop-forward brewery is quickly making its mark on the Richmond brewery scene, with beer lovers lining up out the door to get their hands on The Veil's ever-changing special releases. These guys have made headlines for their special releases, including a very popular Oreo beer, and another release called Fried Fried Chicken Chicken, made with - you guessed it - fried chicken! If your palate craves high gravity and spontaneously fermented beers, lagers, and wild ales, then The Veil is the place for you.
Bottom Line: Trendy, Frequently rotating tap list, Specializes in IPAs
Coming soon to the RVA Beer Trail:
These breweries are either new or opening soon in RVA.
Have an awesome time checking out the Richmond Beer Trail! Be sure to tag your craft beer adventures on social media with #RVABeerTrail. Craft on, my friends.