Thirsty for Pokémon Go in Richmond?
After hitting a ton of PokéStops and battling it out against other trainers in the Gym, nothing goes better on a hot summer day than a frosty cold IPA at one of Richmond's twenty-one (and counting!) craft breweries.
Declare your allegiance to Valor, Mystic and Instinct as you sample seasonal saisons, lagers and porters, Belgian white or hoppy red ales, maybe even a Berliner Weisse along the way!  Our Richmond Region craft brewers are producing some truly game-worthy beers guaranteed to please even the most finicky beer geeks.  Come see for yourself why All About Beer Magazine calls Richmond "a hotbed of brewing and beer appreciation." 
So while you're working to fill out the Pokédex, remember that there are plenty of RVA breweries to keep the Pokémon Go journey refreshing for beginners, masters and everyone in between.

7 Hills Brewing Co. - 115 South 15th Street, Richmond, VA 23219
Named for the 7 original hills upon which Richmond was built, this brew pub is located in Shockoe Bottom and names its beers after the popular sections of the mighty James River.  On your way in, stop to admire the new mural outside!  It just went up a few weeks ago as part of the Richmond Mural Project.  There are several PokéStops within a few blocks of the brewery and a Poké Gym just 2 blocks away near 17th & Dock Street. Be sure to knock those out before or after quenching your thirst at 7 Hills!

Brew Gastropub - 11400 W Huguenot Rd, Midlothian, VA 23113 
While it's not actually a brewery, Brew Gastropub offers plenty of thirst quenching beverages that are brewed across Virginia and here in Richmond.  If the local craft beers and made from scratch cuisine aren't incentive enough to lure you here, Brew's Bellgrade location is a Pokémon hunter's dream!  You will find four PokéStops within a quick stroll past the neighboring shops, starting at Montage.  Word on the street is that three of those PokéStops are known to drop lures.  Once you've powered up, head to the Poké Gym at the Bellgrade fountain directly in front of Brew.  If you'd rather hit the Gym from the comfort of your barstool or dining table, you can also access it from the front patio area or the Brew bar.  We'll drink to that!

From Pikachu to Krabby, plus plenty of others, Center of the Universe is crawling with Pokémon!  Come battle it out at COTU's Poké Gym, then stay and reward yourself with a cold one or two!  As if one Poké Gym isn't already awesome enough, the RV Park next door also has a Gym that just happens to be accessible from COTU's tasting room!  Once you have caught and fought all of the critters that you can, enjoy a Pocahoptas IPA, Chin Music, or Treat Yourself in the newly renovated tasting room or outside in the lovely Biergarten.  Did we mention that they also just added some sweet new pinball machines?

Hardywood Park Craft Brewery is the Top Rated Brewery in Virginia, according to consumer ratings on RateBeer.com. That's just the beginning of a growing list of international awards and accolades that Hardywood has racked up.  The newest addition to its resume should be "Home to a PokéStop."  We've also heard that lures have been dropped here from time to time.  Stop by for the popular Hardywood Food Truck Court every Thursday evening from 5:30-9:00 p.m. and get your grub on with tasty options from 16 different local food trucks!  Bonus: You can capture Pokémon, satisfy your tastebuds with delicious beer, and help out the community at the same time!  Hardywood donates a portion of all sales from its Capital Trail Pale Ale, Give Bock, and The Great Return to local nonprofits. So cool!

Central Virginia's oldest microbrewery sits along the scenic banks of the James River, and it also happens to be home to a Poké Gym!  Enjoy a delicious meal and some legendary brews in the full-service restaurant to fuel up for the fight.  Meowth, Zubat, and Staryu are just a few of the Pokémon that have been spotted here.  Be sure to take a break from your Poké escapades to look up and admire the fantastic view of Richmond's downtown skyline from the Legend deck. We also recommend sticking around long enough to watch the sunset over the city while enjoying a Legend Brown Ale or other beverage of choice.

Strangeways Brewing - 2277 Dabney Road, Richmond, VA 23230
At Strangeways, you can expect to find "exquisitely peculiar concoctions to satisfy the most curious of cravings, persnickety of palates and inquisitive of individuals."  So it totally makes sense that Pokémon enjoy hanging out here.  Not to mention that Strangeways has the Best Brewery Taproom in Virginia according to RateBeer.com!  Come see what the hype is about and grab a refreshing beer while replenishing your supplies at the Strangeways PokéStop.  With at least 25 unique beers on tap, a dog-friendly biergarten, cornhole, and hundreds of curious oddities and breweriana pieces on display in the tasting room, a trip to Strangeways is an exotic adventure waiting to happen!

Triple Crossing Brewing was born when three friends coincidently crossed paths in life and decided to bring their love for artisan hop-forward beers to Richmond. The brewery's name pays tribute to the local historic landmark of the triple main-line railroad crossing, a dramatic intersection that can still be seen in operation along the James River and Kanawha Canal.  The brewery is home to a PokéStop, so head on over and take your pick from a rotating roster of IPAs and double IPAs, such as the Falcon Smash IPA or the Easy Now Pale Ale. Enjoy live music every Friday evening in the tasting room, or soak up the sun and share flights with friends on the awesome downtown deck while keeping an eye out for Pokémon.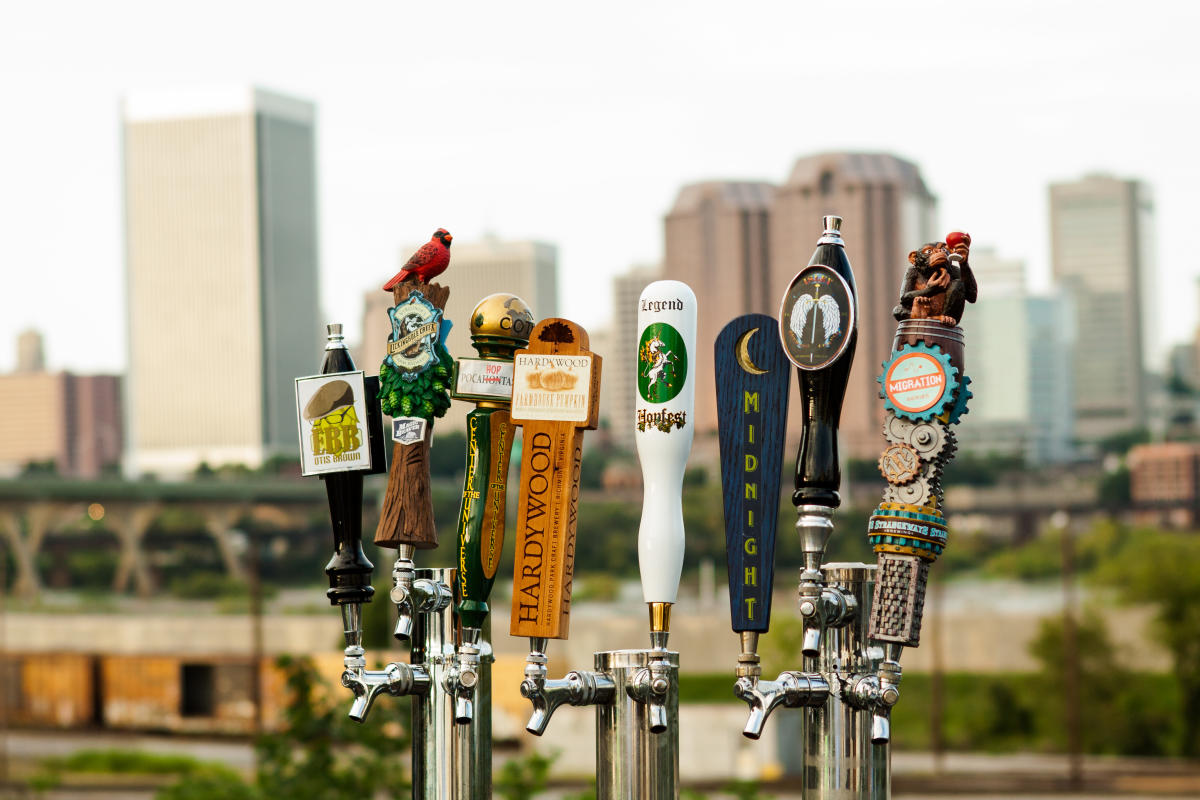 Don't stop there! We've got plenty more amazing Richmond-area breweries in addition to the ones mentioned above.  Check out all of our Richmond, VA craft breweries and start planning your RVA beerventure today!