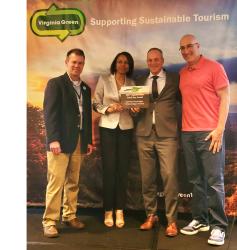 A new sustainability-focused event services offering from Richmond Region Tourism was recently recognized by a Virginia-based environmental awards program for its work to offset the environmental impact of meetings.
Richmond Region Tourism recently launched a Net Zero Emissions conference program to give meeting planners and attendees an opportunity to host net-zero emissions conferences by off-setting carbon emissions from car, train and plane rides utilized by attendees, as well as the environmental impact of meals and the hotel and meeting space.
This spring, the program received the Virginia Green program's highest award, the Virginia Green Travel Star for Most Innovative Green Project.
"We're honored to receive this award and we're proud of the program and the strides it makes toward making meetings more environmentally friendly," said Matt Robinette, Richmond Region Tourism's Vice President of Visitor Experience. "We know sustainability is top of mind for everyone—meeting planners, attendees and travelers alike, so we're pleased to be able to offer a way to make meetings greener without compromising on quality."
Creating sustainable conferences is becoming increasingly important in the meetings industry. In fact, a recent survey of event professionals found that 79% of respondents report their organization emphasizes sustainability and meetings and event.
Richmond Region Tourism launched the program alongside local sustainability partner the Virginia Green Travel Alliance and Terrapass, a company that works to reduce the impact of carbon emissions by funding projects like wind power, reforestation and landfill gas capture.
The Virginia Library Association was the first to take advantage of the program, hosting a net zero-emissions conference for its 390 attendees in October 2021.
"The Virginia Green Travel Star Awards recognizes the 'greenest' businesses and individuals that have demonstrated outstanding commitments to the environment in the past year," said Tom Griffin, Executive Director of the Virginia Green Travel Alliance in a press release. "We are proud to recognize these businesses as they are true partners in our efforts to promote sustainable tourism in Virginia!"
To learn more about Richmond Region Tourism's zero emissions conferences contact sales@visitrichmondva.com.