Liana Acevedo, Senior Convention Services Manager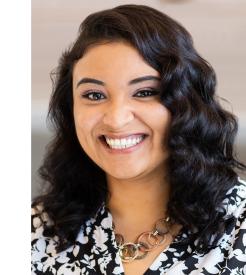 Tell us about your role at Richmond Region Tourism.
I currently serve as the Senior Convention Services Manager, and my role is to support citywide event organizers with their planning needs from start to finish. I am the liaison between the event and the Richmond Region community—and my goal is to drive spending locally from event logistics to attendee experiences.
What is one of your favorite projects you worked on this year?
A project I have been passionate about working on this year has been preparing for the Power of Partnership Stewardship Summit, which will be hosted in RVA this October. I have the pleasure of collaborating with the planner and local partners to curate meaningful experiences that align with the event's focused pillars of Culture, Community and Climate. Through this work, I have identified new ways to engage local businesses with tourism and created new opportunities for future groups to experience the Richmond Region.
What is something that surprised you about our local tourism industry when you began your role or career?
One thing that continues to surprise and inspire me about the local tourism industry is how it encompasses a broad spectrum of hospitality/local businesses, all of which contribute to the vitality, culture and overall quality of life here in our destination.
What continues to inspire you about your role?
I'm inspired by the impact meetings and events continue to bring to the Richmond Region. We are reimagining our roles and the way we hold events "post-covid," as we continue to bring people together and engage them in deeper dialogue about why they are hosting their events here. I am inspired to make more meaningful connections, introduce more visitors to the community, outside of the four walls of their meeting space, and have them leave here with the desire to visit again and again.
When you have friends and family visiting, where do you take them in RVA?
I always enjoy taking friends and family to a variety of locations in the James River Park System. There are so many great photo opportunities that capture the best views of the city, as well as places to admire the native plants in our area. I appreciate the connection the James River Park System offers between the city and the great outdoors.