Celebrate Why Tourism Matters in RVA!
Richmond Region Tourism's National Travel & Tourism Week
National Travel and Tourism Week is America's annual salute to tourism and it serves to champion the power of the industry. In the Richmond Region, tourism is a major economic driver where 7 million visitors spend $2.4 billion annually. Please join us to celebrate tourism as we build on the momentum of last year's successes with RVA's most dedicated industry partners and professionals at the 2019 Tourism Awards.
Where: Dewey Gottwald Center at the Science Museum of Virginia
When: Thursday, May 9, 2019
7:15 AM -  Registration, Breakfast and Networking
8:15 AM -  Program Begins
9:45 AM -  Program Concludes
Individual Registration
Cost: $100 before April 26
Registration after April 26: $110
IMPORTANT NOTE: Unless you are with a sponsor table, this is an OPEN SEATING event.
Registration closes May 3.
Register here as an Individual
Table Sponsor
$1,000 table sponsorship (set for 8) includes breakfast
*As a table sponsor, you receive premier seating with table signage and recognition on event website and Facebook event page.
**Table sponsors are given the opportunity to donate two seats to award winners.
Registration closes May 3.
Register here as a Table Sponsor
The Tourism Impact Award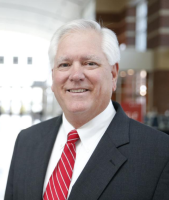 The Tourism Impact Award is the highest honor given each year. Receiving the prestigious 2019 Tourism Impact Award will be Capital Region Airport Commission's President and CEO, Jon E. Mathiasen.
Since 2000, Jon Mathiasen has been president and CEO of the Capital Region Airport Commission where he oversees all aspects of Richmond International Airport's daily functions. Jon's list of accomplishments during his tenure at the airport include a new air traffic control tower, a new two-level passenger terminal, an improved roadway system, additional parking, an expanded aircraft parking apron – and, notably, more options for passenger travel. Seven carriers now fly in and out of Richmond, and in 2018, 34.1 million people used RIC for air travel breaking the 4 million passenger milestone. Jon's work as a regional collaborator and his assistance in increasing tourism transportation options by making the Richmond Region more accessible via air travel are reasons he is receiving the 2019 Chairman's award.
Additional award winners will be announced at the event.
This Year's Host 
Kelli Lemon, creator of Coffee with Strangers and owner of Urban Hang Suite.

Thank you to our sponsors!
Media Sponsors 


Silver Sponsors
Hosted By               Host Sponsor


Audio Visual Sponsor