black lives matter
Things are changing fast.
We're here to help.
Dear valued partner,
Happy New Year. Richmond Region Tourism is proud to work on behalf of partners and the local community as we navigate our region's rebound from COVID-19. We know the pandemic has been extremely hard on everyone, especially those in the hospitality industry. Our No. 1 priority is to be a resource for our partners.
Moving forward, we are reorganizing our partner enews in an effort to make resources and updates more digestible. Emails will be distributed on a bi-weekly basis.
This newsletter is for you. Please let us know if there is other information you would like to see or know about. We hope this space will continue to provide you with important information that celebrates the beautiful and resilient region we call home. 
And remember: Stay Safe. Stay Well. Stay in touch. You can contact me anytime at jberry@visitrichmondva.com. 
Sincerely,
Jack Berry
President & CEO
GRANTS AND COMMUNITY SUPPORT
NEW PPP LOANS: The Richmond Times-Dispatch profiles how local businesses in Virginia are planning to use new PPP loans. Several companies in the region are profiled.
GRANTS FOR VENUE OPERATORS: Congress authorized $15 billion in grants within the December relief bill to support performing arts organizations and museums impacted by COVID-19 restrictions. For-profit, nonprofit and government-owned entities are eligible. Visit Veneble.com for information.
TRAVEL RESEARCH AND SURVEYS
TRAVELER STUDY: Check out the latest travel sentiment study from Longwoods International. Key Findings: 
51% of American travelers report their first trip this year will be to visit friends and relatives! (The vast majority of this will be by car.)
Only 9% of American Travelers indicated that they do not currently have travel plans for 2021.
63% of American Travelers have plans to travel in the next six months, up from 57% (+6%) in mid-December.
Only 35% have completely cancelled upcoming travel plans due to the pandemic, down from 41% (-6%) in mid-December.
41% of Americans now support opening up their community to visitors, up from 32% (+9%) in early December.
EMPLOYER SURVEY: Help the Capital Region Workforce Development Board develop their regional workforce efforts by completing this Employer Survey.
LOCAL NEWS AND RESOURCES
VACCINE ALERTS: An essential part of the hospitality industry rebound is helping ensure industry employees can take advantage of COVID-19 vaccines. Sign-up for the Virginia Department of Health's Vaccine Rollout Alert website for the latest vaccine news.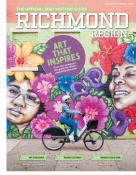 2021 VISITORS GUIDE: RRT is excited to introduce the 2021 Visitors Guide, a dynamic overview of the region's sites and experiences. Attraction partners can pick up quantities at the Visitor Center at the Robinson House starting January 19. Hotel partners should contact Rich Malkman at Richmond Magazine at 804-355-0111 or richm@richmag.com for copies.
EXPERIENCE PASS: RRT's Experience Pass, presented by Airrosti, is a free promotional tool that highlights a variety of attractions, restaurants and businesses offering exclusive promotions to sports tournament attendees. Put your deals online via Richmond Region Connect.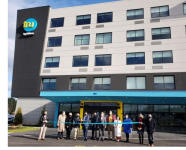 NEW HOTEL: Congratulations to the team at KM Hotels for opening Tru by Hilton in Ashland this month.
GIVE BLOOD, SAVE LIVES: The American Red Cross is hosting a blood drive at the Downtown Hilton on Friday, Jan. 22 from 10 a.m.-3 p.m. Blood donations are tested for COVID-19 antibodies, with results available within 7-10 days. Enter "Hilton" at RedCrossBlood.org to sign-up.
ICYMI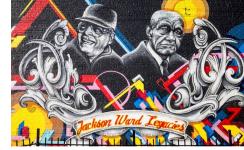 RVA is incredible and one-of-a-kind. Here's a roundup of awards and accolades the region received in 2020. This national recognition is critical and will help us welcome visitors back when it's safe.
Travel + Leisure - Richmond named one of "The 50 Best Places to Travel in 2021"
VinePair - Triple Crossing's Falcon Smash on list of "The 25 Most Important IPAs Right Now"
USA Today 10 Best - Lewis Ginter highlighted on list of "Best Botanical Garden Holiday Lights 2020"
Travel + Leisure - Richmond's Tacky Lights Tour featured on list of "The Best Christmas Light Displays in Every State"
PureWow - The Jefferson Hotel on list of "The 15 Best Christmas Destinations That Look Straight Out of a Postcard"
AARP - Lewis Ginter Botanical Garden' Dominion Energy GardenFest of Lights on the list of "8 Spectacular Holiday Light Displays Around the Country"
MSN  - Richmond recognized as one of "America's Most Historic Towns & Cities"
Esquire – Restaurant Adarra on list of "Best New Restaurants in America, 2020"
RaceRaves - Richmond named one of "The Best Racing Cities in the US"
MSN - Richmond featured on list of "Holiday Road Trips You Can Take Amid Coronavirus"
Lonely Planet - Richmond on list of "Cities Where Travelers are Booking Long-Term Stays"
The New York Times Magazine - Richmond and Marcus-David Peters Circle on list of "The 25 Most Influential Works of American Protest Art Since World War II"  
Smarter Travel - The Jefferson Hotel included on list of "11 Pet-Friendly Hotels Your Dog (and you) Will Love"
Natural Trust for Historic Preservation - Jackson Ward on list of "9 Historic Black Neighborhoods That Celebrate Black Excellence"
Fodor's - The Black History Museum and Cultural Center of Virginia featured on list of "15 Unmissable Black History Museums Across America"
If you find this content valuable, please forward our newsletter to a peer in the region's hospitality industry.