A MESSAGE FROM JACK
Dear partner,
I hope you're well and healthy.
Voters have an opportunity to voice their opinion on the ONE Casino + Resort project planned for South Richmond with early voting underway for the Nov. 4 election.
Richmond Region Tourism is particularly excited about the ONE Casino project for its potential to augment the region's entertainment and cultural assets – the community amenities that not only enhance local quality of life but that attract visitors.  From a four-star, 250-room hotel with as many as 15 eateries and bars to large swaths of green space, One Casino will greatly enhance Richmond's tourism posture, be it for weekend getaways, vacations or conferences.
Learn more about the project at onecasinoresort.com.
Our regular hospitality and tourism updates are below. I hope you find the resources and information useful. You can contact me anytime at jberry@visitrichmondva.com.  
Jack Berry
President & CEO
COMMUNITY RESOURCES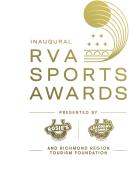 RVA SPORTS AWARDS: Nominations are open through Dec. 1 for the Richmond Region Tourism Foundation's inaugural RVA Sports Awards. Winners will be honored at the RVA Sports Awards Show at the Greater Richmond Convention Center on Feb. 5, 2022. The regionwide event is presented by Rosie's Gaming Emporium and Colonial Downs and honors people working to better the region through sports. CBS6 has more on the story.
UPCOMING EVENTS
REFLECTIONS OF FREEDOM: As one monument comes down, a significant statue depicting the history of Black resiliency and strength has risen. The Emancipation & Freedom Monument, unveiled earlier this week at Brown's Island, brilliantly showcases two persons newly freed from the bondage of slavery. The project is a part of the Virginia General Assembly Dr. Martin Luther King Jr. Memorial Commission's remembrance of the 150th anniversary of the Emancipation Proclamation and the abolition of slavery. If you haven't had a chance to see the new monument, we encourage you to take a moment out of your day to visit Brown's Island and reflect on its importance.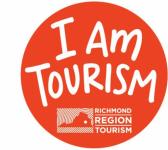 BECOME AN AMBASSADOR: Trying to figure out an agenda for when your family visits RVA this fall? Enroll in the free I Am Tourism virtual class on Tuesday, Oct. 19, from 9-11 a.m. and become a Tourism Ambassador. Each class includes a classroom presentation on Zoom and features exclusive virtual video tours led by Bill Martin, Executive Director of The Valentine. Register today at IATRVA.com! Your friends and family will be impressed with your knowledge about the region's attractions.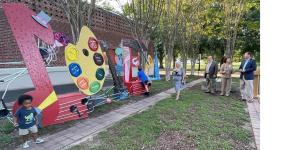 LOVE LETTERS: The Cultural Arts Center at Glen Allen recently unveiled a new LOVEworks sign, which includes a whopping 1,975 buttons of assorted sizes, 70 pencils, 12 bottles of gorilla glue and more. Stop by soon to see the creative installation for yourself.
FUNDRAISING OPPORTUNITY: Support G.W. Carver Elementary with the Celebration of the Jackson Ward! The event highlights the rich history of the neighborhood by showcasing the lasting impact of John Dabney—a founding father of Jackson Ward's cultural legacy—while showcasing the contributions of Jackson Ward to the Richmond community. All proceeds will benefit the Carver Technology Initiative, a program that promotes technology as a vehicle of opportunity for students and the surrounding community.
MEETINGS & CONVENTIONS: Did you know that professional meetings and events (PMEs) are safer than your average trip to the grocery store? In fact, according to scientific modeling by the Exhibitions and Conferences Alliance and Epistemix, in-person PMEs pose a near-zero risk of COVID-19 transmission to attendees—even for large events. Learn more about the value of in-person events at letsmeetthere.travel. 

BIKE TOUR: Basket & Bike has partnered with Quirk Hotel to offer a new co-branded tour Quirk Richmond Art & Secret Garden that showcases some of RVA's artsy must-sees. The Tour includes the history of art in the region like murals in Jackson Ward, International Street Art, the grounds of both the Virginia Museum of Fine Arts and the Institute for Contemporary Art, plus a peek into some of Richmond's pocket parks and artful gardens. The best part? When you stay at the Quirk, you are given a discount for any of Basket & Bike's tours.
ICYMI
SCHOLARSHIP RECIPIENTS: For more than 16 years, the Richmond Region Open has combined fun and fundraising to support tourism in our region. Proceeds from the event benefit four hospitality scholarships of $1,000 to Virginia State University students pursuing careers in the tourism/hospitality industry. This year's scholarship recipients include:

RVA IN THE NEWS: The region was recently highlighted in Food & Wine and Northern Virginia Magazine! Check out the articles and find new moments to add to your RVA bucket list. 
If you find this content valuable, please forward our newsletter to a peer in the region's hospitality industry.