black lives matter
Things are changing fast.
We're here to help.
Dear valued partner,
I hope you're well. This week we have a new COVID-19 grant program for small businesses and nonprofit organizations, a community-wide cleanup day, socially distanced activities around the region, virtual happy hours and more.
 
Governor Ralph Northam recently announced a $70 million grant program to support small businesses and nonprofit organizations impacted by the COVID-19 pandemic. The funding will be made available through Rebuild VA, a new economic recovery fund, with grants of up to $10,000 awarded to approximately 7,000 applicants. For more eligibility information and how to apply, visit governor.virginia.gov/rebuildva/.
 
Restaurants working to develop or enhance a to-go alcohol program may join the Virginia Restaurant Lodging & Travel Association for its new webinar, The 3 Ps of a Successful To-Go Alcohol Program, on August 11 at 10:30 a.m. The session will include information on policies, packaging, and promotion, with panel experts covering the key aspects of starting or growing an alcohol to-go program. Details: here.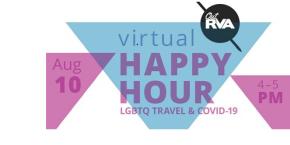 Join OutRVA for a virtual happy hour on August 10 at 4 p.m. to discuss the LGBTQ+ community and adjusting to socially distant dining, shopping and travel. Stick around for a game of OutRVA bingo to win a $25 gift card from L'Oppossum and support queer-owned restaurant Soul Taco by ordering dinner and cocktails to-go at soultacorva.com.
The Richmond Flying Squirrels are continuing its Movies in the Outfield series this week with a few family favorites on the roster. Enjoy a movie on the Diamond's video board while sitting in socially distanced squares drawn on the outfield. Admission is $8 per person and will feature "Remember the Titans" on Thursday and "Angels in the Outfield" this Saturday. Don't forget your pillows and blankets!
Grab your family and friends for a socially distanced night out at the Lewis Ginter Botanical Garden for Fridays Alfresco starting on August 7. Tickets must be purchased online in advance and admission is staggered by time, with entry slots each half-hour from 5–7:30 p.m. Masks are required in buildings and are encouraged throughout the grounds.
Join the American Civil War Museum on August 10, at 6:30- 8:00 p.m. for a virtual happy hour and a history lesson from Wisteria Perry on African Americans' fight for freedom. For more information, visit ACWM.org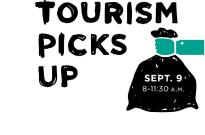 Twice a year we invite the tourism community to participate in Tourism Picks Up, a community-wide clean up at our visitor attractions.  We encourage our attractions, hotels, and other tourism partners to participate, in a safe manner of course, Wednesday, September 9 from 8-11:30 a.m. If everyone spruces up their slice of the region, RVA will be ready for its close-up in no time.  
Important news for our national parks: The Great American Outdoors Act was recently signed into law. The act provides repairs to park infrastructure and permanently funds the Land and Water Conservation Fund. Here's info from the U.S. Travel Association on the significance of the landmark legislation.   
Please continue to stay safe, well and in touch. You can always reach me directly at jberry@visitrichmondva.com with any questions or needs.
Sincerely, 
Jack Berry  
President & CEO