black lives matter
Things are changing fast.
We're here to help.
Dear valued partner,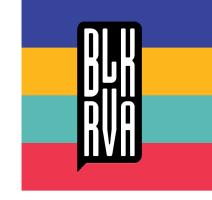 As we celebrate and honor Black history and excellence this month and beyond, I invite you to engage with Richmond Region Tourism's BLK RVA campaign. It's a great way to learn about the region's past, present and future and support Black-owned businesses. Don't miss the information below about Virginia Tourism's latest research on Black travelers.
I hope this space will continue to provide you with important information that celebrates the beautiful and resilient region we call home. And remember: Stay Safe. Stay Well. Stay in touch. You can contact me anytime at jberry@visitrichmondva.com. 
Sincerely,
Jack Berry
President & CEO
LATEST TRAVELER DATA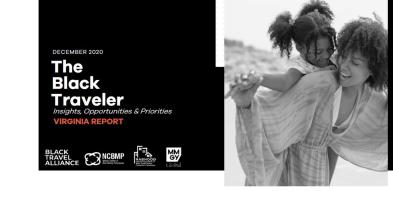 BLACK TRAVELERS MATTER: A new survey sponsored by Virginia Tourism Corporation examines the experiences of Black travelers in Virginia and their economic impact. According to the report, Black travelers spent an average of $810.44 per trip to the area, with nearly 3 in 5 U.S. Black travelers indicating they would consider visiting Virginia for a leisure trip. Of the eight states included in the survey, Virginia was the second most visited state. For a more in-depth look into the survey findings, take a look at the report and in case you missed it, check out the story on WVEC. 
TRAVELER OPTIMISM: In a recent survey by Destination Analysts 12.7% people said they took a trip for the long Valentine's/President's Day weekend. This number is double what was reported for Memorial Day weekend in the early pandemic period, and a similar rate to Labor Day weekend, which followed the summer coronavirus case surge. As Americans' anxiety about the pandemic continues to decline, these positive feelings translate to travel. Right now, 80.2% of Americans have plans for one or more upcoming trips, with July looking like the peak travel month this year.
U.S. TRIP PLANNING SURGES: According to the latest Longwoods International tracking study of American travelers, 81% of people plan to travel in the next six months, an increase of 16% since mid-January and the highest level since the beginning of the pandemic last March. Coupled with a surge in travel plans for the upcoming six months, the percentage of travelers who say that the coronavirus is greatly impacting their decision to travel during this time period dropped to 40%, the lowest level since March 2020.
GRANTS AND COMMUNITY SUPPORT
DOORDASH RESTAURANT GRANTS: The Virginia Restaurant, Lodging & Travel Association announced a new partnership with DoorDash to support Virginia restaurants. VRLTA is awarding approximately 125 grants of $3,500 each for a total of up to $450,000. A minimum of 20% of grants will go to minority-owned and women-owned businesses. Applications are open today through March 1.
READY TO RECOVER: Dominion Energy Innovation Center is partnering with Downtown Ashland Association from February 24 to March 31 to host a series of workshops aimed at helping local small business owners adapt, grow, and thrive in the post-COVID economy. Following each workshop, the expert presenter will be available for one-on-one appointments with Ashland businesses. To register or schedule for consulting, visit ashlandvirginia.com. 
GET-OUT-THE-RVA-VOTE
TOURISM AWARD NOMINATIONS: It's important now more than ever to support our local tourism community and recognize the people who work hard to make our region a top destination. The annual Tourism Awards Program recognizes those outstanding individuals by highlighting their exceptional work and achievements with Tourism Leadership, Rising Star and Customer Service awards. Submit a nomination form by April 5. Winners will be recognized at the virtual Awards and Annual Meeting in May.
LOCAL TOURISM UPDATES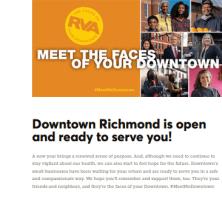 MEET MORE FACES OF YOUR DOWNTOWN: As the region continues to prioritize the health and safety of everyone, downtown small businesses are open and ready to serve you. They're your friends and neighbors, and they're the faces of your downtown. Read all about them at venturerichmond.com and follow along on Facebook, Instagram or Twitter.
ANNUAL 10K: Due to COVID-19, Ukrop's Monument Avenue 10k presented by Kroger will take place from June 3-6. The rescheduled, socially distanced event will feature two course options: Byrd Park in the City of Richmond and Dorey Park and the Virginia Capital Trail in Henrico County. Registration is open at sportsbackers.org.
RVA ON JETBLUE: JetBlue's new nonstop flights to Los Angeles (the airport's first-ever transcontinental option), Las Vegas and Tampa make it easier than ever for travelers to visit our region.Check out JetBlue's new RVA destination page at jetbluevacations.com.
MOVIE MYTHBUSTING: Join the Virginia Museum of History & Culture for the next virtual installment, "Movie Mythbusting," with a viewing of Ruby Bridges on March 2 at 7 p.m. Watch the film in advance, then join an interactive Zoom presentation where special guests from the Moton Museum will talk about Barbara Johns and Virginia's school integration story. The program is free, but registration is required. For more information, visit virginiahistory.org. 
THE BEAUTY OF BALLET: Whether you choose to watch in person or virtually, the Richmond Ballet's February Studio Series makes the beauty of movement accessible to everyone. In-person tickets start at $25 and are limited. Virtual tickets are $20, and performances can be streamed for one week beginning Sunday, February 21.
FILM FANS: The RVA Environmental Film Festival is screening films online for free this year through February 26. For more information, visit rvaeff.org. 
ICYMI
Here's a roundup of awards, accolades and recognition the region and its community members have received. National and regional acclaim is critical and will help us welcome visitors back when it's safe.
The region took home the following Readers' Choice awards from SportsEvents magazine:
All-Star Outdoor Sports Venue - River City Sportsplex, first place
The Live or Virtual Sports Event to Watch in 2021: UMOJA Games 2021 – River City Sportsplex, Midlothian, Virginia, first place
All-Star Multipurpose Sports Venue or Sports Complex - River City Sportsplex, second place
Best Live or Virtual Sports Event of 2020 – USA Archery 136th National Target Nationals and 2020 U.S. Open – Richmond, Virginia, second place. Sherri Rhodes, event organizer, placed second as well.
If you find this content valuable, please forward our newsletter to a peer in the region's hospitality industry.