Travelers prioritize family and friend
Dear partner,
It's beginning to look and feel like the holiday season in the Richmond Region and travelers are ready to make up for lost time with family and friends. According to a Travel Value Index by Expedia Group, reconnecting with the people that matter and finding meaningful experiences is fueling travelers' desire to travel again.
The report found that 32% of travelers say visiting family and friends was more important than getting the best deal for their first trip. This data emphasizes just how important meaningful relationships are and will continue to be to the recovery of the tourism industry.
The Richmond Region Tourism team sends warm wishes to everyone celebrating Hanukkah. Earlier this week, the city of Richmond celebrated the lighting of its first official menorah Tuesday at City Hall.
Our regular hospitality and tourism updates are below. I hope you find the resources and information useful. You can contact me anytime at jberry@visitrichmondva.com.
TRAVEL SENTIMENT AND DATA
SERVICE LEVELS CONTINUE TO RISE: According to the latest study by Longwoods International, most travelers experienced service levels as good as or better than prior to the pandemic on their trips this fall, with about half reporting service comparable to pre-pandemic travel and a quarter rating their service experience as better than before pandemic.
POSITIVE OUTLOOK FOR TRAVEL: A recent study by Destination Analyst found that the average American traveler will take 2.4 overnight trips in the next three months. Over 70% of travelers did some travel dreaming or planning in the past week alone, particularly discussing potential or upcoming trips with friends and family.
UPCOMING EVENTS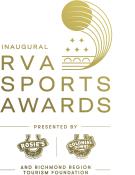 RVA SPORTS AWARDS: Honorees at the RVA Sports Awards on Feb. 5 will receive their awards from one of the state's most prominent sports legends: NFL alum Tiki Barber. Barber will host the region's inaugural sports awards show, which will recognize outstanding athletes and leaders in the community. For more information on tickets, tables, and sponsorships and to make award nominations visit RVASportsAwards.com.
TALENT SUMMIT: Join the ChamberRVA Talent Summit presented by RVA NOW on Dec. 7 from 8 a.m.-noon at Virginia Union University. Attendees will witness insightful presentations and engaging panel discussions highlighting the importance of collaboration between higher education and regional employers, how education and work-based learning can close labor market gaps, and the importance of reinforcing the talent pipeline in the Richmond Region.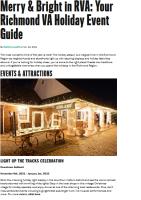 MERRY AND BRIGHT: The holiday season is a magical time in the Richmond Region as neighborhoods and storefronts light up with dazzling displays and holiday festivities abound. Create new traditions and find your merry moment with this holiday event guide comprised of fun events, attractions and more. And just in case you needed another reason to convince family and friends to come to the region during the holidays, check out this article by Southern Living.
CHRISTMAS PARADE: The 38th annual Dominion Energy Christmas Parade is taking place this Saturday, Dec. 4 at 10 a.m. along Broad Street! The beloved Richmond tradition will feature colorful floats, giant helium balloons, college marching bands, local dance troupes, Legendary Santa and more.
SOUL SANTA IS COMING TO TOWN: The Black History Museum and Cultural Center of Virginia will host Soul Santa virtually this year. You must sign up to tune in. Every child who registers will receive a Christmas card in the mail.
RVA ON WHEELS: Basket & Bike and RVA on Wheels have teamed up to provide the region with a variety of tour experiences and rentals to experience the city in a new way. Interested parties can enjoy the festive atmosphere on Shockoe Slip as the holiday lights illuminate the streets at the Holiday Open House tomorrow, Dec. 3 from 10 a.m.-7 p.m. at 1301 E. Cary St.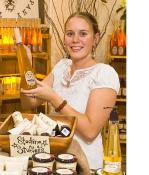 BIZARRE BAZAAR: The Bizarre Bazaar is returning to the Richmond Raceway Dec. 2-5 for the 46th Christmas Collection. The show will feature 500 vendors in four buildings offering everything from art to fashion, gourmet food and creative crafts.
TREE LIGHTING: The Joy of Illumination—the annual Christmas tree lighting event and festival—takes place this Saturday, Dec. 4, at the Cultural Arts Center at Glen Allen. The tree lighting opens the event at 4:30 p.m., followed by a festival through 7 p.m.
ICYMI
STAFFING UPDATE: We are thrilled to introduce Tom Loftus as the new Vice President of Marketing at Richmond Region Tourism. Loftus has more than 30 years of strategic marketing, communications and public relations experience across six different industries including tourism, legal, hotels, manufacturing, utility and spaceflight, and comes to RRT from Pittsburgh where he was the CMO for VisitPITTSBURGH. Welcome, Tom!
If you find this content valuable, please forward our newsletter to a peer in the region's hospitality industry.