Richmond Region Tourism
Funding and programs Information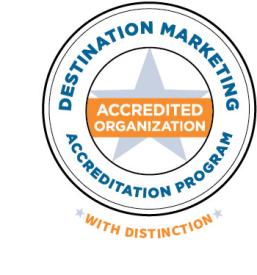 Richmond Region Tourism (RRT) is a private, non-profit 501(c)(6) organization that strives to build a more livable, lovable and prosperous region that balances the quality of life for locals and excitement and fresh experiences for visitors. Our primary funding comes from a tax (transient lodging tax) that hotel guests pay on lodging in Chesterfield, Hanover, Henrico and New Kent counties, the town of Ashland and the cities of Richmond and Colonial Heights. We receive 2 percent of the transient lodging sales in the Richmond Region. We are also partially funded by the Greater Richmond Chamber, and receive funding from local partners and sponsors. This page is dedicated to showcasing our transparency in helping people better understand our programs and funding structure. If you have any questions, please feel free to contact us at admin@VisitRichmondVA.com.
OUR VISION
As a thriving community, the Richmond Region is known for being inclusive and welcoming to all.
OUR MISSION STATEMENT
Share a passion for the Richmond Region with the world.
OUR CORE VALUES
At Richmond Region Tourism, our people are our biggest asset. Our internal cornerstones define our organizational culture and provide a road map for engaging with our community in making the Richmond Region welcoming for all.
- Passion: Intense enthusiasm for our community and its people
- Inclusiveness: Deep commitment to equity and community engagement to advance, develop and sustain the Region
- Integrity: Dynamic culture built upon trust, honesty, and credibility
- Innovation: Leading-edge work that is rooted in creativity and transformational for the Region
- Stewardship: Ambassadors of our destination's development, image and reputation
- Courage: Doing the right thing and upholding our values
ABOUT US
As the Region's destination organization, we are experts who have a deep love for the community in which we live, work, and play.
We enrich the lives of our residents and visitors by sharing the unique culture and humanity that is the Richmond Region. 
We generate economic prosperity through tourism by attracting conventions, meetings, sports tournaments, and visitors and ensuring that all have an unforgettable experience.
We enhance the quality of life for the people in our community by supporting the places that make the Richmond Region wonderful.
We strengthen local programs that drive tourism through our Richmond Region Tourism Foundation. 
We do all of this through a lens of diversity, equity and inclusion.