It's the day that marks the moment of emancipation for enslaved African Americans, and this federal holiday means major celebration across the Richmond Region. Also called Freedom Day, Jubilee Day and Emancipation Day, Juneteenth is June 19th – but this year, you can take part in multiple weekends of festivities in RVA. Check out a few of the Juneteenth events and activities ahead this month and be sure to check back regularly for additional details and event updates.
Culture Queen's Juneteenth Jubilee
June 11th, 2022 | 2 PM
Chesterfield County Meadowdale Public Library
Join Culture Queen for a "Juneteenth Jubilee'' emancipation celebration. During the program, she'll use interactive music, movement, and storytelling to teach children and families about this historic holiday where African Americans who were enslaved received news that they were finally free from enslavement. Find out more.
Freedom on Paper: An Exhibition of "Free Negro Registers"
June 13th – 27th, 2022
Library of Virginia
In celebration of Juneteenth, visitors to the Library of Virginia can view a rare selection of "Free Negro Registers" displayed in the lobby. These records demonstrate Virginia's efforts to control and regulate its growing free Black population from the late 18th century to the Civil War. The registers provide the names, ages, and physical descriptions of free Black and multiracial individuals who were required to register in their Virginia locality. To learn more about this free exhibit from the Virginia Untold Project and the Library of Virginia's full collection of records, click here. 
Jubilation in June
June 17th, 18th & 19th, 2022 | Select Locations 
Check out the full weekend of festivities in RVA hosted by Richmond Parks & Recreation. Enjoy a live performance by the Legacy Band at Dogwood Dell on June 17th. Then head to 17th Street Market for "Shared History in Stories" on June 18th. Wrap up your weekend with "Festival & Fireworks" on June 19th at Rockets Landing. Visit the RVA Parks & Recreation Facebook page for event updates and additional details.
Juneteenth Freedom Day at Hardywood
June 19th, 2022 | 11 AM
2410 Ownby Lane, Richmond, VA
Make plans to attend the Juneteenth Freedom Celebration presented by The Love Movement Social Event Series. Enjoy live musical performances by Mighty Joshua and J Tucker & The Krewe. Plus, dance performances by the award-winning youth modern dance company City Dance Theatre, DJ Adapt spinning R&B and hip-hop, food from Charles Kitchen Caribbean Cuisine and more. Learn more, here. (Photo Credit: Courtney Jones - The Jones Photography & Media Co.)
The Juneteenth Celebration
June 18th, 2022 | 4 PM - 10 PM
Dorey Park and Recreation Center
Henrico Recreation Parks turns Dorey Park into a big, family-friendly party, with vendors, a kids zone, food trucks and entertainment, including fireworks! The event is free and open to the public. Learn more.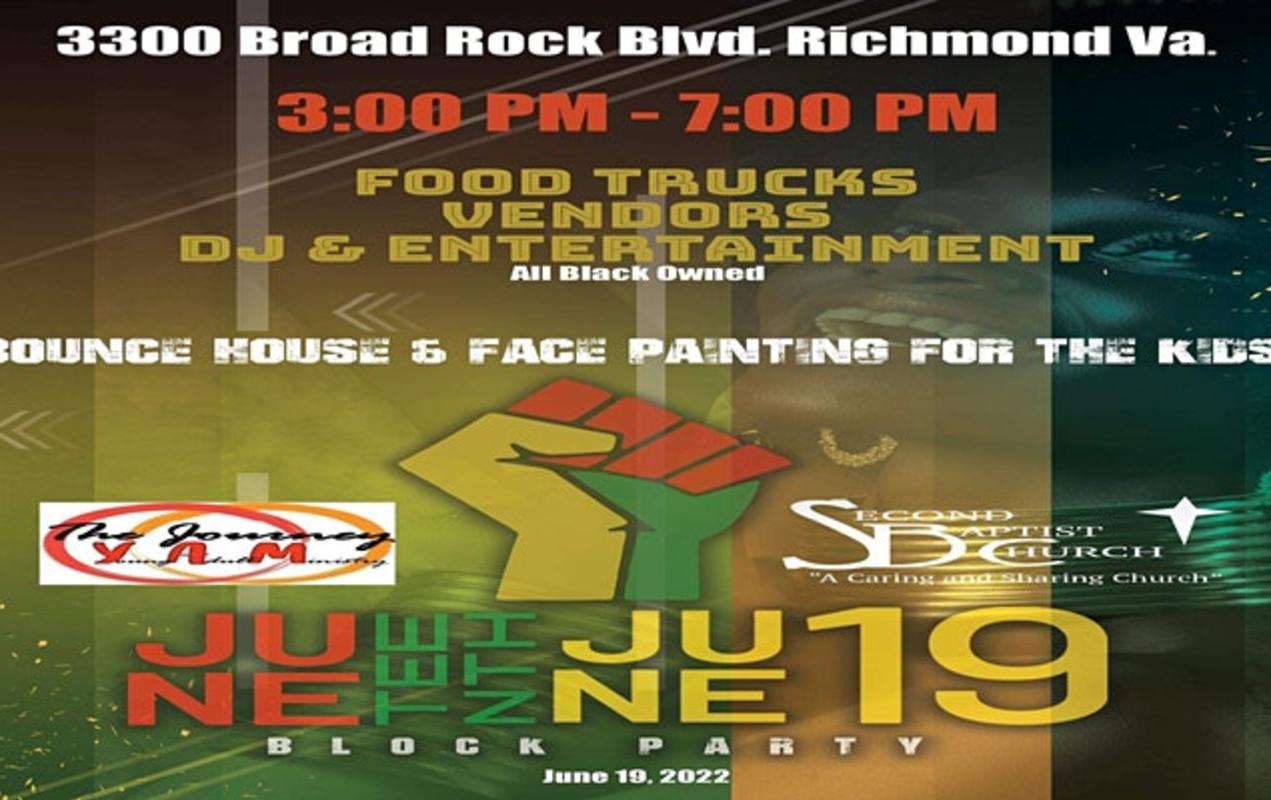 The Juneteenth Block Party
June 19th, 2022 | 3 PM - 7 PM
Second Baptist Church Southside | 3300 Broad Rock Blvd.
Bring the family to Second Baptist for fun in the bounce house, face painting, Black-owned food trucks, vendors, a live DJ and more. Get the details.
Juneteenth Commemoration Yoga:
Acknowledging & Honoring OUR Freedom
June 19th, 2022 | 9 AM - 11 AM
Lewis Ginter Botanical Gardens
Project Yoga Richmond in partnership with Lewis Ginter Botanical Garden is offering space, place, and time for healing. Bring your mat and open heart for this special class to acknowledge the land, honor the ancestors, and celebrate the self-determination of African Americans. People of all racial backgrounds are welcome to practice together. This class is pay-what-you-can & advance registration is required. 
2nd Annual Juneteenth Block Party Festival 
June 19th, 2022 | 12 PM - 10 PM
Richmond Diversity Center 
The Black Village of RVA presents the 2nd Annual Juneteenth Block Party Festival. This culturally transformative event will include 100+ Black-owned businesses, live music, dance, food, spoken word, games and more. Bring the whole family! Get details.
Juneteenth, A Freedom Celebration 2022
June 26th, 2022 | 4 PM - 9 PM
African Burial Ground, 1540 East Broad Street
The annual Juneteenth, A Freedom Celebration presented by Elegba Folklore Society returns June 26th. In its 26th year, attendees can engage in spirit-filled performances, sacred rituals, the Get Woke Youth Summit, the Freedom Market and much more. As an introduction to the celebration on June 26th, Elegba Folklore Society will also present the Torch Lit Night Walk Along the Trail of Enslaved Africans on June 11th. During this free program, interpreters will interweave the narratives of enslaved Africans with the historical record, characterizations of the day and music. Follow Elegba Folklore Society on social media and visit their website for additional event details. 
Explore more of the Richmond Region's rooted and rising history & culture with BLK RVA!
BLK RVA is your guide to experiencing & celebrating African American culture in Richmond, Virginia and all of its surrounding regions. Click below to check out more events and activities ahead on the BLK RVA events calendar.