"A breeze on my face and a draft on my lips!"
This is Annie Tobey's tagline which summarizes both her professional and personal passions. As an editor and freelance writer, Annie enjoys focusing on active pursuits and craft beverages, and in her free time, she enjoys the same – and Richmond makes that easy! 
"When I consider what I appreciate about Richmond, running weaves its way throughout," she says.
With spring just around the corner, our region is buzzing with events for outdoor adventure enthusiasts like Annie, including the annual Ukrop's Monument Avenue 10k race, Dominion Energy Riverrock and so much more. As an avid runner, Annie enjoys finding fun ways to get outdoors and explore RVA year round. 
While running solo during the pandemic last summer alongside her Australian shepherd, Newt, she created her own running routes using computer and smartphone apps.
"When winter arrived, I used that experience to create themed running routes for the Richmond Road Runners Club marathon and half marathon training teams," she says.
Looking to explore more of RVA while breaking a sweat this spring? Check out Annie's specially curated running routes below! Each of these themed routes includes summaries of historical and other noteworthy Richmond places. (Plus, find a special tipsy tour route below!) Most routes can be modified to trim miles or add on. Download the RunGo app for free on your smartphone and let RunGo guide your run through Richmond, or you can find these routes on the Richmond Road Runners website.

Richmond Transportation Highlights
12 miles | Take a running tour highlighting the city's transportation history and its most iconic sites, including the James River Arch Bridge, the one-of-a-kind Triple Crossing, the three mile-long CSX Viaduct, and the Canal Walk. The route also takes you through three of the city's "streetcar suburbs" south of the river.
Black History Highlights
14.25 miles, plus options | Go through Jackson Ward, a prominent, historically Black neighborhood known as the birthplace of Black entrepreneurship. Tour through the streets lined with vibrant street art and see cultural landmarks like the Hippodrome Theater, the Maggie L. Walker National Historical Site and iconic restaurants like Mama J's. 
The James River, Richmond's Raison d'être
18 miles with a 13-mile option | Richmond owes its existence and longevity to the Fall Line of the James River. This scenic run takes you past history and beauty along the river: to the Huguenot Bridge at Westham, along Riverside Drive and the James River Park System, and to the bridge above Belle Isle, Hollywood Rapids, and Tredegar Iron Works. Much of this route, notably south of the James, follows the traditional fall Richmond Sports Backers marathon route. An easy turn cuts the run to 13 miles.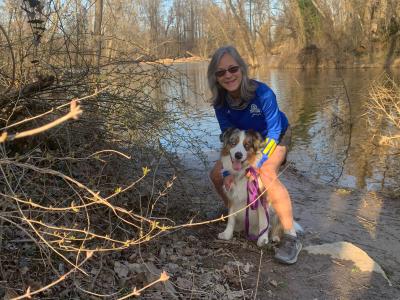 "Local running routes can be natural or historic, easy or challenging, woodsy or urban. The James River Park System offers challenging forested single-track trails within running the city limits.
Head a half-hour south and explore miles of wooded trails at Pocahontas State Park – a weekly pilgrimage for me and my Australian shepherd, Newt. Or go west to Powhatan State Park or north to Poor Farm Park."
Tipsy Tour
11 miles with a 13.1-mile option | This running tour route takes you through Richmond's most concentrated areas for craft beverage makers, including the Scott's Addition neighborhood. You will run past 20 breweries, cideries, distilleries, a meadery, and a couple of other places of note. Get your miles in, pick your favorite beverage maker, and return to toast your run! The route includes a 13.1-mile option, adding one brewery and giving you a half marathon for the day.
Early Richmond History Highlights
13 miles | Run by some of Richmond's most historic and iconic sites. Starting at Byrd Park, you'll pass near or through Maymont, Oregon Hill, Shockoe, Union Hill, Church Hill, Manchester, Forest Hill, and more – plus notable spots such as the canal, the Flood Wall, and the James River Park System.
Richmond Historic Parks & Recreation
10 miles | Learn about three of Richmond's most noteworthy and scenic parks. Starting and ending at Byrd Park, you'll visit Forest Hill Park and the James River Park System as well as other noteworthy places.
Continue Your RVA Outdoor Adventure!
Looking for more ways to get out and get active? Kick off your spring in RVA with these upcoming outdoor events! You can find even more outdoor RVA activities here.
Ukrop's Monument Avenue 10K
April 23rd, 2022
Year after year, people from around the Richmond region and beyond gather to share in the journey of crossing the 10k finish line. Run solo or gather your group for this exciting race through the beautiful, historic Monument Avenue area. For more information on this year's 10k race, click here. 

Dominion Energy Riverrock
May 20th - 22nd, 2022
Celebrate RVA's nationally-acclaimed outdoor scene during this year's Dominion Energy Riverrock! This outdoor sports and music festival returns in-person this year with high-energy, heart-pumping outdoor activities and sports competitions, plus musical performances, food vendors and more! Catch the action this year at Brown's Island and throughout the parks and trails surrounding the James River. Ready to #RockTheOutdoors? Click here to check out the full festival event schedule.