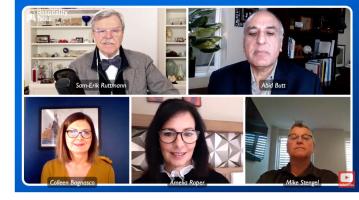 Industry news hub website, Hospitality Net, recently hosted the latest panel discussion in its Hospitality Talks series. Born out of a need to better understand the impact of COVID-19 on the hospitality industry across the globe, each Hospitality Talks episode features a discussion hosted by Abid Butt and Sam-Erik Ruttman, industry vets who've served in hospitality roles the world over, as they interview a rotating cast of meetings, events and hospitality professionals on how they're navigating the pandemic.
Part two of the series, "What is the future of Meetings & Events Post Pandemic," included panelists Michael Stengel – Principal, MJS Hotel Consultants; Colleen Bagnasco, CAE, CMP – Executive Director, Strategic Event Management, Association Management Center; Amelia Roper – Managing Director, HelmsBriscoe who all discussed the necessary pivot to digital meetings during this time, when we might return to in-person meetings, and whether meetings will ever be the same.
Here are some key takeaways from the discussion.
Virtual events are reaching a larger audience and can play a key role in the future
Virtual events have "Provided a broader reach. It's more cost effective," said Colleen Bagnasco, CAE, CMP, Executive Director, Strategic Event Management, Association Management Center. "You're not really restricted by space or dates. You know the format is easy to change and you're able to really be creative and provide that 24/7 on demand access."
Bagnasco went on to say that associations have seen their virtual events reach people who wouldn't have been able to attend in person, and some are considering a possible digital membership model where attendees could have the option of listening to meetings via podcast or webinar.
Amelia Roper, Managing Director, HelmsBriscoe, added that virtual events would never replace face-to-face meetings, but it can augment a program and it's a great way to dispense knowledge more broadly.
Some markets will recover faster than others
The leisure business is what hotels are surviving off of right now, but traveling internationally will not be the first thing people do when the pandemic is over, especially for meetings Roper predicts. "Anything driveable where a regional meeting could take place is very, very attractive."
The corporate market will most likely be the first to recover because it can shift quickly and decisions can be made in a short amount of time to get a group of people together. "There's a lot of pent-up demand with associations and sales incentive trips," said Stengel.
Roper brought to light an interesting trend in recovery, "anything that has an outside element has also recovered a little bit quicker."
Hilton Head, Sedona and Savannah are among the locations that have seen recovery.
Availability is tight, so book ahead
Now is the time to try a new pattern or new destination for meetings.
Compression in markets is rising since meetings that were cancelled have now all been rebooked. Roper said, "a lot of meetings have moved into the future dates, so availability is going to be tight. Absolutely the fall is going to be full and then moving into 2022 and even 2023, the dates are full."
Additionally, Marriott has already rebooked over 60% of the business that cancelled in its biggest hotels and between 30-40% in its second biggest hotels.
Roper suggests clients start shopping for future meetings they have coming up. There's more leeway they're seeing with clients who used to be very specific about the pattern they wanted.