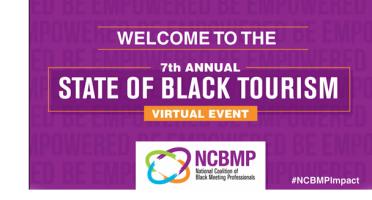 Last fall, Richmond Region Tourism was proud to sponsor the 7th annual State of Black Tourism panel organized by the National Coalition of Black Meeting Professionals. Moderated by NCBMP board member Sheila Neal, more than 600 listeners tuned in for a dynamic discussion that included powerful insights towards advancing equity and inclusion in the hospitality industry.
Here are some of the takeaways shared during the event.
Black meetings and conventions are recession-proof
Black meetings and tourism will be a significant contributor to the rebound of the hospitality industry, said Jason Dunn, Sr., NCBMP board chairman, in his opening remarks.
NCBMP partnered with research group MMGY Travel Intelligence to conduct "The Black Traveler: Insights, Opportunities & Priorities" study to detail insights into the leisure and meetings segments of the U.S Black travel economy. You can purchase and access the report here.
"The Black traveler is showing to be the most likely to travel again for business meetings, conferences and conventions when you compare that segment against the general population," said Danny Guerrero, VP, North America Strategy & Co-Chair of MMGY Global.
Diversity, Equity and Inclusion is good business
Advancing equity and inclusion isn't just a social imperative, it's also important to the bottom line.
"Businesses that put diversity first are more profitable. It ties to the initial reason we [destination marketing organizations] exist," said Elliot L. Ferguson, the president & CEO of Destination DC.
Ferguson pointed to looking through the lens of economic prosperity – for localities and travelers – when making the business case for DEI.
Richmond, Virginia Mayor Levar Stoney reinforced the importance of diversity in his comments.
He said, "All cities have to follow a model of embracing their authenticity – embracing how real they are. Here in Richmond, we do that. We want to show all parts of who we are and the history that is behind who we are today and show how we are emerging from that past."
Said Paul VanDeventer, President & CEO, Meeting Professionals International, "A CEO who is not recognizing the power and value of all diverse communities – they're missing opportunities to grow their talent. They're missing opportunities to expand their brand. They're missing the economic power to grow their revenue and their bottom line."
Allyship is key
Black, Indigenous and people of color can't be the only individuals talking about diversity, equity and inclusion. White people must be part of the conversation and support change, too.
"It's important that others take responsibility and understand what we're saying and making it a part of their discussions," said Ferguson.
Help people understand the message and make connections. When a colleague or peer reaches out to Ferguson about a news article related to DEI, he asks, "What did you think? How did this affect you?"
Martinique Lewis, President, Black Travel Alliance, said, "Call on your resources to move forward together. There's always power in numbers."
Lewis also referenced the importance of understanding unconscious bias and systemic racism and recognizing how privilege impacts decision making within organizations and communities.
Employment and traveler data will continue to be important 
"Data allows us to promote accountability," said Melissa Cherry, COO at Destinations International.
She pointed to employment disparities within destination organizations as opportunities to address. According to Cherry, across the DMO industry, 81% of employees are white and only 8.1% are Black, while 5.6% are Latinx. 
Said Guerrero, "We do have to show the economic spending power of the Black traveler, not only in the leisure space but also in the meetings space. That will continue for us. For the Latinx community, for the Asian-American community. For the disabled traveler. Diversity, Equity and Inclusion goes farther than just the obvious inequality that's in front of us now. It's about making this a constant moving forward. There's no longer going to be a situation where we sweep this under the rug."