By Pamela Benson, CTA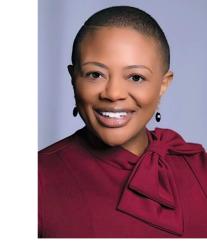 I caught up with Marlinda A. Henry, CEP, NCBMP Board Chairwoman in April for a discussion about the National Coalition of Black Meeting Professionals and her predictions for the meetings industry. With over 20 years in the meetings industry, Marlinda is a legend and I'm grateful we can share our conversation with you.
Pamela: Why should meeting professionals and DMOs get involved with NCBMP?
Marlinda: Meeting professionals and DMOs should get involved with the National Coalition of Black Meeting Professionals because we help to assist in the educational advancement of association executives, meeting planners and other meeting professionals, through the information shared at our conferences.
Also, we help to enhance the professional status of African American association executives, meeting planners, and other meeting professionals by providing educational opportunities in support of the Certified Meeting Professional examination.
We've developed a network in the hospitality industry for African American association executives, meeting planners and suppliers. The network is set up to facilitate job referrals, exchange lists of consultants and vendors, and share other resources. People can find more information at www.ncbmp.com.
How has NCBMP supported your professional career in the hospitality industry?
It's given me full access to all the top suppliers that I do business with, such as yourself.
The networking opportunities have been amazing. NCBMP has a model that we do business with our friends. We really mean that. And, we depend on that. I can pick up the phone and call my NCBMP colleagues and ask them for help on anything – professionally or personally.
What inspires you right now?
You know, [the last year] has made us all just sit in our spaces at this moment. We're no longer on the road, we're at home. And we're trying to figure it out and depend on our families and our friends.
Through it all, we have stuck together. And what has really inspired me, is that it's good to see a lot of our hospitality friends and colleagues who were either laid off or furloughed are now coming back, either to the industry, or they pivoted completely into a new career.
And I'm proud to say that we're still thriving. We've lost some along the way, but we are still resilient. And we're standing strong in our faith. We've been shaken, but we did not fall. We still have our smiles, sometimes on some days they are a little frowned, but we know how to get up and start all over again the next day. That is what keeps me going. Yes, we see the news. Yes, we see what's going on outside. But we are a resilient people, and we keep on, no matter what comes our way. And we know who holds all the power in His hands.
How do you think churches and spiritual groups will approach conferences as vaccines rollout?
Well, many churches are still in the hybrid virtual space right now. Churches are also now becoming a vaccination location and encouraging their members to take the vaccine. We, as churches, are encouraging members to get their shots. They're not pushing them, but they're encouraging them. Because they're listening to the science. And, we're all trying to get back to that space of what is going to be our new normal.
As African Americans, we love to get together for church. That is our thing we love to do. We love gathering together and have a joyous time with the Lord. We know we can't do that if we're not being safe. Therefore, churches are helping the science out, and our states out, and doing our parts as much as possible by encouraging members to get the shot so that we can come back to what is now going to be our new normal.
Marlinda, thank you so much for your time and speaking to us – it was a pleasure.
Thank you. I would like to invite all to attend our 38th Annual Conference this year in Cincinatti Ohio, November 10-13. You can follow us on all of our social media platforms at National Coalition of Black Meeting Professionals.
Thank you again for your time Pamela. I appreciate you.
Learn more about NCBMP at www.ncbmp.com and follow the organization on Facebook, LinkedIn and Twitter.