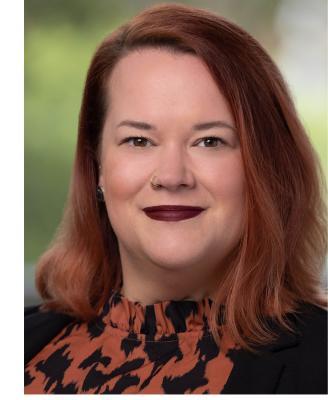 The Richmond Region Tourism team knows RVA. Our "Five Questions" series introduces readers to the region's experiences, attractions and restaurants through the eyes of Richmond Region Tourism staff.
This month, we're talking to Casey Watson Armstrong, Destination Sales Manager.
Welcome to the Richmond Region Tourism team! Can you tell us about your role as Destination Sales Manager?
My role as a Destination Sales Manager is to promote and sell the Richmond Region as the ideal destination for meetings and conventions. My specific market segment that I support are single hotel-property sized groups in the association, corporate and hobby spheres.
How does your background in the Richmond Region's hotel industry inform your current role?
I was previously the Director of Sales and Revenue at the Linden Row Inn, a boutique historic hotel in the heart of Downtown Richmond, for almost nine years. Throughout my tenure, I worked with Richmond Region Tourism's sales department a fair amount participating through tradeshows and bidding on single property-sized groups for Linden Row or larger events for the entire city and region.
Being that Linden Row is unique, independent property that doesn't have as large of name recognition as other hotel brands, I was having to not only sell the hotel but also the destination and area surrounding. This helped prepare me for this position, including my in-depth knowledge of the area, its history, local businesses and connections that I had made throughout my tenure. In addition, I think having a unique hotelier's perspective has set me up for success in a job that involves selling the region to meeting planners but also understanding the hotel's perspective at the same time to help the event be mutually beneficial for all.
What excites you about the local tourism industry?
What excites me most about the local tourism industry in Richmond is the diversity of options. There is something for everyone throughout the region: parks and outdoor activities, cultural and art museums, restaurants galore (and even fusion restaurants for those that just cannot choose and want both), history and boutique shops. The list just goes on and on and that is what excites me the most is that I am always learning about something new in the region, going somewhere I have never been before, and there is a new adventure to be had every day.
What's your favorite thing to do in the Richmond region?
My two favorite things to do in the Richmond Region are to go out to eat for dinner and drinks and then see live music! There are so many fun, intimate concert venues in the region but I am always at a show at the National, the Broadberry, The Virginia Credit Union Live!, etc. If there is live music, I want to be there!
What are your favorite restaurants or local attractions?
There are so many great options in Richmond that it is hard to narrow it down, but you can regularly find my husband and I at places like Saison, Parterre, En Su Boca, Sabai and Bar Solita.
We also love art and enjoy the quaint Gardens at the Poe Museum and Jazz at the VMFA, but also annual events the area has to offer such as 1708 Gallery's InLight, Fire, Flour & Fork, Broad Appetite, Visual Arts Centers Craft & Design, but again, the list can just keep going.