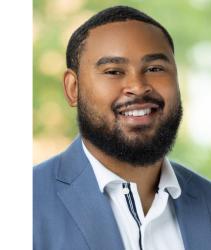 The Richmond Region Tourism team knows RVA. Our "Five Questions" series introduces readers to the region's experiences, attractions and restaurants through the eyes of Richmond Region Tourism staff.
This month, we're talking to Gerald Taylor, Sports Sales & Events Manager
Can you tell us about your role as Sports Sales and Events Manager?
My role as the Sports Sales and Events Manager is to recruit sporting events and sell the Richmond Region as one of the top destinations for a variety of sports. We've got incredible and state-of-the-art facilities I get to tell people about.
How does your background in sports/athletes help inform your current role?
My background in sports/athletes has helped me a lot in my role.
My previous experience consists of being a D2 College baseball player, working in college athletics (Virginia State University, A10, Big12), working in the AAU sports field (Perfect Game and Team Richmond), and working on the professional sports side (MiLB Diversity Program & NASCAR Diversity Program).
All of these opportunities showed me how to build relationships, sell, market and activate/service sporting events. Those skills are what I use daily in my role at Richmond Region Tourism.
What excites you about the local tourism industry?
What excites me the most about the local tourism industry in the Richmond Region is the growth in facilities and the variety of sports we have locally.
What are your favorite restaurants or local attractions?
My favorite restaurants are Southern Kitchen, Lillie Pearl, and Wood & Iron.
What's on your work playlist?
My work playlist consists of Maverick City Music, Morgan Wallen, Luke Combs, Cole Swindell, Young Jeezy, Rod Wave and K Camp.