The Richmond Region Tourism team knows RVA.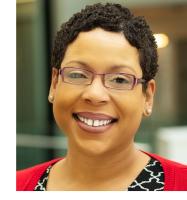 Our "Five Questions" series introduces readers to the region's experiences, attractions and restaurants through the eyes of Richmond Region Tourism staff.
This month, we're talking to Convention Sales Manager Lauran Peoples, CGMP.
Tell us about your career journey.  
My hospitality career began many, many years ago as a front desk associate. I loved the idea of just being able to chat with people traveling to and from so many different places. I also liked that there were so many different professional paths, and unlimited upward mobility. From there, I homed in on my natural knack for creatively sharing ideas and concepts and decided to pursue a career in sales and events. Over the years, I've enjoyed working as a sales manager for Marriott, Hilton and 21c Museum Hotels, and as a marketing director for a boutique hospitality group. My most recent experience working in both sales and services in destination management is truly a culmination of everything that I love about the hospitality industry.
What is your favorite thing about your role?
I love people, ideas and exploring the possibilities. Those three things combined make relationship building my favorite thing about my role. Developing business through relationships allows me to remain grounded, authentic, and aligned with my clients' goals so that, together, we are able to produce meetings and conventions that are both meaningful and successful.  
What advice do you have for events clients navigating the pandemic?
My most sage advice for event planners and clients navigating and adapting during the pandemic is to rely on their destination partners for guidance and support. As destination experts, we are their "boots on the ground" during a time when travel is limited, and capacity mandates are perpetually fluctuating. We are knowledgeable of changes happening at our local hotels and venues, and able to provide them with the most up to date meeting, travel, and safety information for our destination. From facilitating virtual or in person site visits to helping them navigate hybrid meetings, we are here to help and always complimentary.
What inspires you during this time? 
I am most inspired by the unity and compassion that seemed to take root in 2020 and that is still growing in the new year. I am inspired by the perseverance and ingenuity of my peers in the hospitality industry, and the hopeful anticipation that we all have for the year ahead.  There is a Gandhi quote that says, "The best way to find yourself is to lose yourself in the service of others," and I am inspired by the endless opportunities to serve my clients and my community.
What is your favorite restaurant in the region? 
One of my favorite restaurants in the region is Mekong. What do you get when you pair steaming hot and delicious Pho with an ice-cold craft beer? One of the best meals that you'll ever have in this lifetime – seriously! Mekong has so many amazing Vietnamese staples, but the Pho is what I always find myself coming back to. And their beer list is absolutely incredible and features everything from funky sours, like Zombie Slaycation, to decadent imperial stouts, like El Diablo. I recommend them all! 
Connect with Lauran on LinkedIn.