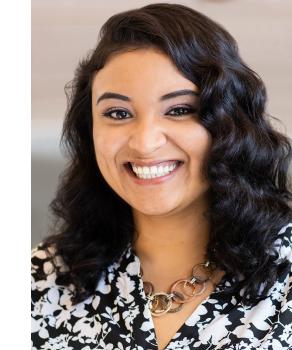 The Richmond Region Tourism team knows RVA. Our "Five Questions" series introduces readers to the region's experiences, attractions and restaurants through the eyes of Richmond Region Tourism staff.
In February, we're talking with Liana Acevedo, CMP, Senior Convention Services Manager.
Tell us about your career journey.
I majored in Hospitality Management at Virginia State University and secured a sales and marketing internship at The Prince William County Office of Tourism, formerly known as  Discover Prince William & Manassas. Upon graduation, I accepted a position at the Hyatt Place Chester where I worked my way up from Front Desk Supervisor/Sales Coordinator to Assistant General Manager. Next thing I know, I found my way back to the destination marketing world with Richmond Region Tourism. Over the past seven years, I've had the opportunity to grow in role(s) from sales and services coordinator to convention and sports services manager, to now – senior convention services manager.
What is a common misconception about working with a Destination Marketing Organization?
As an event services professional, I find that the most common misconception about working with a DMO (from a planner's perspective) is that there's little assistance offered beyond promotional destination information. The role of a DMO convention services manager has evolved so much over the years and we are now fully equipped to help with on-site event logistics, provide connections with in-market service providers, activate corporate-social-responsibility initiatives and share local resources to achieve your event objectives. Planners should leverage their relationships with DMO convention services managers to not only maximize cost-savings but, to also curate an authentic destination experience that compliments their event.
How do you help clients?
Upon meeting every potential and existing client, I introduce myself as their go-to resource for all things Richmond. I help clients achieve their goals and objectives in my destination by serving as an extension of their event planning team. I make it easy to streamline communications between their team and our local partners servicing the event. I work closely with the hospitality community to welcome groups to our destination and create memorable experiences.
What is your favorite thing about your role?
My favorite thing about my role really comes down to being the "boots-on-the-ground" liaison between an event and the destination. I enjoy "putting the pieces together" and integrating the Richmond Region into various aspects of an event. From catering and equipment rentals, to sourcing venues and entertainment options, I have the pleasure of connecting these types of business opportunities with our local partners. It is always so satisfying to be able to bring an event to life with our very own local, talented experts helping behind the scenes.
What is your favorite RVA moment?
My favorite moments in RVA are centered along the James River Park System. There are so many trails and places to take in the best views of the city. I enjoy taking my pup on long walks from Manchester across the T-Pott Bridge to Brown's Island; the skyline view from the bridge into the city is amazing!