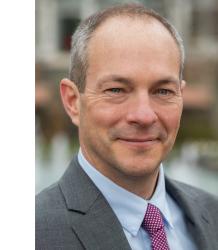 The Richmond Region Tourism team knows RVA. Our "Five Questions" series introduces readers to the region's experiences, attractions and restaurants through the eyes of Richmond Region Tourism staff.
This month, we're talking to Vice President of Visitor experience, Matt Robinette, CSEE, CMP
How does the Visitor Experience Department help clients?
Our team of professional convention service managers are true event experts and work to deliver value to the planner and the participants. We define value as saving our clients' time and money. The team leverages their experience, relationships and innovative ideas to help planners meet their goals, help association boards and/or executive leadership deliver value to their membership, and provide authentic RVA experiences to participants.
We like to say that visitor guides and maps aren't services and we use our event expertise to deliver meaningful services based on bringing value to planners and participants.
How does visitor experience set the Richmond region apart among its peers?
Our experience as event designers is a major differentiator from our peers across the country.
We understand the challenges planners face when producing their event and we address those challenges before the planner asks for assistance. The first question we ask a client is, "What is the goal of the event?" We design and customize our service proposals to help meet the event goals. Many organizations like ours across the country treat every event the same and provide 'services' like visitor guides and maps and call it a day. We research the event, the organization, and the participant to create services to deliver value to the client and the participants.
What is your favorite thing about your role?
I am an event designer by trade and enjoy bringing events to life. My 'why' is to help people and my role provides so many opportunities to help people reach their goals and experience all that the destination has to offer. I get to meet so many event professionals and learn from them and, at times, provide new insights to them. It is very rewarding to hear participants say, "I had no idea Richmond has so much to offer." Our destination is transformational, diverse, rich in history, full of adventure and home to world class food and beverages. I really enjoy facilitating authentic experiences to our guests.
What is your favorite RVA moment?
This is a tough question because there is so much to see and do throughout the region! I rode a roller coaster this afternoon at Kings Dominion, I have whitewater rafted on the James River right through downtown Richmond, I enjoyed live music on Brown's Island, experienced the Civil War through the perspective of the people who lived it, seen world class art on the sides of buildings and on display at the Virginia Museum of Fine Arts, caught a foul ball and drank a cold beer from a local brewery at a Richmond Flying Squirrels baseball game, felt the thunder and excitement of a NASCAR race, witnessed Patrick Henry push to create our nation in the church where he said "give me liberty or give me death," I have seen monuments toppled and have been inspired by new monuments … to choose one experience is impossible.
What is your favorite restaurant in the region?
Depends on my mood! Mama Js provides me with some good southern comfort food, La Grotta Ristorante delivers authentic Italian, Lily Pearl is a perfect lunch spot, and James Beard winner L'Opossum's unique atmosphere and wonderful cuisine combine to create a truly one-of-a-kind experience. Whatever your taste the Richmond Region has you covered!