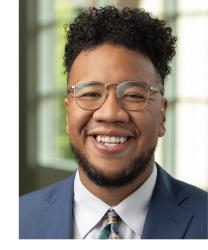 What is your title and how long have you worked at Richmond Region Tourism?
My title is Convention Services Manager and I have worked at Richmond Region Tourism since March of 2020. In fact, I started the first week that the pandemic really hit the area.
That must have thrown you for a real loop. How have you adapted?
It felt like something out of a movie. I was working in hotels beforehand. In January or February it was just this thing that was going around and I remember groups canceling left and right. I had to be on a lot of big calls. A lot of us were wondering how we were supposed to have events if people aren't allowed to leave their homes. I guess you know everyone's been on Zooms and whatnot and I thought, well, the future is this virtual, and I think that's what led me to pursuing the digital event strategist certification in the first place.
Tell us about the certification.
It existed before the pandemic, but obviously has a much larger demand now. It focuses on big picture things such as how to do research when finding software and tools. It also goes into building content marketing strategies as well as deciding how you want your audience to engage, because it's just a totally different format as in person. If you think about it, when you attend a conference, you're the one going to the conference. But now, since everything is virtual and most folks are at home, the conference is coming to people. So how do we create a space that people want to invite to their own homes, and then also pay attention and stay at? Because now you can leave the conference with the click of a button. And, at this point, we all have a little Zoom fatigue, so you have to work hard at engaging audiences.
Do you have any tips for people planning virtual or hybrid events?
Absolutely. I believe there are four main areas event planners should focus on when creating both virtual and hybrid virtual/in-person events:
Test, test, test. Rehearse, rehearse.
Test your equipment. Murphy's law is always in the play, but I think especially when working with technology. Troubleshoot all your equipment. The fastest way to lose people's attention is to have bad audio or a sub-par camera. Events are always a production, but with video, there's a whole lot more that goes into it. Also, all participants and speakers might not be familiar with the technology. You want all the kinks worked out and for them to understand the technologies you're working with. We've all seen YouTube videos of Zoom meeting fails. It's better to practice.

Audio quality is paramount
If you have to choose between a decent camera and a decent microphone, go for the microphone. Create better content with good audio and OK video as opposed to having great-looking video that's hard to listen to.

Have assigned technicians
You don't want your speaker to be troubleshooting whether they're muted or not. You want someone on the back end taking care of that. Once you experience a bad event, especially a digital one, you don't want to attend it again.

Find ways to engage users at home.
Gamification is one option. Attendees can get points for engaging in chat, signing up for newsletter, etc. You can also send items to their homes ahead of the event. It's also important to find ways to keep the conversation going outside of the video conference, such as moving discussions to online forums.
You've mentioned hybrid events a couple of times. Are there any particular things event planners should look out for as we start to be able to return to having some portion of our events in-person?
For hybrid events, some people think it's like one event being presented two different ways, but it's actually two events being pushed into one. Just realize you're producing two almost different events. The content and attendee base might be the same, but you have to look at them as two different productions and make sure each production is as good as it can be.
For either virtual or hybrid events, before you even start choosing tech and marketing strategies, figure out your goals for the event. If your event is presentation-based and more of a broadcast, you want to focus on production. If you want people interacting, you might want a software that allows you to do breakouts and interactions like polling.
If someone is interested in doing a virtual or hybrid event with Richmond Region Tourism, what should they do next?
They can email me at mspurlock@visitrichmondva.com.