The Richmond Region Tourism team knows RVA. Our "Five Questions" series introduces readers to the region's experiences, attractions and restaurants through the eyes of Richmond Region Tourism staff.
This month, we're talking to National Sales Manager Nancy Bass.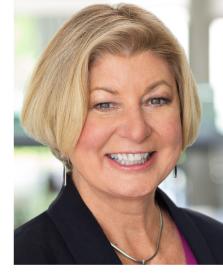 Tell us about your career journey.
After receiving a B.A. in Psychology from Randolph-Macon College, I realized that I had a desire to help people but in a happier environment than psychology settings. Throughout high school and college I had enjoyed working in restaurants and hotels, where the culture of helping is mixed with happy occasions.    
From restaurant assistant manager to catering sales to convention sales at three hotels (opening two) and two private clubs, I was fortunate to have many knowledgeable and generous mentors. I also made many wonderful lifelong friends (including my husband). In 2006, at the urging of friends I applied for the position of convention sales at Richmond Region Tourism (then Richmond Metropolitan Convention and Visitors Bureau), it was the best career move and lifestyle improvement of my life.   
What inspires you during this time?
The stories of survival and people helping friends and strangers despite their own personal hardships. In particular, the hotel industry, restaurant industry and local theatre community have been hit hard but seem to be the first people to step up when distributing food and serving their community in any way they can.
What is your favorite restaurant in the region?
RVA is fortunate to have so many wonderful options for dining, I love to eat out and miss it so much.  Some of my favorites are Mamma Zu's; Tarrant's; Conch Republic; Wong Gonzalez; Edo Squid-there are just too many to mention!
What is your favorite regional attraction?
Richmond is one of the richest in wealth of attractions in the country.  I am so proud to show them to clients who have never been to Richmond and see how many first-timers had no idea the depth and variety of things to do and things to see in this region. Because they are within walking distance of my house, my most visited personally are the VMFA; Maymont; and the Virginia Museum of Culture & History.
What's on your "work from home" playlist?
Upbeat, happier, kinder songs so my most requested playlist from Alexa is 70s R&B.