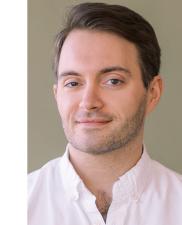 The Richmond Region Tourism team knows RVA. Our "Five Questions" series introduces readers to the region's experiences, attractions and restaurants through the eyes of Richmond Region Tourism staff.
This month, we're talking to one of the newest members of Richmond Region Tourism, Convention Sales Manager Reed Patterson
Tell us about your role as Convention Services Manager.
My role as a Convention Services Manager can play any size role in the planning process for incoming and/or potential groups. We streamline communication between our industry partners and incoming groups to make it the easiest process. Our overall goal is to give groups the best Richmond experience possible.
How do you help clients?
I help clients in a lot of ways. I am a listening ear, industry connection, problem solver and overall friend. Building that strong connection with clients makes them feel welcomed to the Richmond area and feel right at home.
What attracted you to the tourism industry?
I was mostly attracted to the industry due to the opportunity to show off Richmond and everything it has to offer. I am a born and raised "Richmonder" and thought I knew a lot, but just in my short time I have learned so much more and am excited to welcome many groups to town.
What's your favorite thing to do in the Richmond region?
My husband and I are major foodies. You can find us catching a bite to eat at one of the major new restaurants and then walking our dogs at one of the main parks in town.
Do you have any favorite music or artists that keep you energized throughout the day? What's on your playlist?
I am on a huge 70s kick these days. The Bee Gees and Gloria Gaynor are just a few that are keeping me on the go these days.