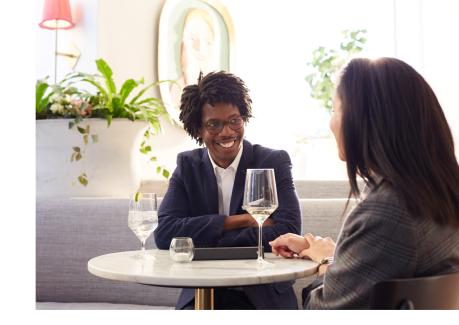 EventMB and MeetingPlay recently presented an interactive webinar titled Responsible Revenue: How to Host a Profitable and Safe Hybrid Event with speakers from MeetingPlay and Marriott International to discuss the various ways the event industry has pivoted during the pandemic.
Joe Schwinger, CEO and Co-founder, MeetingPlay and Michael Clarke, Director of B2B Programs & Events in the US & Canada, Global Sales Organization, Marriott International, talked with EventMB Editor-in-Chief Miguel Neves about their collaborative experience running safe events together this past year using a hybrid format.
Here are key takeaways from the discussion.
Overcommunicate about health and safety
The challenges early on in the pandemic were mainly about the safety and health of the individuals coming on-site for these events. As this past year has progressed, the safety and health lens has remained the main strategy for event planning and logistics.
This lens plays into every aspect of how people should plan their events moving forward, but even more specifically with communication. "Having a pre-event communication plan is an incredible opportunity to capture your attendees in building confidence," said Clarke. "You never want your attendees to show up on site and say 'I didn't know I had to do that, or I didn't know you were doing that.'"
Schwinger echoed his sentiments by stressing "overcommunicate, but have systems in place to allow attendees to choose their own journey with what they feel comfortable with by creating different levels of interaction."
For lead time, Clarke and Schwinger emphasized "everyone needs to start out together when planning your event, not separate silos because that creates a bottleneck as you get closer to the event and on property."
If the technology team and the venue team aren't communicating from the start, that could potentially affect attendees' safety on site and their virtual experience at home.
Strive for the "Super Bowl" experience
Schwinger made the analogy of a Super Bowl to a hybrid event. "You are going to create the best experience on property, but be thinking about the virtual experience." People who watch the super bowl on tv have the same level of excitement and interaction as people who attend in person. There are exciting commercials to see during the show and a halftime performance.
One of the ways to "lift the experience" is by encompassing new digital tools. "The mobile app is a core deliverable now. It's paramount, it's number one."
Creating an event app for attendees to download on site and at home is crucial in relaying information about COVID-19 protocols, entertainment and keeping attendees safe.
"As we continue to advance in this whole COVID-19 environment, these methodologies and the way of delivering these things are becoming much easier and less complex," said Clarke.
Think outside of the box for sponsorships
Throughout the webinar it became apparent that meeting planners were concerned about the extra costs of a hybrid event when adhering to COVID-19 protocols from rapid testing, temperature screening and social distancing in venues.
Clarke emphasized, from a venue perspective, to look at everything as a new sponsorship opportunity to help absorb those additional costs. He shared a list of a dozen opportunities as examples, from Wi-Fi being a top sponsorship to putting sponsors on the sanitization stations, hygiene kits and PPE, plus pre-event communications within the event mobile app, virtual photo booth, food and beverage opportunities and many more.
"Because these are necessary components for a safe and healthy environment, these items are going to be used and sought after by attendees, giving brands a great opportunity to increase awareness," said Clarke.
There's been a temperature change
Clarke has been a part of Marriott's efforts to educate meeting planners about how these events can be done in a COVID-19 environment. He described seeing a huge pendulum shift from hopeless to hopeful over the course of the last year with how meeting planners are feeling now that people know events can be done safely.