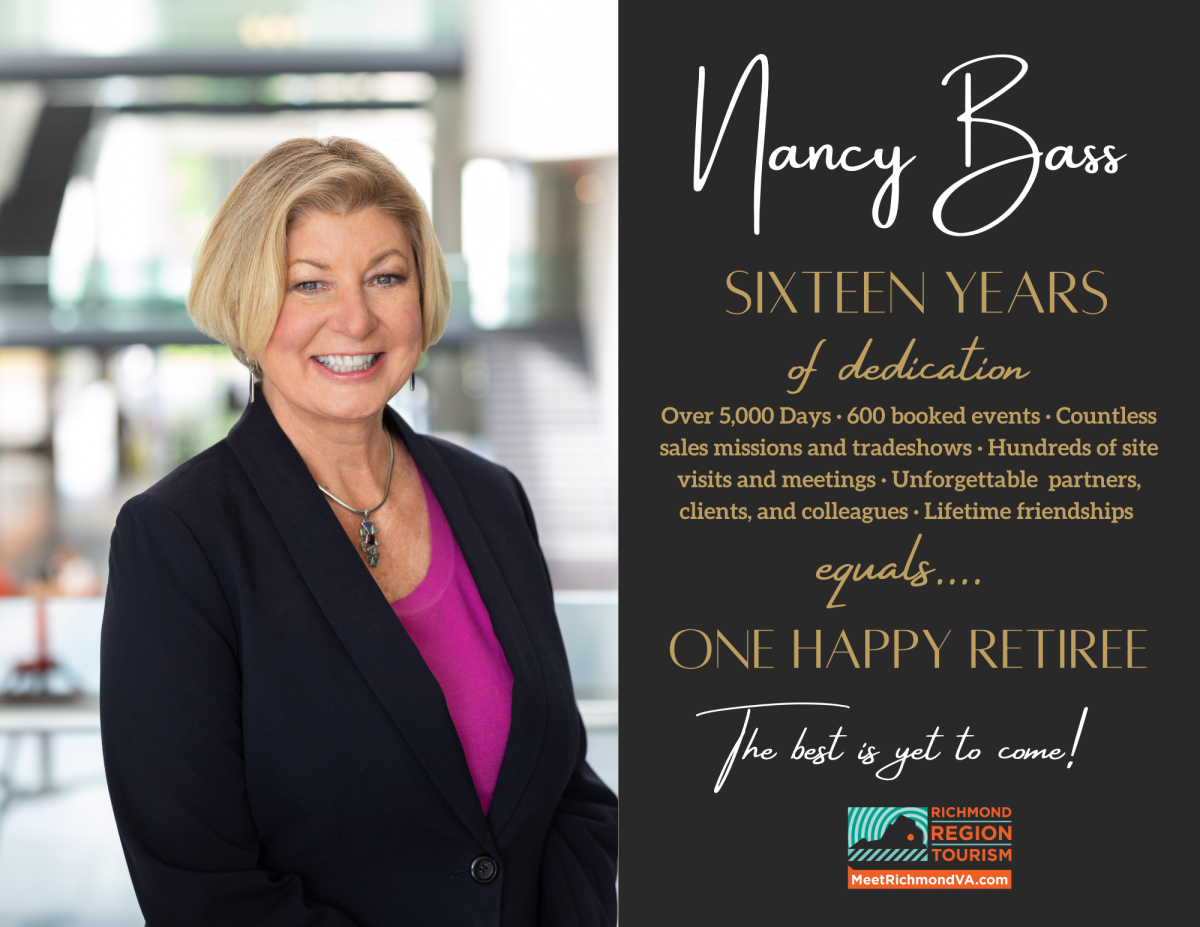 Tourism is built by and around the community. No one knows this better than Richmond Region Tourism's Nancy Bass.
When more than 800 cider professionals convened in the Greater Richmond Convention Center for CiderCon 2022 to learn and sample ciders last February, Bass was proud and beaming. She and the team at Richmond Region Tourism worked diligently over the years to woo the American Cider Association's annual professional development event to the Richmond Region. But it took some local encouragement to seal the deal: To show additional enthusiasm for the event, Bass visited many of the region's cideries and asked owners to write letters to go along with the bid book. The cideries were happy to – they had hoped the event would visit RVA for years – and the local touch worked. Thirty-six states and DC were represented at the two-day conference that featured workshops, cidermaking and meetups around the region.
"I love working with our wonderful residents, who are ambassadors for our region, to help recruit events," said Bass. "We work as a team."
From cider and sales conferences to comic book and economic development conventions, Bass has booked all types of events as National Sales Manager. In total, she's been a part of more than 600 event bookings.
This September, Bass will retire after a successful 17-year career of welcoming event planners and attendees to the region. "This role has been the joy of my life," said Bass.
Bass majored in psychology and started her tourism career in local hotels. After several years, an opening at Richmond Region Tourism came up and Bass jumped at the opportunity. She says it was the best career move and lifestyle improvement she could ever make.
"They were so gracious and so kind and opened their arms to me," said Bass. "They taught me so quickly how to represent a region and its citizens."
Over the years, Bass has loved entertaining and planning visits for meeting planners. She treats each visit like she's welcoming a family member to the region by planning activities and meals to help people experience the community.
But she says once a meeting planner gets to town, the rest is easy: "The Richmond Region speaks for itself. Everyone is always blown away."
Bass loves how the team's work at Richmond Region Tourism helps to fill up hotel rooms while supporting small businesses and the economy.
"RVA has so much," said Bass. "People don't realize it sometimes. When people come to events and conventions they want to come back and experience more of the region. Our airport is so close. Our neighborhoods are so unique. Our people are so friendly. Our restaurants are so awesome. Richmond has a soul."
After Bass retires in September, she'll still make a mark when it comes to meetings and conventions. She helped recruit the upcoming Virginia Theatre Association this fall, an event she worked for years to bring to the region with the help of several local theatre professionals. The organizers signed a three-year commitment, which will bring 600-1,000 attendees to the region annually. She also helped secure the Virginia Music Educators Association conference at the Greater Richmond Convention Center in November.
Bass will continue to call Richmond home when she leaves her position. She plans to keep busy with nonprofit commitments, along with traveling with her husband Gordon and her four siblings.
"I always had hospitality in my heart," said Bass. "I can't say enough good things about the team at Richmond Region Tourism. They've been my life. They gave me a real reason to strive to accomplish good things."
Many good – and incredible – things, indeed.