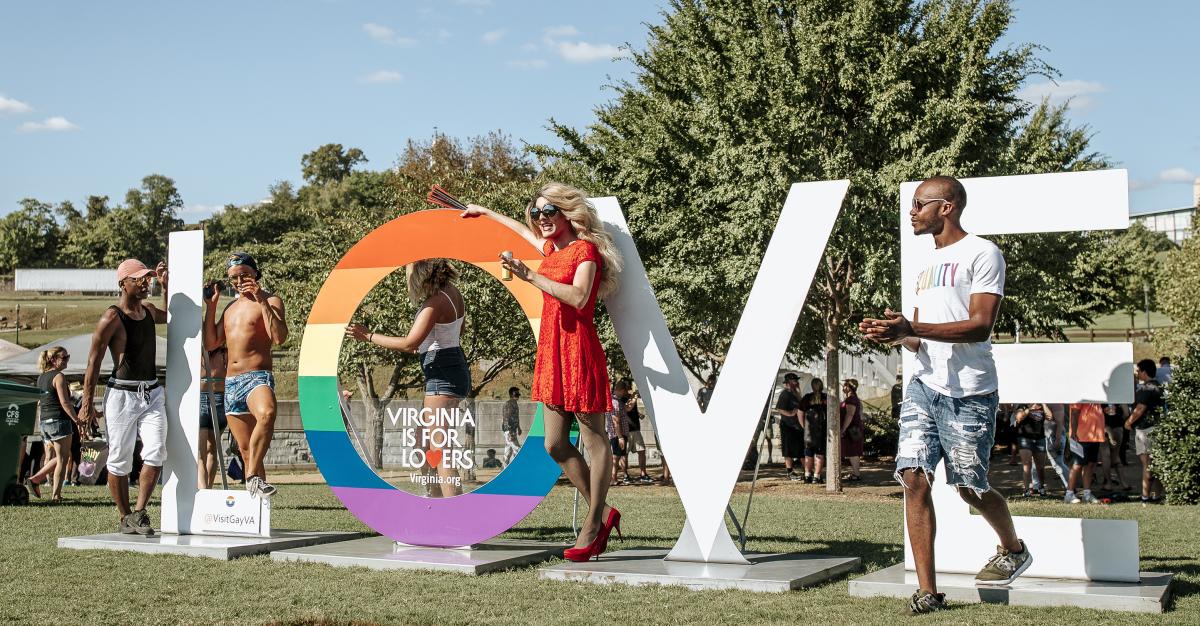 June is Pride Month, an opportunity to celebrate LGBTQ+ communities across the country. The local LGBTQ+ community is diverse and welcoming – and an important part of the fabric of the Richmond Region.
You can see a vibrant snapshot of our LGBTQ+ community in Richmond Region's Tourism's ongoing OutRVA campaign. It's been promoting the Richmond Region as a welcoming destination for LGBTQ+ visitors for more than 10 years.  This year, OutRVA is also launching Dine Out for Pride in collaboration with local restaurants and LGBTQ+ community influencers.
Whether you're visiting for a meeting or tournament during Pride Month or afterwards, there's always an opportunity to celebrate and explore the region's LGBTQ+ culture. Here are six food-focused businesses owned by LGBTQ+ individuals.
Theriot Market
Pack your suitcase with locally made jams and jellies from Theriot Market. Owner Michael Theriot produces a variety of seasonal spreads like Feelin' Peachy Jam, Mawmaw's Cranberry Sauce and Jazzy Raspberry Jelly throughout the year. You can find him at many local farmer's markets in the area – dates and times are listed on his website.
Ruby Scoops and Suzy Sno
Does your meeting need an ice cream break? You need to check out the award-winning and headline-making Ruby Scoops ice cream shop in the Brookland Park neighborhood. Chef and owner Rabia Kamara has competed on the Food Network (and won!) and creates a delicious variety of small batch ice creams, sherbets and desserts. Go for the six-scoop sampler.
Kamara recently opened Suzo Sno, a New Orleans-style shaved ice store in the Carytown area. The menu feature more than 60 flavors.
Ruby Scoops is located at 120 W Brookland Park Blvd. Suzy Sno is located 3423 W Cary St.
L'opossum
Looking for an exciting evening dining experience with your coworkers? Book a reservation soon for L'opossum. Owner and chef David Shannon brings whimsy and creativity to his cooking and the restaurant's over-the-top décor. Located in the Oregon Hill neighborhood, L'opossum was named Southern Living's Best Restaurant of 2018.
L'opossum is located at 626 China St.
Riverbend Roastery
Dubbed as the Church Hill neighborhood's "favorite coffee shop," Riverbend Roastery is the perfect place to get a latte or tea in the morning or afternoon. The cozy gathering place is queer and woman-owned and is the perfect starting place before exploring historic Church Hill. Riverbend sources coffee beans that are fair trade, organic and Rain Forest Alliance-certified.
Riverbend Roastery is located at 2623 E Broad St.
Soul Taco
We'll take at least three fried catfish tacos, please. Soul Taco offers fast casual dining in a fun and electric atmosphere in the Jackson Ward and Shockoe Slip neighborhoods. The delicious and modern tacos include jerk chicken, po' boy and buffalo cauliflower, just to name a few. OutRVA profiled Soul Taco owner Trey Owens in 2020.
Soul Taco is located at 321 N 2nd St. and 1215 E Main St. in Richmond.
Dayum this is my Jam
We can never get enough jam. Andy Waller owns Dayum this is my Jam, a small-batch producer of jams, pickles and salsas often named after hit songs such as La Three En Rose (a triple berry jam) or Baby Got Blackberry. Dayum this is my Jam can often be seen at LGBTQ festivals, drag shows and at farmer's markets. Several local retailers sell their products as well.
Visit Dayum this is my Jam's website for more information and locations.