Meeting and convention planners and attendees returning to in-person meetings this year will be pleasantly surprised by the aesthetic and technological updates at the Greater Richmond Convention Center (GRCC). 
The Greater Richmond Convention Center is primed to welcome back meeting and convention planners, attendees and visitors with a broad array of cosmetic and aesthetic updates.  As the state's largest meeting and exhibition facility, GRCC also committed to adhering to new and enhanced safety standards to safeguard returning visitors' health and wellbeing.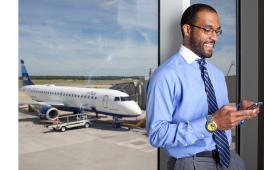 Along with the Richmond International Airport (RIC), GRCC received the GBAC Star Facility accreditation, the cleaning industry's only outbreak prevention, response and recovery accreditation.  With this coveted designation, meeting and convention planners and attendees can trust the science behind the seal, and confidently meet safely in Richmond. 
GRCC's technological and cosmetic improvements include new LED lighting and LED RGB color lighting, new monitors, new digital signage, and a new digital sound system.  Its interior spaces were also updated with new tile, accents, and paint scheme, in addition to new pub-style tables and seating.  This is all in addition to a new executive lounge in the former Business Center, and a complete renovation of the food court and service desk. 
To learn more about the Greater Richmond Convention Center, and hosting your event in the Richmond Region, please visit www.meetrichmond.com.