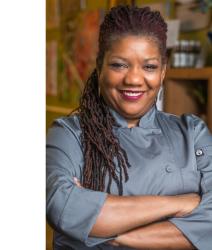 In 2012, Chef Michele Wilson decided to leave her corporate job and follow her passion: Cooking and bringing people together. She opened Ma Michele's Café soon after and has made a mark on the region's culinary scene ever since with her inventive Southern comfort food.
"This is the best job I've ever had," said Wilson.
The restaurant's menu – a nod to the foods and dishes Wilson's mother and grandmother would cook family and friends when she was a child – features items like chicken n' waffles (with waffle choices: sweet vanilla honey, cheese and herb, and pecan), a grilled or fried shrimp platter and a crispy fish sandwich.
An item on the restaurant's appetizer menu is a customer favorite. Ma Michele Café's infamous "soul rolls" are similar to a traditional egg roll but with a filling of cheese, smoked turkey and collard greens. The idea came to Wilson after a person mistakenly called the restaurant looking for egg rolls one evening.
In addition to fresh, home-cooked food, the restaurant is seen by many as a cultural hub. Ma Michele's Café hosts the "Parking Lot Pull Up" on the fourth Saturday of the month during the summer. People can grab dinner and listen to live music in the restaurant's parking lot during the event.
As a connector and an events enthusiast, Wilson enjoys the catering aspect of her business best.
She recently completed a training course hosted by Richmond Region Tourism's BLK RVA program and the Richmond Black Restaurant Experience that provided Black-owned restaurants with information about corporate and meeting contracts. Her business received a $2,000 supply stipend through the initiative.
"[The grant] helped propel my catering jobs," said Wilson. "With corporate catering, I enjoy the preparation and love the menu planning. I like helping corporate clients realize their events."
Wilson is proud to be a part of the region's thriving culinary scene.
"There are so many talented chefs and cooks here," said Wilson. "I really love the inclusion of all forms of cuisine. There's excitement in the air and people travel to come here to experience it. We're on the mainstage. It's nice to be on the map for that reason."
Visit Ma Michele's Café on your next trip to the Richmond region at 10811 Hull Street Rd. Connect with the restaurant's website for event catering opportunities.