"Zooming In" is a regular series by Richmond Region Tourism's M&C team that profiles AV best practices for Hybrid and Virtual events.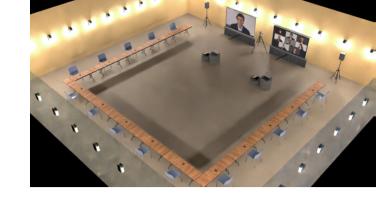 Behind every successful large-scale webinar is a calm and knowledgeable Audio/Visual team. Early on in the pandemic, Encore (formerly PSAV) began helping event planners shift to virtual experiences that informed and engaged audiences. The global event technology and production company, with 2,100 on-site venue locations and more than 50 regional warehouses across 20 countries, is helping clients put on virtual and hybrid events during the pandemic. Richmond Region Tourism sat down with Encore's Jeremy Prewitt, Area Director, Operations, and Bobby Vaughn, Director of Event Technology for insights and tips.
Tell us about Encore's hybrid and virtual capabilities.
We've had the technology for virtual and hybrid events for years now, but the pandemic created a surge of demand among meeting planners. We use a proprietary software called Chime Live that helps organizers combine high-quality video streaming in virtual meeting experiences and interactive opportunities for attendees that reduce distractions and keep engagement levels high. Post-event, you can share recorded sessions with participants who missed or want to replay a session.
What should event planners keep in mind when planning any kind of virtual event?
Just like in-person events, a lot of things happen behind the scenes to make hybrid and virtual events successful. For big meetings with thousands of attendees and several presenters, you need a virtual team working to keep the production going. To keep viewers engaged and tuned in, you shouldn't have dead air. You must seamlessly switch between presenters to ensure the stream is lively and entertaining.
We've all been on Zooms with dogs barking and kids crying in the background. At this point, attendees' expectations are higher and they're demanding professional-quality broadcasts. Work with your presenters ahead of time to make sure lighting and backdrops are appropriate for the upcoming broadcasts. Encore put together this "Live from your living room" blog with tips for presenting from home.
You also need to think about security. While less prevalent at this time, you want to take measures to make sure people are not "Zoom bombing" your meeting.
What about event length?
People have less of an attention span when they're watching an event virtually. You must really sharpen your presentations to make them concise and not drag them out. Keep presentations to an hour, tops. If you're doing a hybrid event, you must think about that too – half of your audience is online and won't have the same attention span as someone attending in-person.
Also think about opportunities to keep attendees engaged throughout the event, such as including poll questions before and after presentations and using raffle prizes.
Can you share some insights with us about hybrid meetings?
Nothing will replace in-person meetings and hybrid events will be an important tool for meeting planners. You need to have technology solutions that accommodate both your in-person and virtual attendees during hybrid meetings. Encore created a MeetSafe™ Guidelines Playbook planners can reference that addresses how to reduce risk, increase confidence and promote health within the meeting space. The guidebook includes meeting design options for hybrid events planners can reference.
What kind of advantages are there to hosting hybrid events at a hotel venue?
We consulted our partner at The Westin Richmond for their perspective. Here's what Abbey Withrow, Director of Sales and Marketing, says:
"With all of the changes in the event and meetings industry brought on by COVID-19 The Westin Richmond knows we have to be diverse in the solutions we offer to our clients. By partnering with Encore we are able to offer hybrid meetings and events, that allow our guests a myriad of options. Through hybrid meetings we have a safe and effective way to meet the needs of all attendees. Additionally, as we anticipate there will be pent up demand for hybrid events it will allow us to host larger groups that otherwise we couldn't accommodate. We are appreciative of the technology that Encore provides and the quick way they have adapted in an ever-changing environment and are excited to offer hybrid meeting packages in 2021 and beyond." 
To connect with the Encore team, visit https://www.encoreglobal.com.  
To learn more about how Richmond Region Tourism is helping clients plan hybrid events – along with safe meeting options at hotel partners in the region in the future – contact Richmond Region Tourism at sales@visitrichmondva.com.