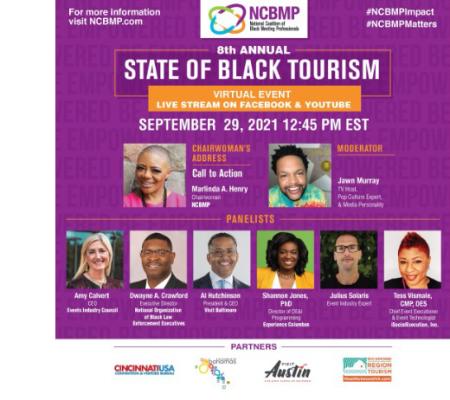 This September, the National Coalition of Black Meeting Professionals hosted the 8th annual State of Black Tourism summit. The virtual event included a performance from Ed "Sax" Thomas, an introduction from NCBMP chairwoman Marlinda Henry and a panel discussion moderated by television host Jawn Murray.
Roughly 600 people watched the livestream on Facebook and YouTube. The discussion focused on how conference planners and leaders in the hospitality industry could amplify diversity, equity and inclusion efforts in workplaces.
Here are some of the key takeaways from the panel.
The journey is just beginning
"This industry has a historical legacy of only having people of color or Black folks in those entry-level positions," said Dr. Shannon Jones, director of DEI Programming at Experience Columbus. "We are really interested in expanding that and ensuring that people that look like us are in more leadership positions, and have the opportunity to shape the culture of our community."
Al Hutchinson, president and CEO of Visit Baltimore and Amy Calvert, CEO of Events Industry Council echoed Jones' viewpoint. They emphasized that industry leaders have a chance to push companies to elevate Black employees to positions of real prominence.
"We all want to make sure the BIPOC (Black, Indigenous and People of Color) community is traveling. There's a lot of disposable income. But it's going to be extremely important to make sure that assets and infrastructure look like those travelers," Hutchinson said.
Vote with your wallet
Black travelers and consumers have the ability to make their voices heard by choosing where they shop, eat, stay and conduct business.
"How do we want to leverage our buying power?" asked Dwayne Crawford, executive director of the National Organization of Black Law Enforcement Executives. Crawford answered his own question by pointing out that travelers want to see their values reflected or held up by the people they do business with.
Murray later cited a recent report by MMGY Global that estimates that Black leisure travelers from the United States spent $109.4 billion on travel in 2019.
"It's still a fight to convince people that our dollars are good, and we spend a lot of them," he said, "but you have to have things that engage us to spend even more."
Bringing everyone to the table
"This is a more than 400-year-old issue," Hutchinson said, referring to racism and equity. "Americans have kicked the can down the road. We did not want to deal with it. We didn't want to be honest. We made some progress, but we didn't want to deal with the real question.  And the real question is, as humans, how do we treat each other fairly and equitably?"
Calvert built on Hutchinson's point. She explained that in her role running the Events Industry Council, she has made it a primary goal to bring a wide variety of speakers from all walks of life to talk at events she hosts.
"It starts with that first step of demanding that [diversity] is a priority," Calvert said.
Change has to happen at all levels
"I think it's an educational process," said Tess Vismale, chief event executioner and event technologist at iSocialExecution, Inc. "People should be listened to. All levels of people throughout any organization should be heard. It shouldn't always be the thoughts from people at the top. It should be a collaboration."
Jones chimed in with the reminder that while it's great to have BIPOC in charge of or helping to run companies, it's meaningless if they don't feel welcome there.
"First and foremost, the organizations and companies that we are talking about have to think about inclusion," Jones added. "Are their spaces safe for Black and Brown people to exist and work? If that is not happening, then there is no way that diversity is really going to stick."
The Richmond Region Tourism team was energized and grateful for the dynamic discussion about DEI during this year's State of Black Tourism event. We remain committed to advancing DEI inside and outside of our organization and look forward to sharing progress and updates in the months ahead. 
We are also proud to participate in and support NCBMP. For a recap of the 2020 State of Black Tourism event, which included remarks from Mayor Levar Stoney, check out our Meeting Moments blog post.