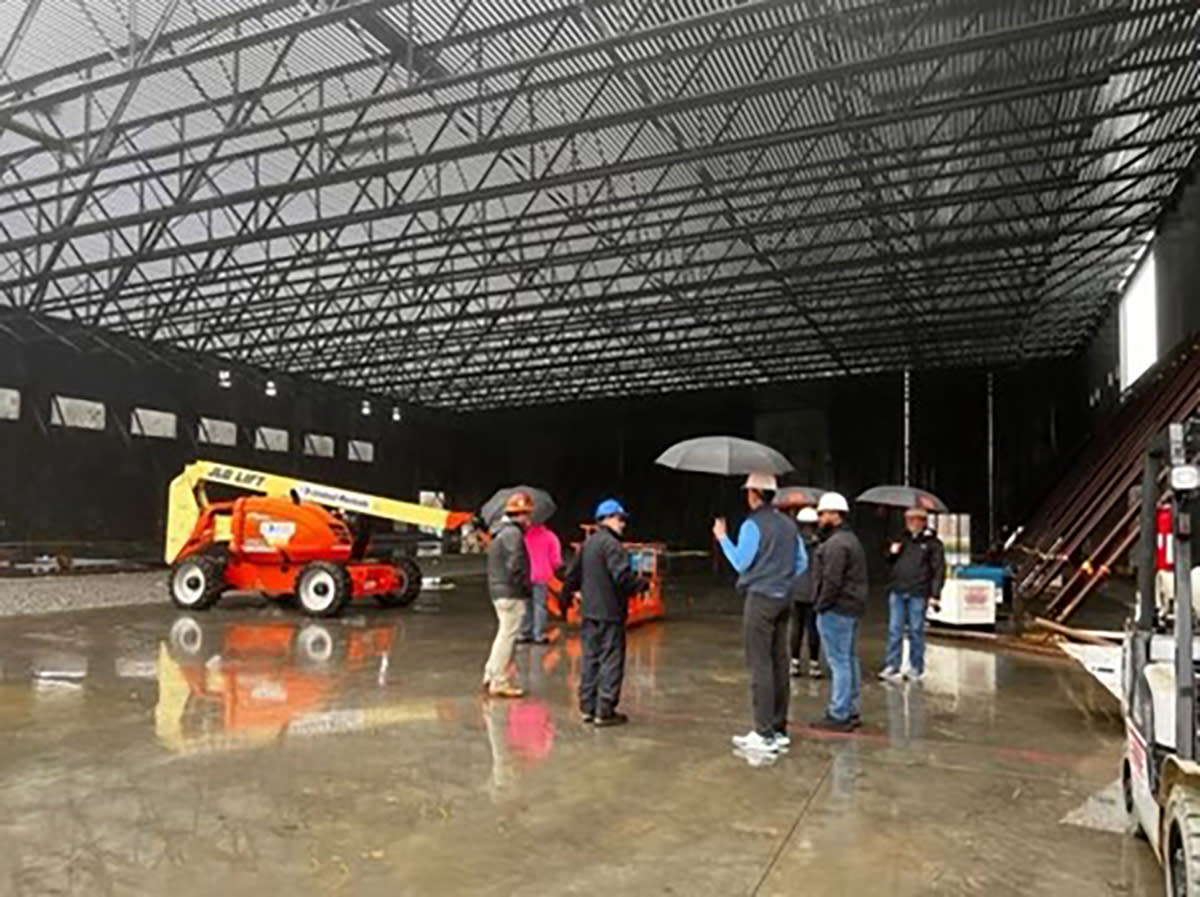 RVA Field Trip participants tour the upcoming Henrico Sports & Events Center
More than 180 sports leaders convened in the Richmond Region in December for the US Sports Congress, an annual industry conference and tradeshow where attendees engaged in networking, educational sessions and business development all while experiencing the Richmond Region.
Throughout the three-day event, which brought together top-level decision-makers from the world of amateur sports together with destination representatives from across the country, participants engaged in various industry sessions and business meetings during the tradeshow as well as excursions that gave attendees the chance to experience Richmond and all it has to offer. Senior level executives who represent athletic governing bodies – entities like sports rights holders or Olympic national governing bodies that manage events or competitions and represent thousands of athletes – and other stakeholders were in attendance.
"We were proud to show off the best of the region to the US Sports Congress attendees," said Danny Bonifas, Director of Sports and Events at Richmond Region Tourism. "Participants were able to network and establish partnerships as they learned from local sports partners and explored our community." 
Organizers kicked off the conference with a panel discussion hosted by NFL alum Michael Robinson that included perspectives from local thought leaders on how a community's passion and pride can make a region more welcoming and inclusive. 
In between site visits, attendees experienced the Richmond Region's one-of-a-kind culture and attractions through history, craft beverage and golf experiences. 
Prior to the start of the US Sports Congress, selected attendees were invited to come to Richmond early before the conference to take part in a familiarization tour, the RVA Field Trip. 
Participants of the RVA Field Trip toured selected fields and facilities where thousands of athletes compete annually and gained a better understanding of the region's world-class sports infrastructure along with upcoming projects. 
Here's a recap of some of the facilities attendees of the RVA Field Trip learned about.   
River City Sports Plex in Chesterfield County 
The 115-acre athletic complex includes 12 lighted synthetic turf fields – one of the largest pods of synthetic turf fields in the United States – and includes storage/meeting space, restrooms, and plaza area as well as plenty of parking to accommodate all sorts of groups at the facility. 
Elite regional and national events like the Jefferson Cup (soccer) IWLCA Champions Cup (lacrosse) and the Shooting Star Tournament (field hockey) have utilized the facility.  
The Multi-Purpose Center at Virginia State University 
VSU's Multi-Purpose Center in southern Chesterfield County features an arena that can seat more than 6,000 guests and can serve as a host for athletic events, live concerts, trade shows and more. The center not only gives athletes and attendees a great experience, but it can also cater to leaders, dignitaries and VIPs with five hospitality areas overlooking the court.  
The Multi-Purpose Center is home to the VSU basketball and volleyball teams.  
Coming soon: Henrico Sports & Event Center 
Attendees also toured the upcoming the Henrico Sports & Event Center, a 115,000-square feet adaptable use space with room for 12 basketball courts or 24 volleyball courts and an arena with 3,500 stadium seats. 
The state-of-the-art-venue is expected to host events like basketball, volleyball, pickleball, wrestling, gymnastics, dance, robotics, e-sports, billiards and more.  
The Henrico Sports & Event Center is managed by the Henrico Sports & Entertainment Authority. Work. Win. Wow. caught up with the Authority's executive director in October.  
Would your organization like to check out these sites firsthand? Contact Richmond Region Tourism's Sales team at sales@visitrichmond.com.