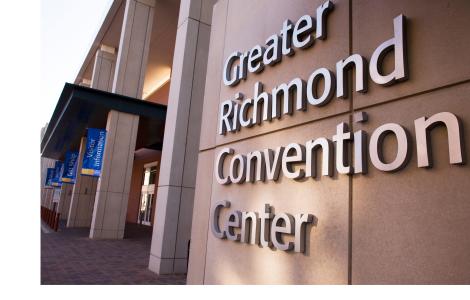 A new Richmond Region Tourism program aims to support the economy by aligning meetings and convention recruitment with the region's key economic development sectors.
The recently launched Meaningful Meetings program focuses on bringing more targeted meetings and conventions to the region – such as advanced manufacturing, information technology, BioScience and clean tech – through referrals from local organizations and residents.
Some elements of the program include financial incentives as well: Grants of $250-$1,000 will be distributed based on total guestrooms booked in area hotels through connections from people living in the region. The grants target meetings recruited in the areas of Diversity, Equity and Inclusion; Universities; Sustainability; and Arts.
Richmond Region Tourism has been working to keep the region top of mind for event organizers throughout the pandemic. The nonprofit is responsible for promoting the region to meeting, convention and sports event planners, tour operators and leisure travelers.
Meaningful Meetings is meant to encourage economic growth by helping locals bring the events and conferences of organizations they're connected with to the region.
"We worked alongside the Greater Richmond Partnership, ChamberRVA and other economic development teams to create the Meaningful Meetings program with a focus on recruiting events that are important to the economic vitality of the state," said Dasha Runyan, Vice President of Sales at Richmond Region Tourism. "Welcoming meetings and conventions to the region is now more important than ever to the community's economic rebound. With Governor Northam's current plan to lift COVID-19 restrictions on June 15, we can't slow down on our meetings and convention recruitment.
Many events take years to plan and organize. We're excited to bolster our business development program while supporting the local economy through Meaningful Meetings outreach and grants."
Positioning the region as a leader in highly performing sectors and an intellectual capital hub through business events is a key focus area of the Meaningful Meetings program. Meaningful Meetings is guided by the Richmond Region 2030, Richmond Region Tourism's 10-year strategic plan that aims to responsibly grow the region's tourism industry while supporting equality of life for all residents.
"Despite the challenges of the pandemic, the Richmond region continues to attract world-class companies and talent," said Brian Anderson, ChamberRVA president & CEO. "We were proud to work alongside Richmond Region Tourism to develop the new program. Meaningful Meetings is an important component of our region's economic development strategy. Not only do meetings and conventions support the economy, but they are also a catalyst for new business relationships, new academic and scientific research, talent attraction and new corporate investments in the region."
Local community is key to bringing events to the region
Events support the economy: In 2019, meetings, conventions and tournaments booked by Richmond Region Tourism represented more than $64 million in economic impact for the region supporting local businesses and generating jobs.
Richmond Region Tourism provides a variety of free services to meeting and event organizers, including meeting venue and hotel search assistance, arranging familiarization tours and site inspections, assisting with planning and itineraries, on-site conference services and more.
Throughout the year, the organization focuses on a robust business development program that includes tradeshows, marketing and public relations strategies to recruit meetings and conventions. Community member referrals and connections are also an important component for event recruitment.
"As a part of the Meaningful Meetings Initiative, we recently partnered with the Richmond Region Tourism team to successfully recruit a world-class aviation conference to the region," said Perry J. Miller, A.A.E., I.A.P., president and CEO of the Capital Region Airport Commission. "With a more diverse range of nonstop options than ever before at Richmond International Airport (RIC) and robust cultural and experiential offerings, the region continues to be a top choice among new companies, visitors, and meeting planners. The RRT team worked with us through every step of the bid process, developing a presentation concept, suggesting great speakers, recommending incredible venues for off-site events, and providing helpful input to attract potential sponsors. Their staff even traveled out of state with us to do the presentation before the site selection committee. We look forward to continuing this collaboration with the RRT team throughout this event and beyond."
Richmond Region Tourism annually recognizes individuals who refer a wide range of conventions, meetings and sporting events to Greater Richmond through its RVA Champions program. The 2020 class of 29 RVA Champions, honored for their work to bring in events in 2019, was responsible for helping recruit events to the region worth an estimated $10.2 million in local economic impact.
Because events were postponed or canceled during the COVID-19 pandemic, Richmond Region Tourism can recognize only two RVA Champions for 2021. Richmond Region Tourism plans to honor more RVA Champions next year as organizations begin to make plans for future events."
"For years we've encouraged folks to shop and eat local – it's also important to meet local," said Runyan. "A great way to support your local community is by inviting the groups you're involved with and care about to the region in the future. Residents can help our economy and the recovery by simply making a connection, no matter the group size, to the Richmond Region Tourism team."
Meaning Meetings grant criteria
Grant levels are as follows:
50-99 total guestroom block* -- $250 grant

100-199 total guestroom block -- $500 grant

200-499 total guestroom block -- $750 grant

500-1000 total guestroom block -- $1,000 grant
*Guestroom block is determined by past pick-up and rooms contracted with the hotel.
Grant Criteria:
Richmond Region Tourism must be involved in the process at the very beginning.

This program does not apply to the events already booked.

Incentive payouts are based on actual consumed room nights as reported by local hotels.

Proactively collaborate with Richmond Region to help secure Richmond Region as a host destination.

Funds will be paid to the local organization that initiated the event recruitment.
For more information about Meaningful Meetings and bringing your group's meeting to the region, contact Richmond Region Tourism at sales@visitrichmondva.com.