Morning brunch and mimosas— the perfect duo to kick off your Saturday or Sunday in the Richmond Region. Whether you're into the classic brunch experience or want to embark on a unique food adventure, the Mimosa Trail in RVA is the perfect way to explore blends of flavors, while trying new restaurants all over the region. No matter the vibe or experience you're looking for, we have you covered!
Champagne Brunch at The Jefferson Hotel
101 W Franklin Street, Richmond, VA
Sundays | 10:30am, 11:00am, 1:00pm and 1:30pm Seating Times
Enjoy mimosas and brunch at one of the most grand hotels in Richmond, The Jefferson Hotel! This special brunch experience features a unique menu crafted by the Executive Banquet Chef with the freshest seasonal ingredients. Reservations are required for the Champagne Sunday Brunch and they fill up fast, so act quick!  Details here. 
Godfrey's Drag Brunch
308 E Grace Street, Richmond, VA
Saturdays and Sundays | 11:00 AM and 2:00 PM
Looking for some entertainment while enjoying brunch? Look no further than Godfrey's, home of the famous drag brunch! Enjoy brunch and mimosas while watching a fun and lively performance each every Saturday and Sunday! Details here.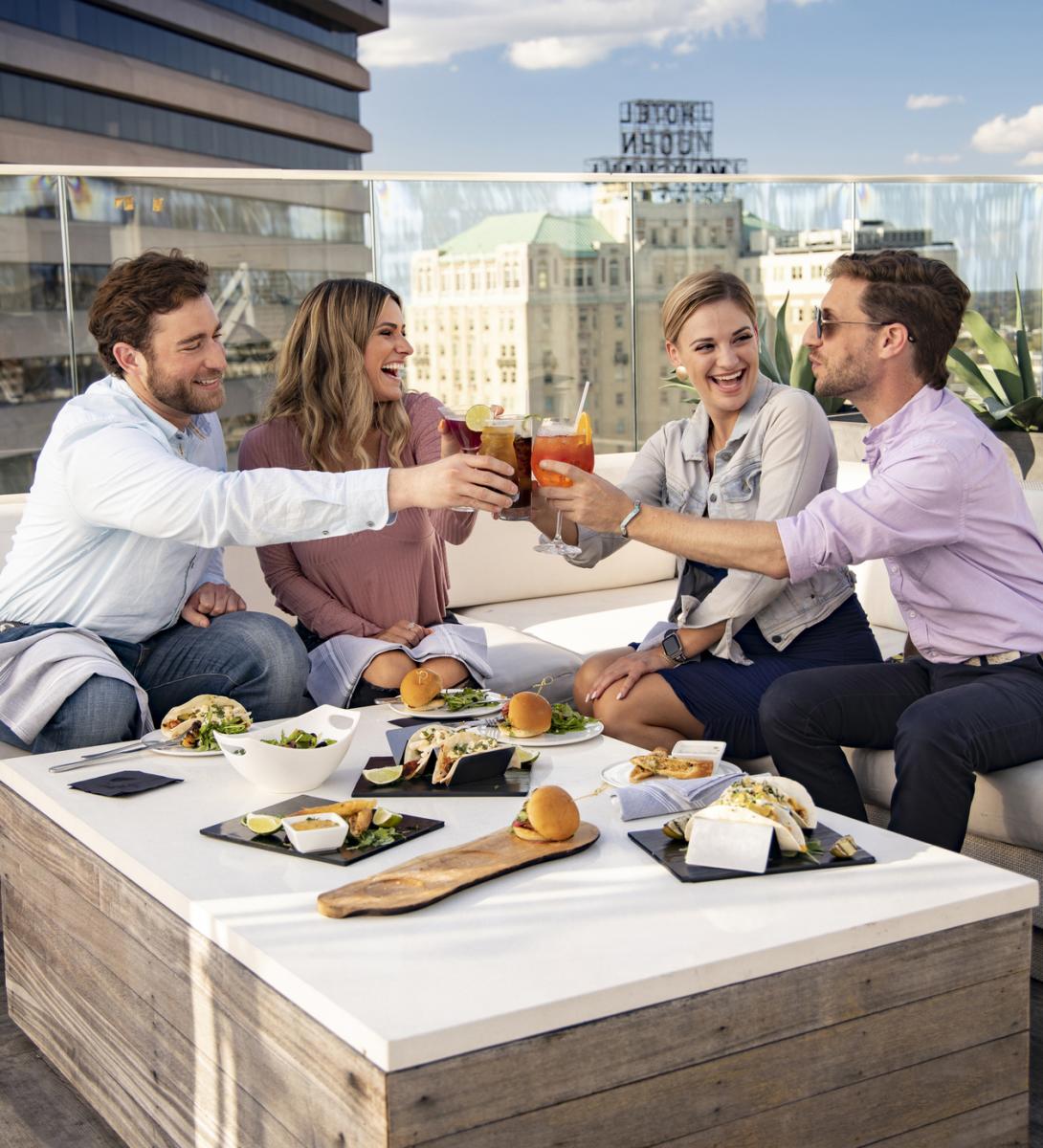 Kabana Rooftop Brunch 
700 E Main Street, 20th Floor, Richmond, VA
Sundays | 11:00 AM - 2:00 PM
Sip on a mimosa while looking out at views of the James River and the city! Kabana Rooftop features brunch and mimosas every Sunday from 11:00 A.M. to 2:00 P.M.!  Details here.
821 Cafe
825 W Cary Street, Richmond, VA
Daily until 4:00 P.M.
Looking for a casual brunch spot with fun mimosas? 821 Cafe is the perfect place to get your brunch fix! Offering multiple types of juices for their mimosas including pineapple and cranberry juice, 821 Cafe is the perfect, quick brunch stop. Details here.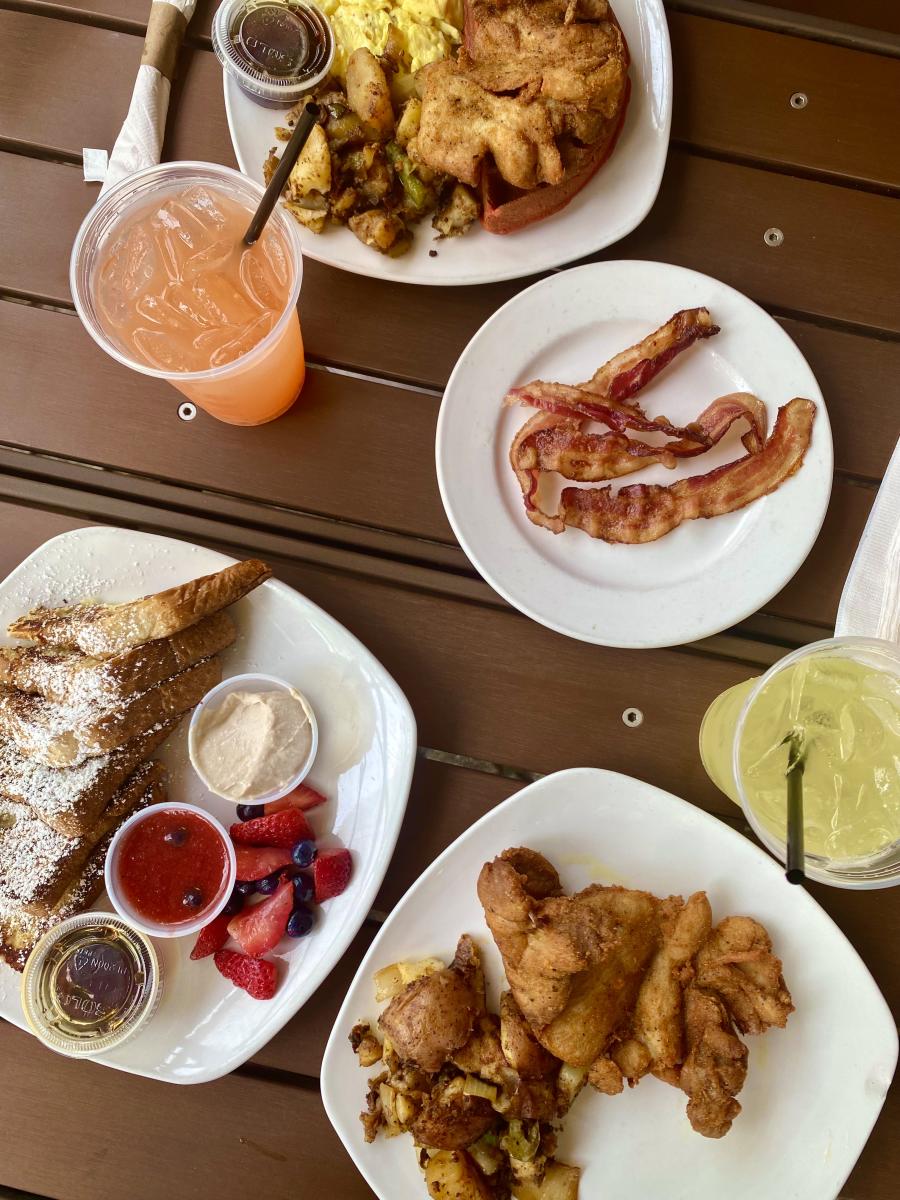 Lulu's Richmond
21 N 17th Street, Richmond, VA
Tuesday - Sundays | 9:00 AM - 3:00 PM
Located in Shockoe Bottom, Lulu's Richmond has options for indoor and outdoor dining, with well-behaved dogs welcome on their outdoor patio. Enjoy a red velvet waffle with a blood orange mimosa created with Belle Isle Blood Orange Moonshine! Details here.
SB's Lakeside Love Shack
6935 Lakeside Avenue, Richmond, VA
Tuesdays - Sundays | All Day
SB's Lakeside Love Shack is anything but boring! With weekly themes for specials like Taylor Swift or Unicorns, SB's always has something new and fun to try (including sparkly mimosas!) Details here.
Milk n' Honey
168 Southgate Square, Colonial Heights, VA
Sundays | 10:00 AM - 3:00 PM
Experience New Orleans in RVA at Milk n' Honey, the Louisiana inspired brunch restaurant in Colonial Heights! Restaurant specials include the Rumchata French Toast and Brunch Punch, a delectable brunch combination sure to delight. Details here.
Hanover Tavern
13181 Hanover Courthouse Rd, Hanover, VA
Saturdays and Sundays | 11:00 AM - 3:00 PM
Be surrounded by Central Virginia history while enjoying mimosas and brunch at the charming Hanover Tavern. Stop by to enjoy brunch favorites at the tavern like eggs beny or chicken and waffles. Reservations aren't required, but are highly recommended! Details here.

Capitol Waffle Shop
1110 E Main Street Suite B, Richmond, VA and 9101 Midlothian Turnpike, Suite 600, North Chesterfield, VA
Daily | 9:00 AM - 2:00 PM
Enjoy mimosas and waffles any day of the week at this classic waffle shop! Garnished with a waffle wedge, mimosas are only $5.00 and can be prepared with a variety of juices, from classic orange juice to tropical pineapple juice. Details here.
Looking for even more RVA brunch bites?
Check out the full listing of 900+ restaurants across the Richmond Region, HERE.