We had tons of awesome summer festivals and events in the Richmond Region in 2019! Check back later for an updated 2020 event guide!
Festival fun lasts all summer long in the Richmond Region! From food festivals and live music events to outdoor Shakespeare performances, craft beer, and Hanover tomatoes, we've got more than enough to keep you entertained!

Memorial Day has long been considered the unofficial start of summer, so get the party started the right way at Kings Dominion! Kick off your summer with an extra dose of adrenaline on Twisted Timbers and splish-splash fun at Soak City. Hang out with America's favorite beagle at Planet Snoopy and catch a world-class live show when you're ready to relax. After the sun goes down, stay for the dazzling Memorial Day fireworks show set against a backdrop of patriotic music. Plus, the theme park is honoring all active and retired military with FREE admission and discounted tickets for their families.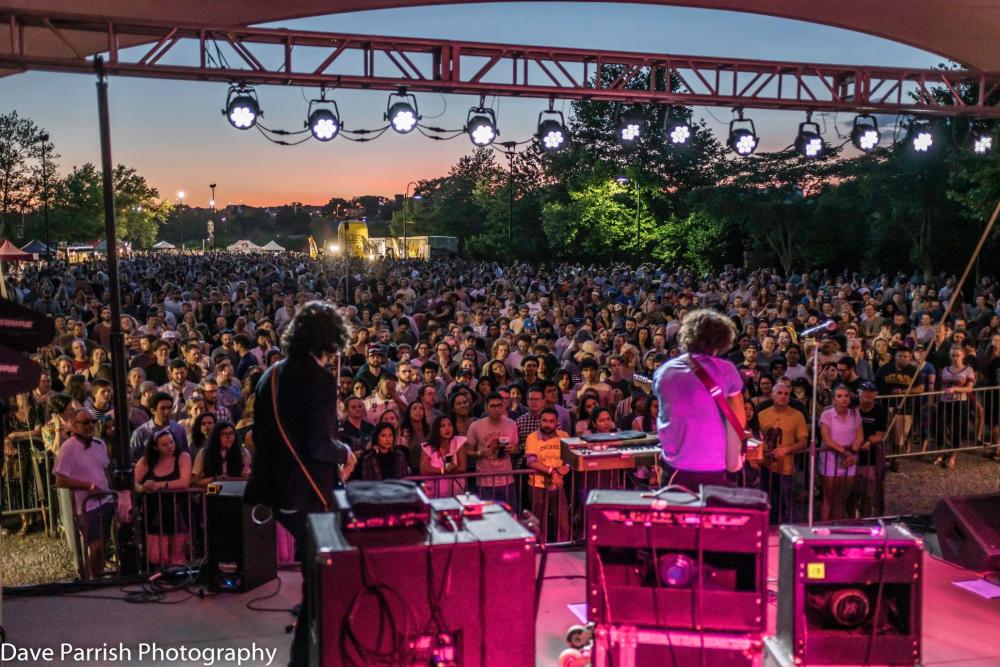 Friday Cheers
Brown's Island
Fridays in May & June
As the longest running and largest event of its kind in Richmond, Friday Cheers showcases some of the nation's hottest touring bands and all-time regional favorites. The only summer concert series held along the James River, Cheers draws 3,000-6,000 people per week to Richmond's picturesque Brown's Island, a park-like setting situated between the Canal Walk and the scenic James River in downtown RVA. Friday Cheers takes place every Friday in May and June.​​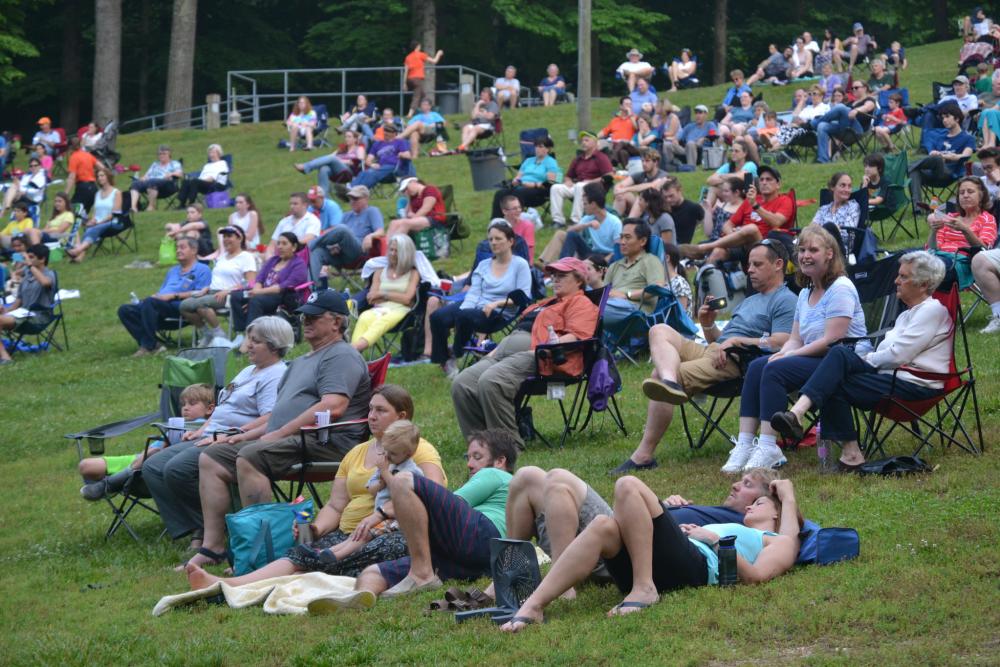 Pocahontas Premieres
Heritage Amphitheater at Pocahontas State Park
Various dates from May - September 
Pocahontas Premieres is a series of concerts and family-friendly entertainment held at the Heritage Amphitheater at Pocahontas State Park. From oldies and Motown to classic rock and current country, the series brings big-arena experiences to Virginia's most visited state park. Bring a blanket or lawn chair and feel the evening breeze while enjoying family-friendly entertainment in the middle of this beautiful state park.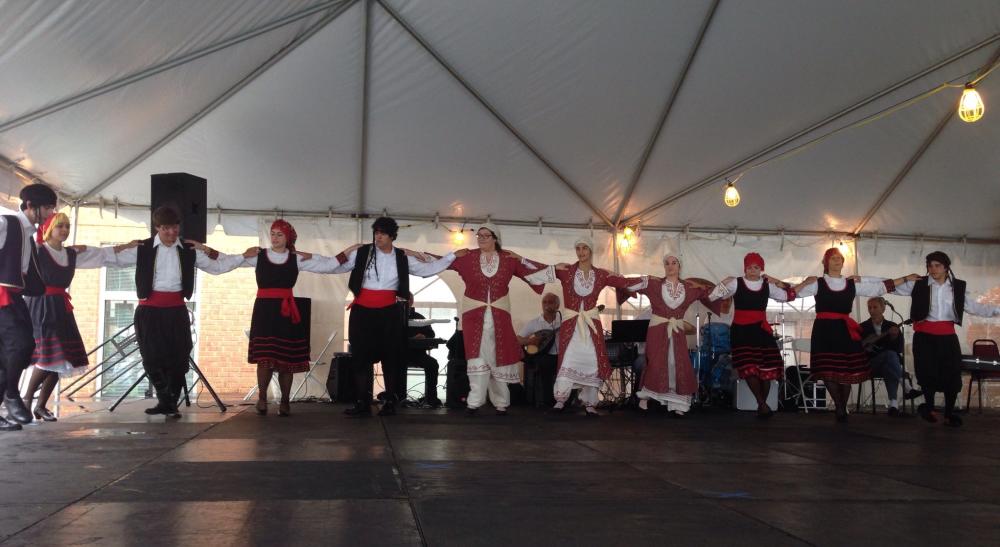 44th Annual Richmond Greek Festival
Saints Constantine & Helen Greek Orthodox Cathedral
May 30 - June 2, 2019
Experience one of Richmond's oldest and most beloved outdoor cultural festivals at the corner of Malvern and Grove Avenue! The Richmond Greek Festival has been bringing OPA to RVA for 44 years! Savor the legendary food, watch the talented dance troupes, and enjoy music from all the regions of Greece. Browse through the beautiful art, jewelry and fabulous finds in the Agora Marketplace. You can count on finding all of the usual Greek specialties, from moussaka to souvlaki and everything in between. Just try to save some room for the amazing baklava and other yummy desserts! You can bring us back some spanakopita as a thank you for recommending this gem of a festival! Just kidding! ;) But seriously, we hope to see you there!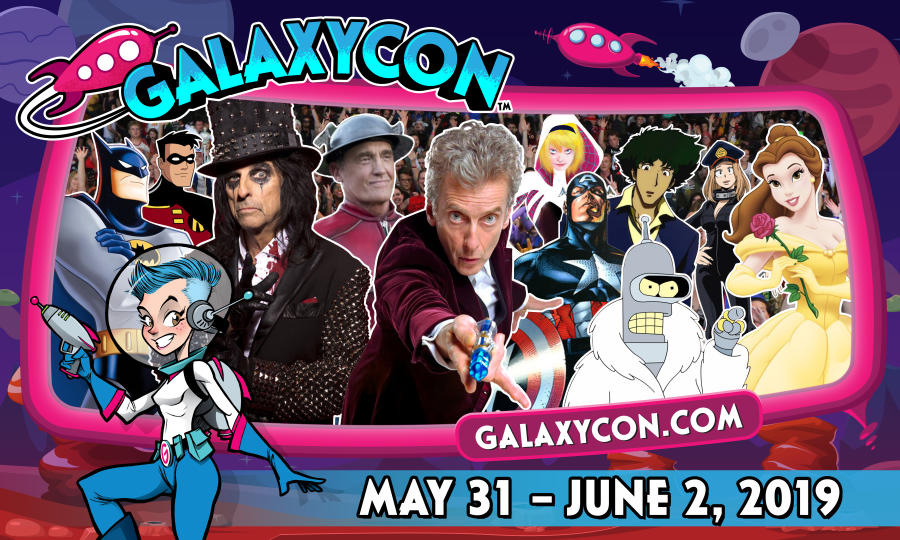 GalaxyCon Richmond
Greater Richmond Convention Center
May 31 - June 2, 2019
Meet celebrity and creative guests from comics, movies, TV, science fiction, fantasy, anime, cartoons, video games, and wrestling! GalaxyCon Richmond features over 300 hours of programming over 3 days with Q&As, workshops, costume competitions, burlesque, comedy, film screenings, tournaments and more!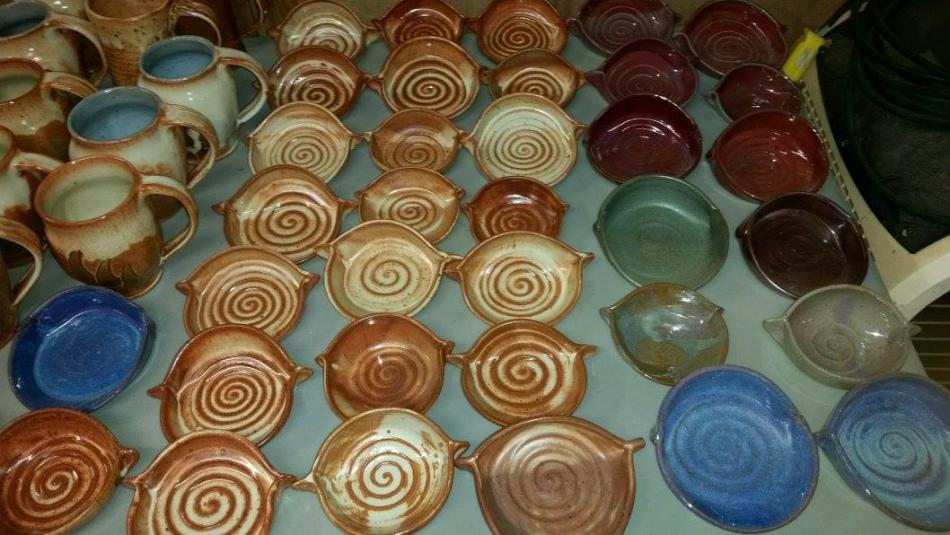 RVA CLAY
Various art studios throughout the region
June 1-2, 2019
Take a self-guided tour of Richmond's diverse and spectacular clay community. On June 1st and 2nd, visit 22 unique clay studio spaces and experience the work of nearly 100 clay artisans. Plan out your route and spend the weekend visiting your favorite artists.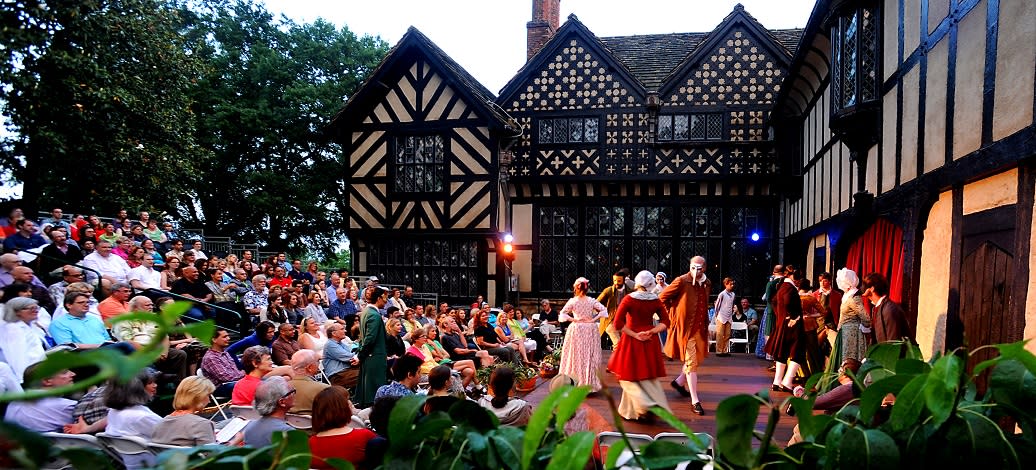 Come see 'Shakespeare Under the Stars' where Quill Theatre performs some of the Bard's finest works in the courtyard of an authentic Tudor home built in the 16th century and brought over from Lancashire, England in 1926. There's nothing else like it on the East Coast! This year's festival will feature performances of The Tempest (June 6-30), and The Taming of the Shrew (July 11-August 4), as well as a special performance of The Compleat Wrks of Wllm Shkspr (July 6). Performances start at 7:30 p.m. (with the exception of The Compleat Wrks at 8:00 p.m.) The grounds open at 6 p.m. for pre-show picnickers. Feel free to bring a blanket and a picnic dinner, and enjoy the beautiful gardens surrounding Agecroft, as well as the spectacular view from the Bluff. As you dine, members of Lord Moxley's Players, the Festival Young Company, will stroll the grounds and entertain with Shakespearean monologues, sonnets, and songs.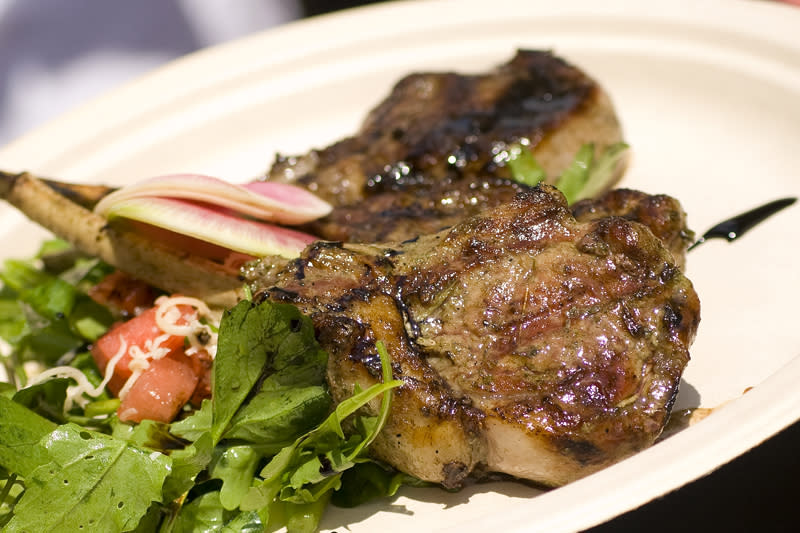 Broad Appétit
West Broad Street between Henry & Adams 
June 2, 2019
Broad Appétit promotes the amazing food, art, and music that makes Richmond a great place to live and visit. Bring your appetite and cash and plan on grazing your way down Broad Street to sample some of feature the best local restaurants our fine city has to offer - and all at $3 a plate. There will be plenty of Virginia wine and beer to wash down the delicious food, plus vendors to visit, and music to please your ears. Bring a re-usable shopping bag and gather up your favorite in-season produce from local farmers and food providers.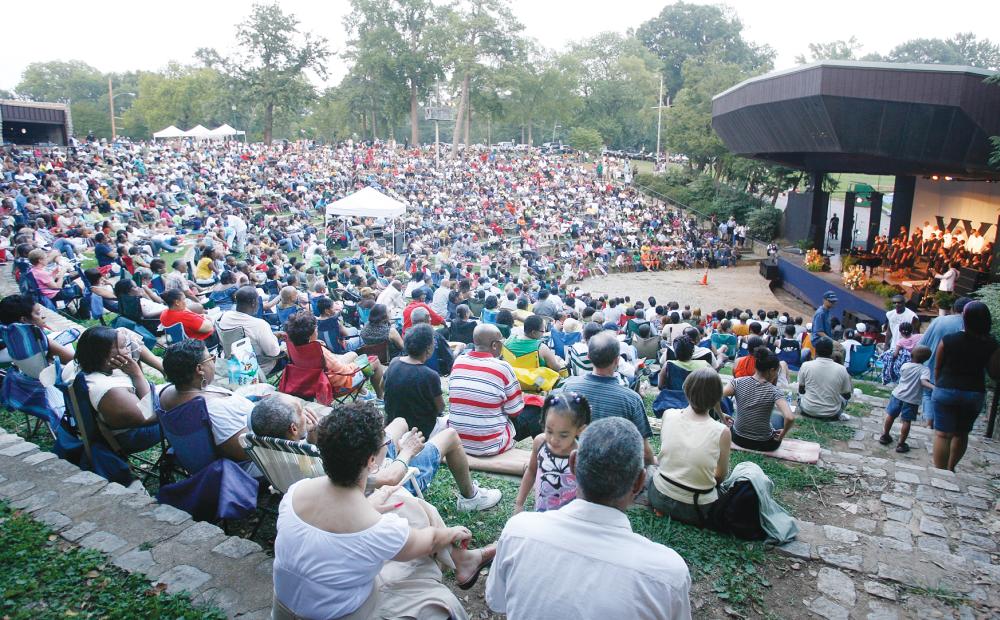 Since 1956, Dogwood Dell has been home to the Festival of Arts; a summer long celebration of the arts featuring art exhibits, concerts, dance and theatre. With its eclectic mix of old and new, the Festival of Arts has become one of Richmond's cultural treasures. Throughout June, July, and August, a variety of performances are offered, including classical music and dance; drama, comedy, and musical theatre; reggae, pop, swing, rhythm and blues, rock, jazz and contemporary music concerts. The Festival of Arts is flavored for every taste. Come early for a seat in the amphitheatre or bring a blanket to sit in the surrounding park.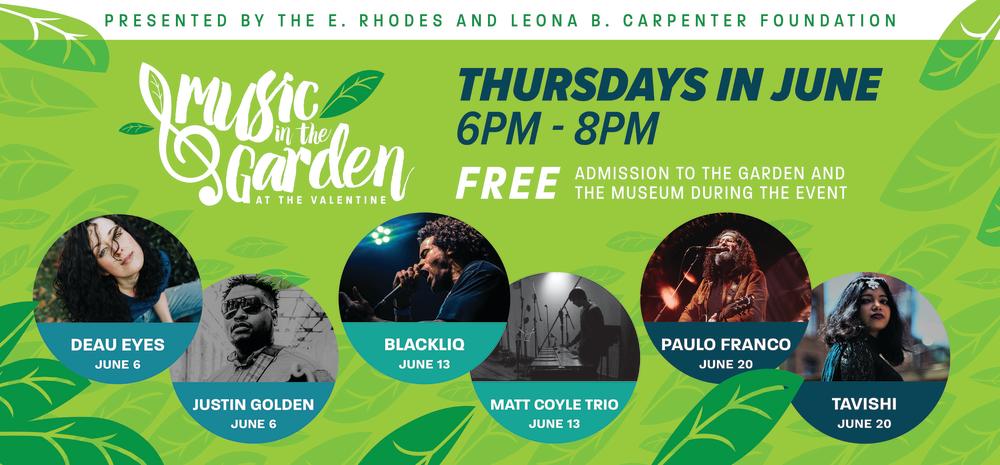 Celebrate Richmond's diverse music scene at The Valentine with the 4th annual Music in the Garden series on the first three Thursdays of June. These free events will offer audiences unique, family-friendly performances in a beautiful atmosphere, as well as free access to the Valentine's exhibitions. Each evening will feature two performances by musicians from different genres and with distinct styles, encouraging fans to interact and explore their musical boundaries. Beer and wine will be available for purchase, and the Carriage House Café at the Valentine will be open.

Flowers After 5
Lewis Ginter Botanical Garden
Thursdays, June 6 - September 12, 2019
Relax on Thursday evenings throughout the summer at Flowers After 5. Stroll through the gardens; enjoy live music, wine and beer, dining and shopping, plus family activities in the Children's Garden. Different live bands each week mean you might hear anything from jazz, soul, and big band swing to folk, bluegrass, or Motown tunes! Check out this summer's lineup here and get ready to bask in the vibrant summer evenings and extended hours at the Garden! New for 2019: M&T Bank Butterflies Live! stays open until 8 p.m. during Flowers After 5.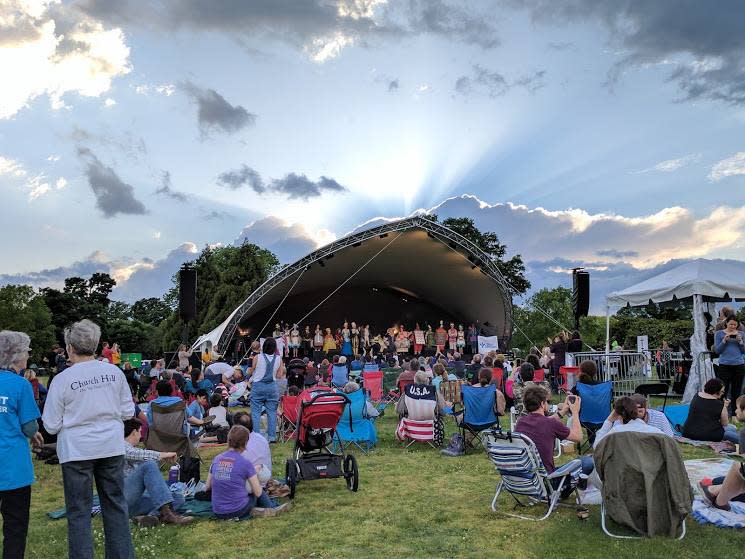 RVA East End Festival 2019
Chimborazo Park
June 8-9 2019
The fourth annual RVA East End Festival brings a weekend full of fun and music to Chimborazo Park, June 8-9. Festival highlights include performances by the Richmond Symphony, Legacy Band, Mahogany Soul, Saint Square, Dap Mallory Band, plus food trucks, a Kids Zone, vendors, beer and wine, and more! The festival serves as a fundraiser for music education in Richmond Public Schools.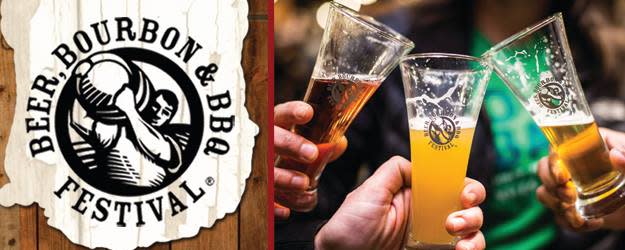 Come out to the Richmond Raceway Complex for a great day of beer sippin', bourbon tastin', music listenin', and barbeque eatin'. Admission includes a sampling glass so you can enjoy an all-you-care-to-taste sampling of beer and bourbon. With 40 different bourbons and 60 beers on tap to choose from, you'll need to pace yourself and save room for some of the amazing barbeque! You can also check out seminars from master distillers, brewmasters, and pit masters in the tasting theater and enjoy live rock, blues, and bluegrass music all afternoon.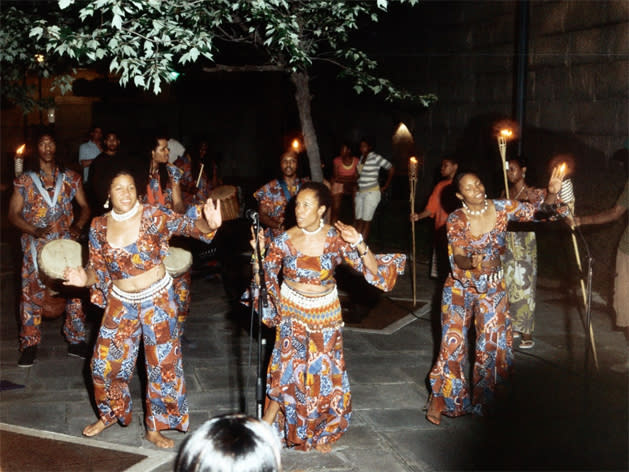 Sponsored by the Elegba Folklore Society, Juneteenth, A Freedom Celebration combines history with a contemporary family gathering featuring performances, speakers, the Freedom Market and children's activities. A symposium and the Annual Torch Lit Night Walk on the Trail of Enslaved Africans are featured in observance of Juneteenth National Freedom Day.
Ashland Strawberry Faire
Randolph-Macon College campus
June 15, 2019, 10 a.m. - 5 p.m.
A local favorite since 1982, this festival fills the town with strawberry treats and more than 300 booths featuring food, antiques, arts and crafts, and information about local businesses and nonprofits. A Kids' Zone has games and fun for the smaller set, while the whole family will enjoy live entertainment including local bands, a strawberry pageant, pet pageant, and more.
Celebrate Father's Day at Fine Creek with their first ever Lager Fest! Breweries from across Virginia and even out-of-state will be bringing their best Lagers and Pilsners. No tickets are necessary. Drink tokens will be sold the day of. Taproom will remain open to the public all weekend. Enjoy live music and delicious food on-site.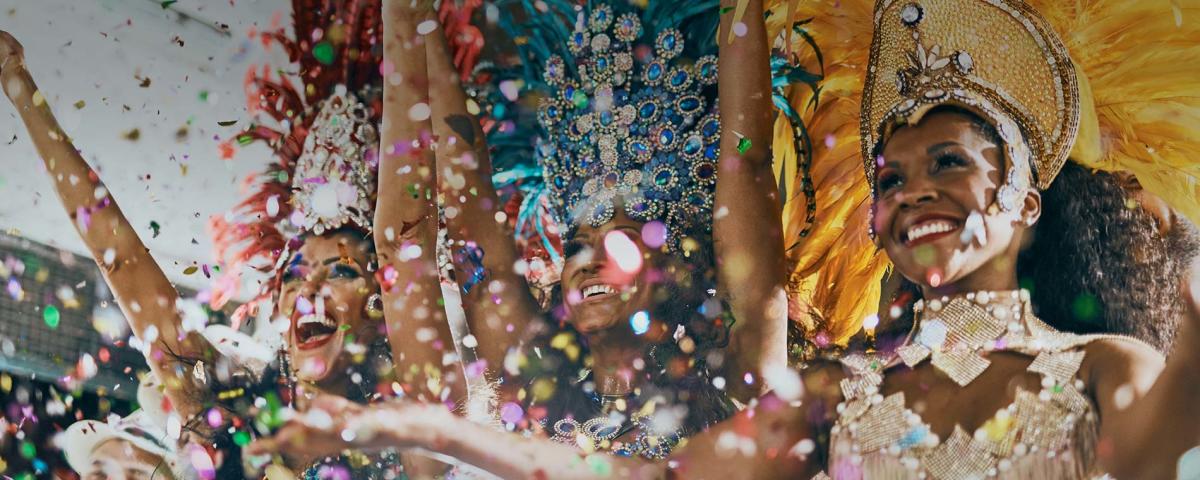 Grand Carnivale
Kings Dominion
June 15 - July 7, 2019
Experience Kings Dominion like you never have before when myth and magic join together to create the all-new Grand Carnivale. Every day from June 15 through July 7 beginning at 5:00 p.m. you can celebrate the sights, sounds, smells and tastes from cultures around the world including India, China, Italy, France and Germany. Indeed, the Grand Carnivale has something for everyone – from crafts and games, to delectable food and drink, to live music and astounding entertainment. Take part in the Spectacle of Color interactive light parade, complete with dazzling floats, authentic music and mesmerizing street performers. And finally, top off the night at the Carnivale Street Party, a magnificent party filled with international music and merrymaking until the park closes.

Powhatan Music Festival
Village Meadow, 3920 Marion Harland Ln, Powhatan VA
June 22, 2019, Noon - 7:00 p.m.
The Powhatan Music Festival brings a stellar lineup to the Village Meadow! Musical acts at this family-friendly festival include Maddie Leitch, East of Hollywood, PumpHouse Blues, Kyle Davis and The Commonwealth Bluegrass Band. Local craft beer, wine, and food will be available for purchase. Be sure to bring a chair or blanket and don't forget the sunscreen!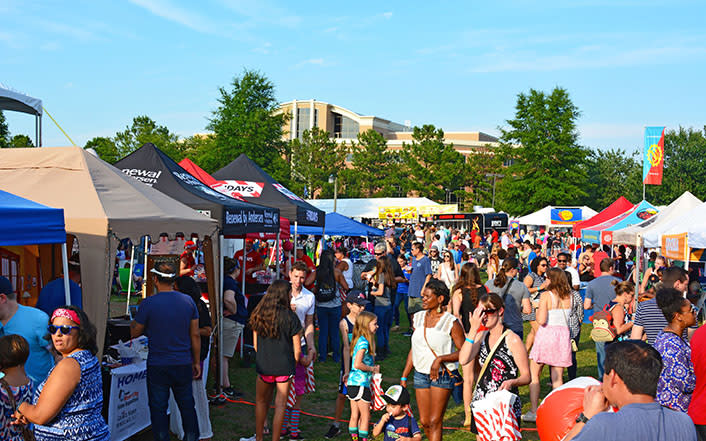 Celebrating all things VA, Innsbrook Taste of Virginia presented by Capital Ale House, will showcase delicious cuisine from local restaurants, each competing for the honorary "Taste of Virginia" title. Arrive with an empty stomach and allow your taste buds to guide you through the delectable selection of dishes, featuring an array of diverse flavors. The festival will also feature Virginia wine and up to 20 different craft beer selections. Enjoy live music from fan favorite yacht rockers Three Sheets to the Wind, plus a kids-zone with moon bounces! Then stick around to watch the grand finale fireworks show!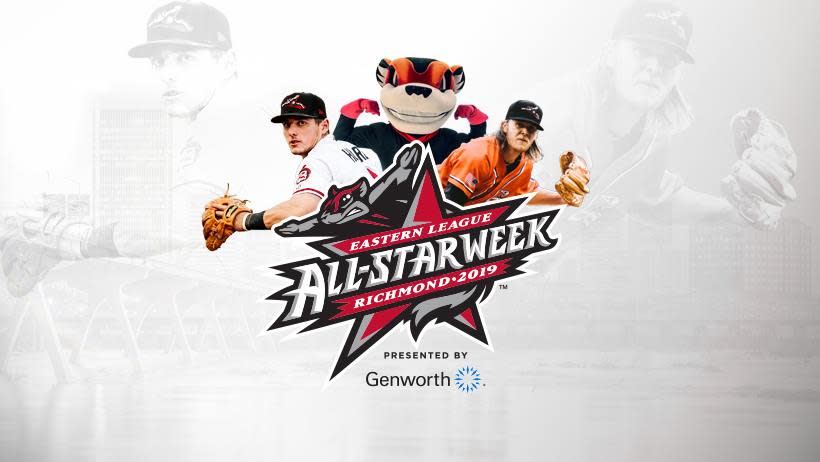 Mayor Levar Stoney's All-Star Week Kickoff - July 7
All-Star Week presented by Genworth begins with a warm welcome at Brown's Island with Richmond mayor Levar Stoney. The Richmond community and the Flying Squirrels welcome in the 2019 Eastern League All-Stars, baseball dignitaries, guests and fans for this kickoff event featuring live music, entertainment and delicious selections from Richmond's nationally-recognized food and beverage scene. 
All-Star Music Country Jam at Richmond Raceway featuring Big & Rich - July 8
Join the All-Star Week entourage for a special night of country music at Virginia Credit Union LIVE! at Richmond Raceway! Big & Rich will headline the All-Star Country Music Jam, plus special guests Cowboy Troy, DJ Sinister and Mickie James! 
Eastern League Celebrity Home Run Derby & All-Star Pep Rally - July 9
The Flying Squirrels host the Eastern League Celebrity Home Run Derby, featuring the All-Star players and special guests participating in a series of home run and hitting challenges. The event will feature a star-studded list of participants with ties to the Richmond area from across the sports and entertainment world, including xix-time All-Star and San Francisco Giants great Will Clark, 12-year MLB player, manager of the Flying Squirrels and the Western Division All-Stars Willie Harris, former Richmond Brave, two-time World Series champion and Eastern Division All-Stars manager Mike Mordecai, NASCAR driver Elliott Sadler, former VCU and NBA star Eric Maynor, former Penn State and Seattle Seahawks Super Bowl champion Michael Robinson, and more! Yacht rock band Three Sheets to the Wind will perform following the Celebrity Home Run Derby.
Prior to the Home Run Derby, there will also be an All-Star Pep Rally in downtown Richmond from 11 a.m. to 1 p.m. in partnership with Venture Richmond at One James Center Plaza, 901 E. Cary Street.
2019 Eastern League All-Star Game - July 10
Finally, witness the best of the best at The Diamond, marking the first Eastern League All-Star Game ever hosted in Richmond! This mid-summer classic includes some of Major League Baseball's brightest stars of tomorrow. The Eastern and Western division rivals will also be led by a celebrity manager in each dugout. Fireworks follow the game. Prior to the game, join the Flying Squirrels for the Squirrels Way All-Star Block Party from 11 a.m.-1 p.m. and enjoy a pregame concert from the band Spiderkelly!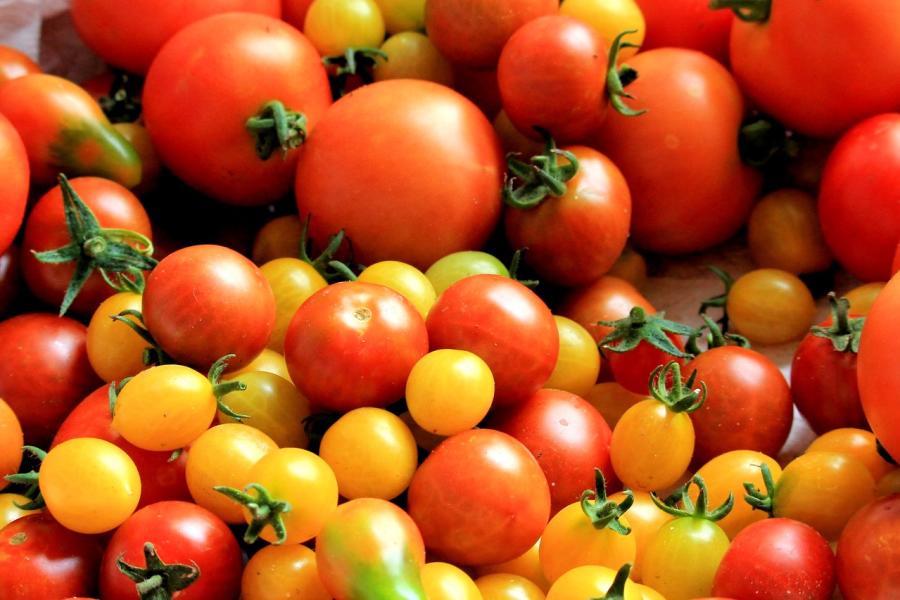 A celebration of Hanover County's famous fruit since 1978, the Hanover Tomato Festival is a free, family-oriented event featuring Hanover tomatoes (obviously!), live musical entertainment, 150 artisan & business vendors, delicious tomato dishes, the MaterFUN zone (designed for children 12 & under), Bow-Wow Beach (cooling station for pets) and the incredibly fun 4K Pizza Race & Relay.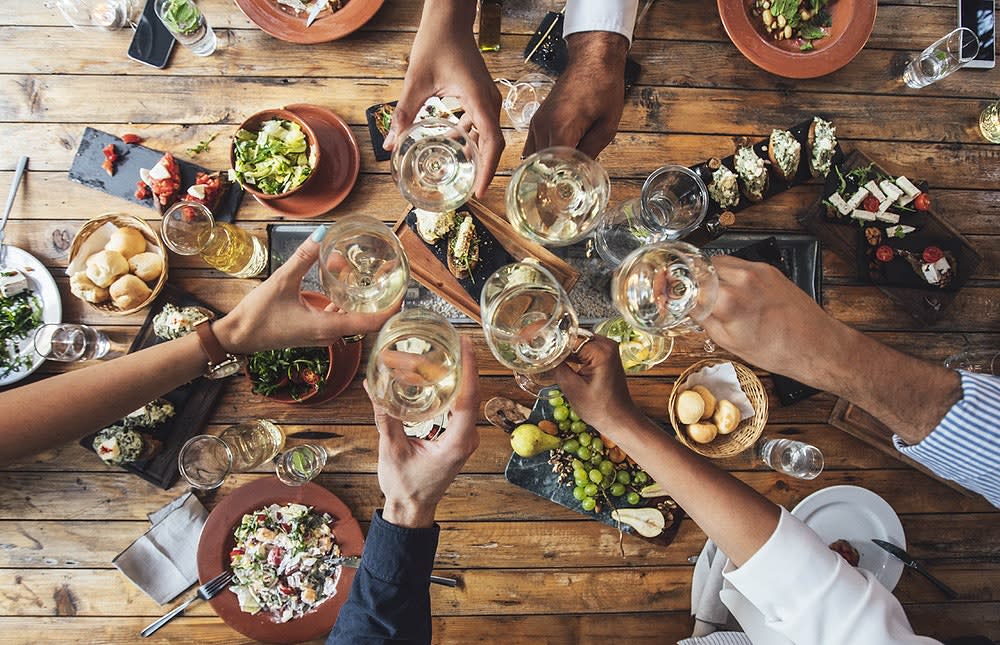 Stony Point Wine Festival
Stony Point Fashion Park
July 20, 2019, 11:00 a.m. - 5:00 p.m.
Come out to Stony Point Fashion Park for an amazing day of Virginia wine, live music, food and fun! Tickets for unlimited sampling are $25 in advance or $35 at the door. Wineries from all over the region and across Virginia will be sampling some of their award winning wines, as well as cider and spirits. Latitude Seafood Co. will have pay-as-you-go seafood stations and sampling platters throughout the festival. Live music provided by Grace Street Seven vintage jazz band.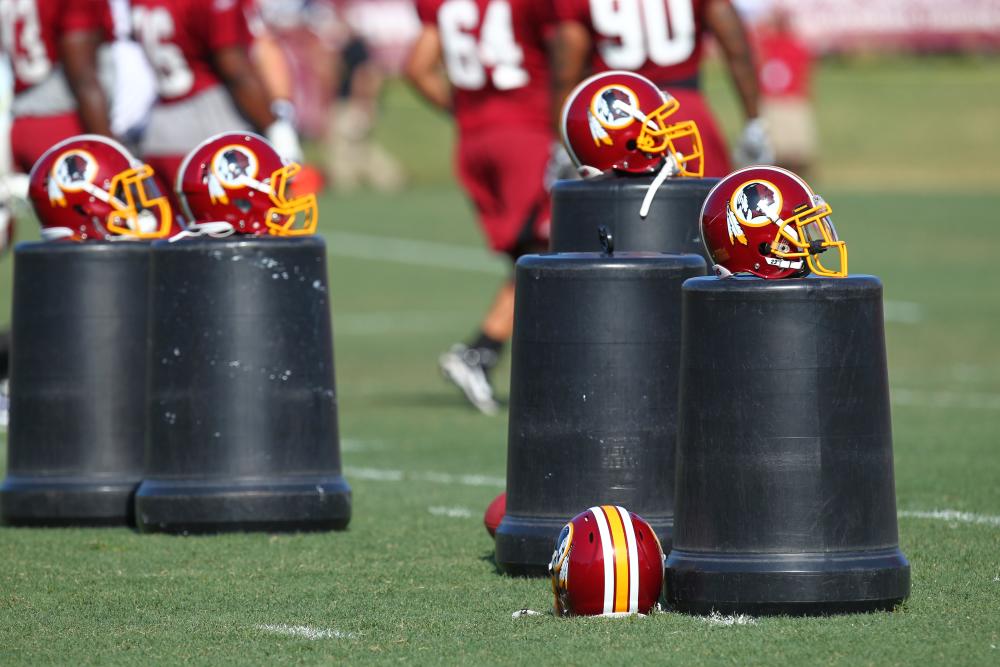 Washington Redskins Training Camp
Bon Secours Washington Redskins Training Center
July 25 - August 11, 2019
Catch the action as the Washington Redskins return to Richmond for their seventh season of training camp in the River City! We look forward to welcoming the team and fans back to RVA! Remember to bring lawn chairs or blankets to sit on during practice as you watch your favorite players get ready for the upcoming season. Food and beverages will be available for purchase on-site. HTTR!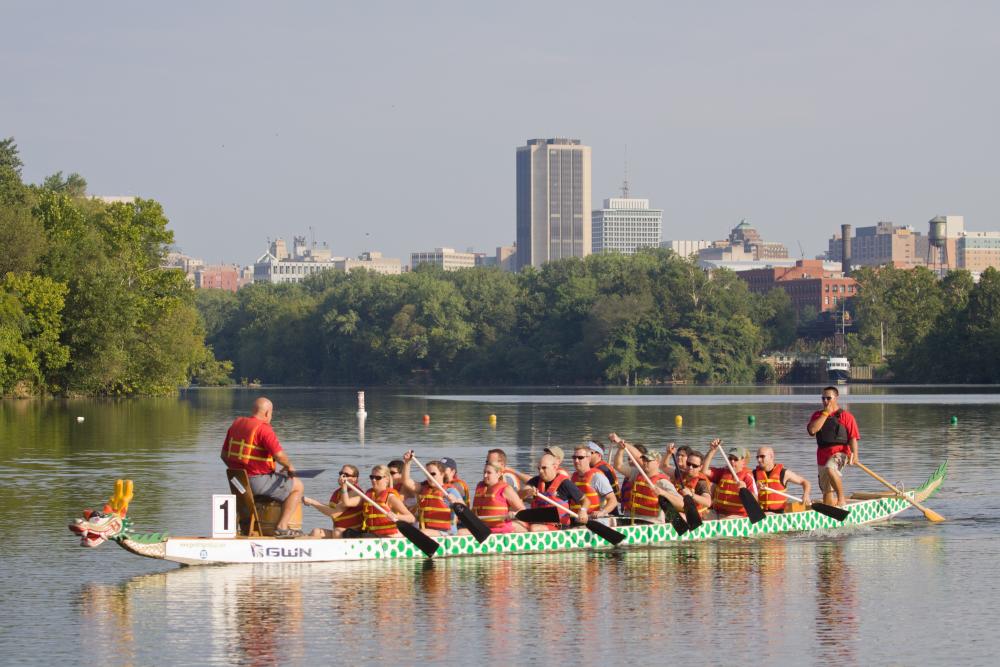 Led by the rhythmic beat of a drum, teams of 20 synchronized paddlers, one drummer and one steersperson race 500 meters up the river in 40-foot canoes rigged with decorative Chinese dragon heads and tails.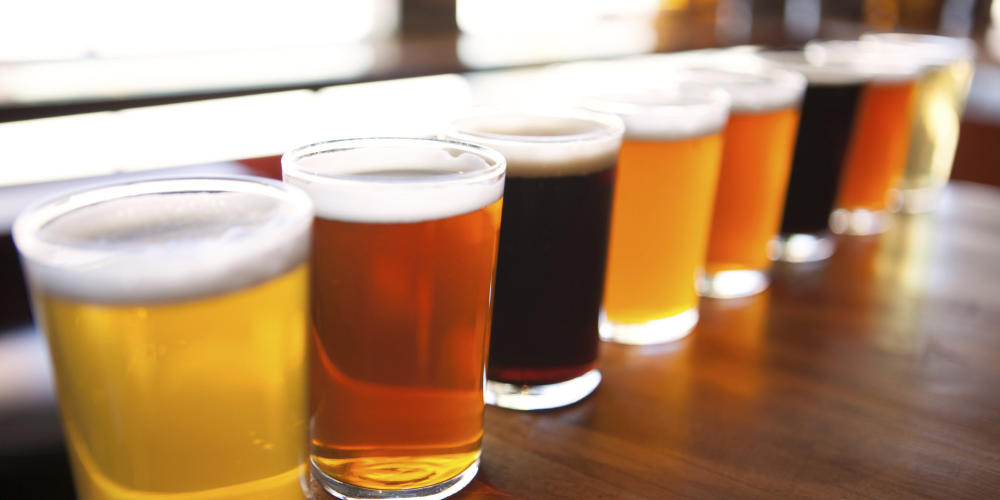 BrewHaHa Craft Beer Festival
Virginia Museum of History & Culture
August 3, 2019, 6:00-9:00 p.m.
Celebrate Virginia Craft Beer Month at the Virginia Museum of History & Culture's third annual BrewHaHa craft beer festival. Save the date and stay tuned for more details coming soon!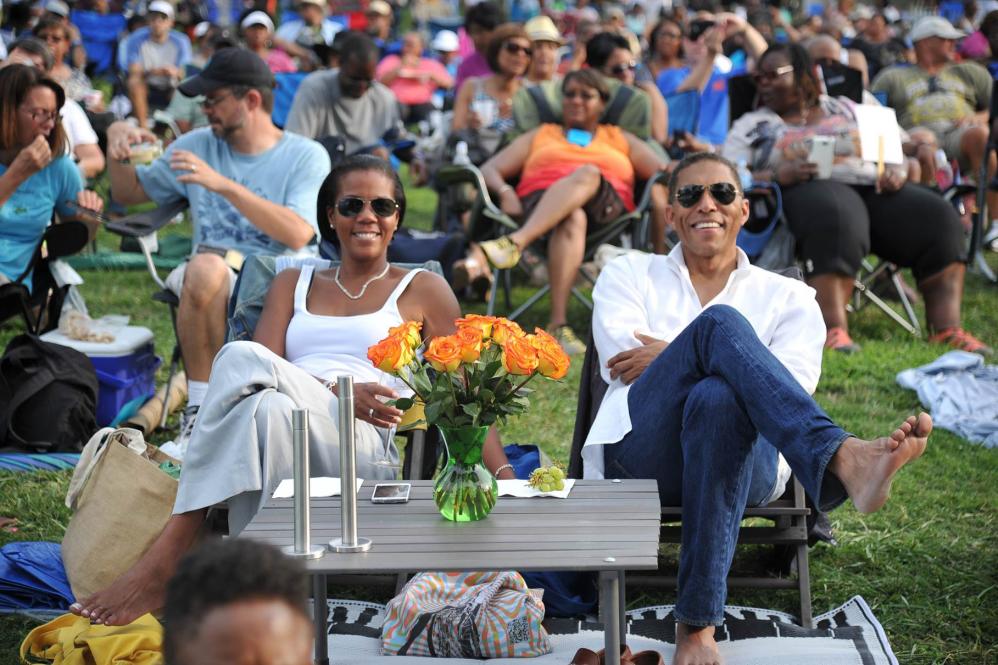 A joyful display of jazz, funk, soul, and R&B is on multiple stages at one of the largest music festivals on the East Coast. A celebration of music and culture, the festival draws nationally and internationally known artists. Throughout the week, preview events will take place across the city. Then, on Saturday and Sunday, the beauty of Maymont becomes the backdrop to one of the most spectacular musical events in the country. The Richmond Jazz Festival attracts thousands of fans each year - come join them!

Filipino Festival
Our Lady of Lourdes Catholic Church
August 9-10, 2019
Now in its 14th year, the Filipino Festival showcases the richness of the Filipino culture and promotes a respect for and appreciation of the Filipino heritage. Featuring delectable cuisine, folk dances and music, the Filipino Festival attracts thousands of attendees who want to experience the best of the Philippine islands right here in Central Virginia. Enjoy pancit, lumpia, adobo, craft beer, and halo-halo, along with live bands, line-dancing, contemporary and cultural entertainment, vendors, and a kid zone.
Head to Richmond's "Mile of Style" for the ever-popular Carytown Watermelon Festival! Peruse sidewalk sales and vendor tents, tap your toes to live music, enjoy yummy festival food, and eat lots of watermelon! Local restaurants feature watermelon-themed dishes and drinks, and there's a huge kids' area to keep the kiddos entertained.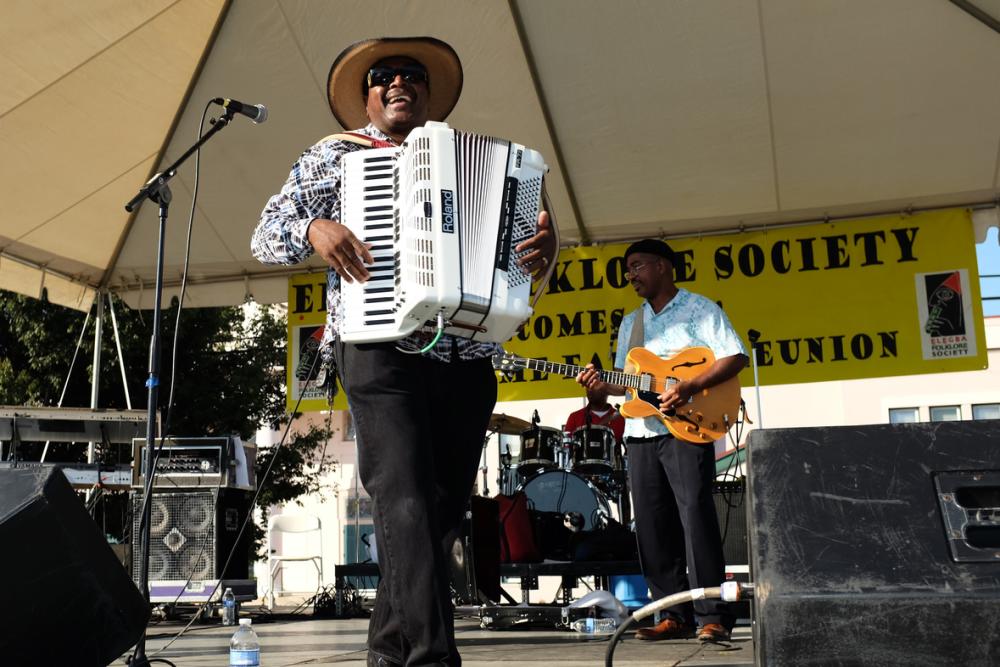 Down Home Family Reunion, A Celebration of African American Folklife is a downtown weekend festival of world music and dance, a Heritage Market, children's events, interactive site demonstrations & delicious down home food. This is one of the Elegba Folklore Society's original programs created in 1990 to connect aspects of West African cultural traditions with African Americans and to show their influence on the American South. Bringing the world home, audiences are exposed to the artistic expressions of African world cultures in a lively, colorful and informing celebration of heritage and light.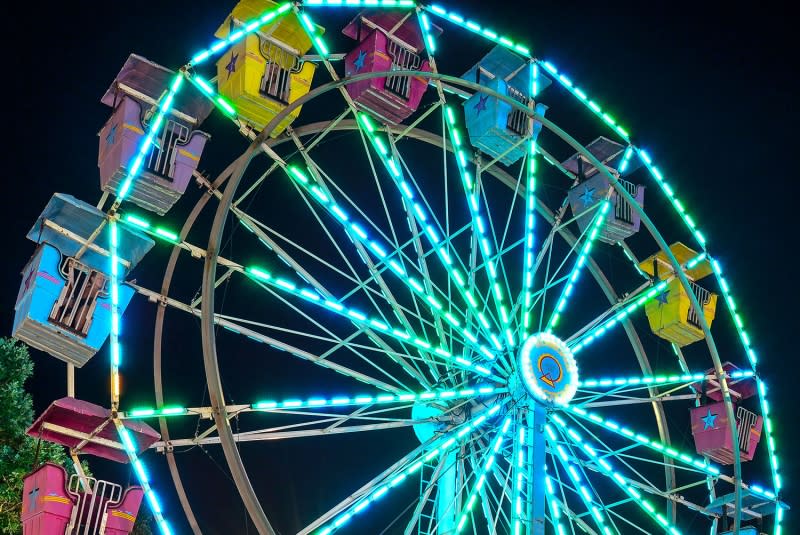 Chesterfield County Fair
Chesterfield County Fairgrounds
August 23-31, 2019
Catch the fun at the 106th Chesterfield County Fair! Enjoy live music, carnival rides, a petting zoo, tasty fair treats, a parade, and much more!
Told ya we have a lot going on this summer! :) For even more things to do in RVA this summer or anytime, check out our Calendar of Events. See you soon!