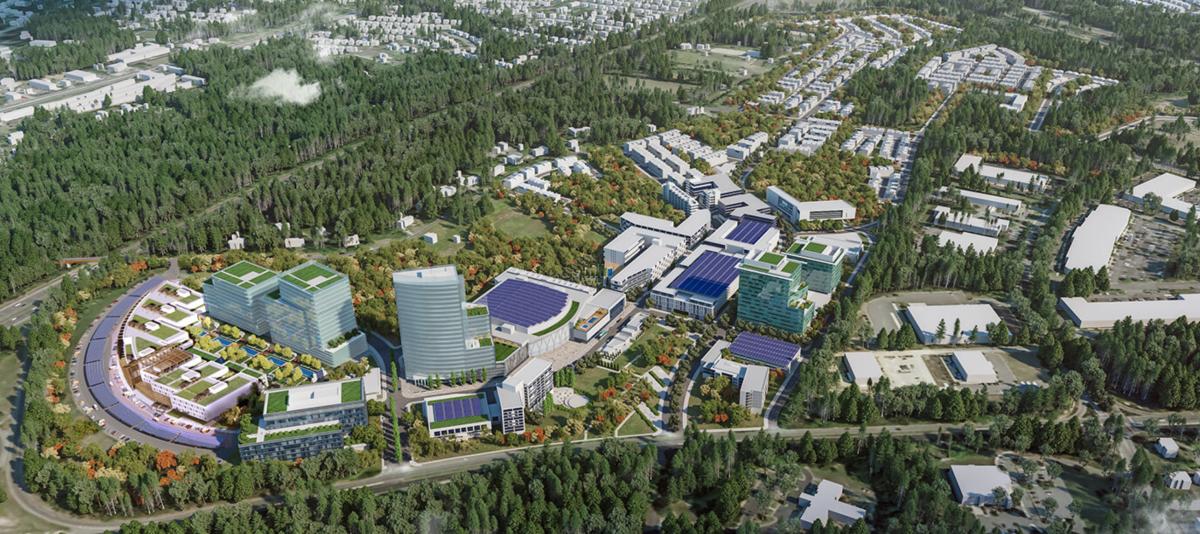 Across a sprawling 204 acres in Henrico County, an upcoming mixed-use development laser-focused on sustainability is bringing new office, hotel and conference, residential and green spaces to the Richmond Region.
It's a project meeting planners should keep an eye on.
GreenCity is expected to break ground next year and will be designed around principles that promote environmental sustainability, civic engagement and inclusion. The final development – expected to take about 10 years to complete – will feature a 17,000-person state-of-the-art arena and two 300-room hotels with conference space. The arena is set to open in 2025 and GreenCity developers say it will be the "greenest" venue yet built.
"It's a game changer," said Jack Berry, president and CEO of Richmond Region Tourism, in an interview with Virginia Business magazine.
The project sits within a strategic location on the I-95 corridor in Henrico County that's about a 20-minute drive from the Richmond International Airport. A roughly 300,000-square-foot office that once served as the headquarters for Best Products Co., but has sat vacant since the late 1990s, will serve as a centerpiece for the project. The building will be renovated using green standards and will include a useable green rooftop, in addition to taking part in the Living Building Challenge. The challenge encourages projects to create "regenerative buildings that connect occupants to light, air, food, nature, and community."
"The vision for GreenCity brings together existing best practices in sustainability science with climate commitments," explained Michael Hallmark, Principal at GreenCity, during a press conference.
The overall project will set standards of net-zero energy, net-zero water and best sustainability practices in waste management across GreenCity's 204 acres.
Nine connected sub-park districts encompassing over 40 acres and 1.5 miles of protected trails will span the development. In an interview with Richmond Region ABC-affiliate 8 News, developers also highlighted a botanical garden, wetlands and a stream, in addition to EV charging stations, rainwater harvesting and renewable energy.
From pedestrian bridges constructed with sustainable glued laminated wood to agriculture programs that grow local food within the community, GreenCity will be a smart choice for meeting planners looking to give attendees immersive and exciting experiences while keeping sustainability in mind.
For more information about GreenCity, visit https://www.greencityva.com/.